The Virgins rocks with ODDKA® by Wyborowa
New York indie rock band signs global deal with the disruptive brand of flavoured vodkas, and unveils an exclusive song and short documentary "A Day In A Life" today.
Launch of the creative collaboration to be celebrated this evening in Paris for the kick-off of the Men's and Couture Fashion Week, with a live performance and after-party at Parisian rooftop club, Nuba.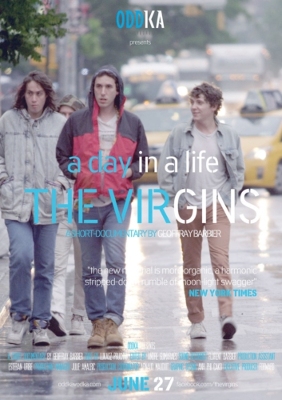 NEW YORK, June 27, 2013 /PRNewswire/ — The Virgins have partnered with ODDKA® by Wyborowa to convey the spirit of this new innovative vodka brand and its range of unconventional flavours. The American rock band that broke through in 2008 with hit song "Rich Girls" has recently come back to the forefront with the release of their new album "Strike Gently", US Arena Tour with The Killers, and a series of European dates taking place this month.
The Virgins is launching today their "A Day In A Life" short documentary, which they have recorded as part of the creative collaboration. The short video by New York director Geoffray Barbier depicts a day in the life of the band within and around their headquarters, a studio located in Manhattan's East Village. Interviews and footage of "A Day In A Life" portrays the vision of a band who did not compromise to follow their creative journey, through the vision of songwriter and lead singer Donald Cumming and his band members.
"ODDKA was created for the individual who seeks brands that are confident, expressive and challenge the norms, just like they do," said Henrik Ellstrom, brand director of the Wyborowa company. "We are very excited about this unique collaboration with The Virgins, because I think the band has strong singularity and common values with the spirit of our brand," he added.
The short documentary will première on Jay-Z's Life+Times official YouTube Channel before going wide shortly after. The band's brand new song, named "Blue Lights (Oddly Enough)" and used as the soundtrack of the film will be available for streaming everywhere online the same day and made available for download exclusively on ODDKA's Facebook page.
The launch of the campaign will also be celebrated in Paris this evening, where the band will be performing at the Trabendo, followed by after-party at Le Baron's new roster venue Nuba rooftop club. Other things are in the works between ODDKA and The Virgins, such as a Tour in the U.S and the European market where ODDKA has been launched.
Beyond the collaboration with The Virgins, ODDKA is set to launch many other music-related initiatives this year, which will include contests, digital content and events.
"Inspired musicians, The Virgins, talk about stepping away from major labels in order to focus on music rather than money, hoping to simply make enough to keep playing." – LIFE+TIMES
ABOUT THE VIRGINS
The Virgins is an American band formed in 2006 in New York, consisting of Donald Cumming (vocals, guitar), Max Kamins(bass), Xan Aird (guitar) and John Eatherly (drums). They have opened for The Killers, Iggy Pop and The Stooges, Lou Reed, Sonic Youth, Patti Smith, Kenneth Anger, Abel Ferrara and others. They have also enjoyed several television appearances on the Late Show with David Letterman, Late Night with Conan O'Brien, Late Night with Jimmy Fallon, and Last Call with Carson Daly. Their first full length album titled The Virgins was met with great critical success. Since then they have played at the All Points West Festival, SXSW festival, Lollapalooza, Glastonbury, Leeds, Reading, and T in the Park festivals, among other major French, German, Norwegian, Swedish, Dutch, Spanish and Italian festivals in the summer of 2009. The song "Rich Girls" was on Rolling Stone's list of the 100 Best Songs of 2008. Their sophomore album "Strike Gently" came out on March 12th 2013 asthe first release of Cult Records, new label recently founded by Julian Casablancas, lead singer of the Strokes.
New album "Strike Gently" Out Now on Cult Record
ABOUT ODDKA®
ODDKA is a new vodka brand that has launched both in the US and in selected European markets. ODDKA is available as an original clear vodka and in a wide range of unconventional flavors, including; Apple Pie, Electricity, Fresh Cut Grass, Salty Caramel Popcorn and Wasabi. ODDKA Vodka was created out of experimentation and molecular mixology – and all innovative flavors are designed to be drunk neat as well as in cocktails. ODDKA is produced in Poland and is owned and operated by The Wyborowa Company, a division of The Absolut Company within the Pernod Ricard group.
CONTACT:
Maja Johansson
Pernod Ricard
+46 70 190 10 95
Maja.Johansson@pernod-ricard.com
SOURCE Pernod Ricard