The Ultimate Guide to LinkedIn Advertising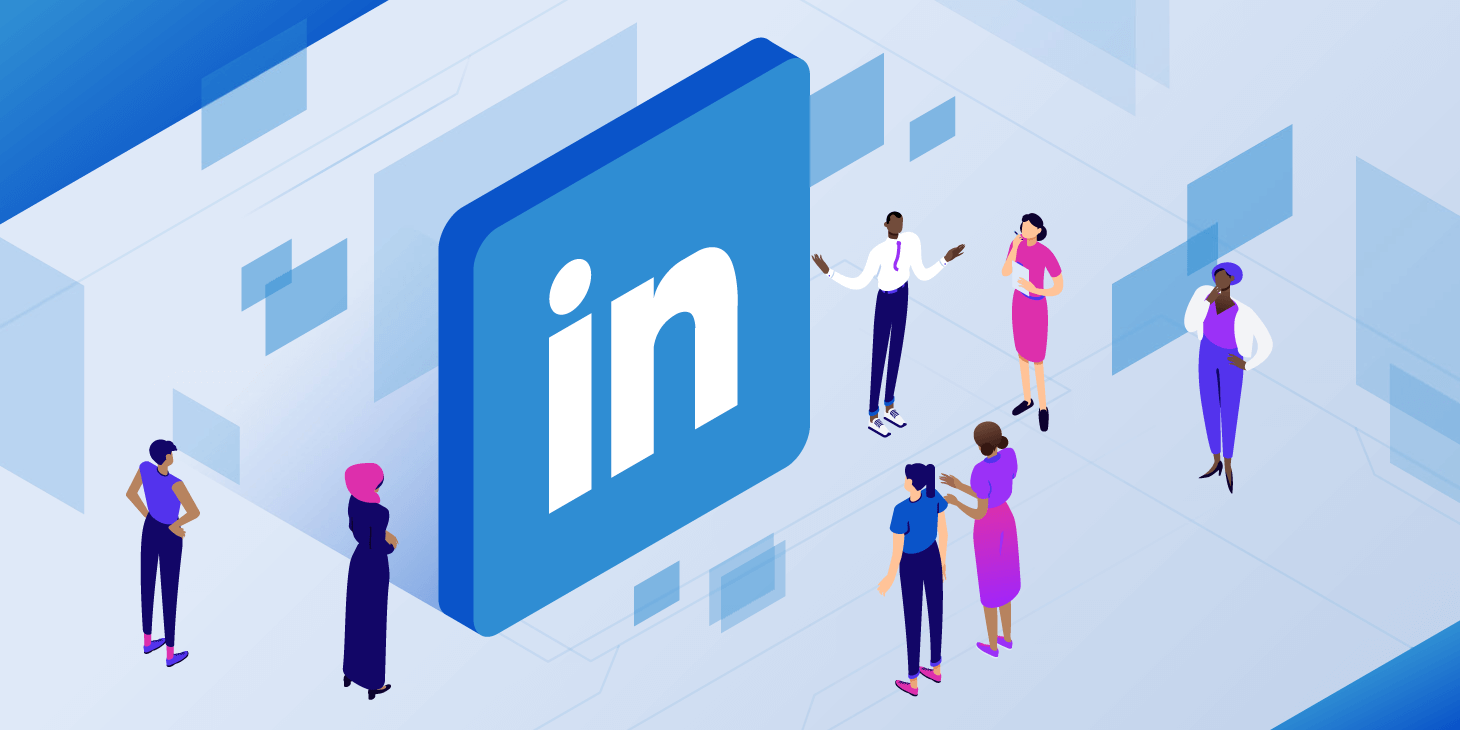 It's now absolutely key to have a good grasp of LinkedIn advertising and how it can win you more customers. Let's take a look some of the most effective ways to advertise on Linkedin.
LinkedIn is the social network of choice for professionals. It has more than 500 million users worldwide and a high level of adoption in developed countries.
Users trust LinkedIn and have created their contact network within the platform, and many of them access it every day.
They've also disclosed their professional profile on the site: what position they hold in their current company, what positions they've held in former companies, what studies they've undertaken, what skills they've acquired, etc.
All this information means that LinkedIn is now the most extensive social network for professionals in the world and that it contains more detail about the user's professional profile than any other platform.
Recently, LinkedIn has been evolving its advertising platform, the Campaign Manager, which is now highly developed.
LinkedIn has multiple ad formats: sponsored image content ads, carousel ads, text ads, video ads, dynamic ads, and its InMail ad format.
Most of these ad formats allow the use of the Lead Generation Form that lets you improve conversion rates and generate thousands of leads. In this article, we'll explain each ad format and give you a few ideas on how to use them to achieve your goals.
LinkedIn also has more than 15 targeting options based on user attributes, which allow you to reach almost any professional audience imaginable.
Additionally, it enables you to upload email lists and companies to create audiences to target, or directly import an audience from a supported CRM (HubSpot, Salesforce, Microsoft Dynamics 365, Marketo, Oracle Eloqua, etc.).
We'll explain all these targeting options in detail.
LinkedIn is available to thousands of advertisers to enhance their B2B marketing efforts. The ability to precisely define your audience makes it possible to refine your entire content strategy to be more relevant. That way, you can accompany and manage the user on their journey through each distinct phase of your sales funnel.
Finally, LinkedIn affords the capability to measure, analyze, and optimize your campaigns to achieve your desired results. It's your responsibility to use the platform properly to get the most out of your advertising investment. We'll give insight into each aspect of the platform so you can use it to achieve your goals.
1. Types of LinkedIn Campaigns
There are 4 types of campaigns on LinkedIn:
Sponsored Content Campaigns
These allow you to display ads in the targeted users' LinkedIn feeds. Advertisers use this campaign more than any other due to its effectiveness. The ads have a high level of visibility because the user sees them interspersed among the publications of their network.
It's a subtle way to show an advertisement; the ad is seen by a lot of people but isn't too intrusive because if the user isn't interested, they can just keep scrolling. It's normal to observe click-through rates (CTR) between 0.5% and 2%. Of course, the more relevant the ads are for our defined audience, the higher the CTR will be.
In terms of the ad format for this campaign type, we have image ads, video ads, and carousel ads. We'll explain each advertisement type in detail in the following section.
Text Campaigns
You can display ads with a small amount of text (25 characters in the title and 75 characters for a phrase), sometimes accompanied by a small image (50×50 pixels).
The ads can appear on the right side of the LinkedIn column, or horizontally at the top of the screen. Importantly, LinkedIn only displays them in the desktop version.
These campaigns are less popular than sponsored content, mainly because they're generally less effective. Text ads have less visibility, and the text limitation is often a major handicap in terms of effectively communicating your message.
Furthermore, the space where the ads are shown is smaller. Consequently, these advertisements tend to have much lower CTR than those of sponsored content campaigns. Even so, with a good strategy, they can still contribute towards achieving your marketing objectives.
Dynamic Ad campaigns
These allow you to display rectangular banner advertisements (300×250 pixels) on the right-hand side column of LinkedIn in the desktop version.
Much like the text ads, the fact that they occupy a less important space means that CTRs are usually lower than those of sponsored content campaign ads.
But unlike text ads, these ads occupy a much larger space which makes them more visible. LinkedIn only displays these ads on the desktop version.
InMail Campaigns:
Send messages to LinkedIn members automatically. We'll explain these later in more detail.
2. Types of LinkedIn Ads
Image Ads
Image ads are part of a sponsored content campaign.
Other types such as InMail and Dynamic campaigns also incorporate images. However, when people talk about image ads, they're usually referring to sponsored content campaigns that feature image ads.
Image ads are composed of an image of 1200×627 pixels, which is accompanied by 50 characters of text (the ad headline) that is displayed below the image and another piece of text displayed above the image (the intro text). It's recommended to keep this latter text below 150 characters, so it doesn't get cut off in the mobile version.
You can see an example image ad on LinkedIn below:
Recommendation: if you need to expand on the introductory text, a nifty trick is to write the first sentence of fewer than 150 characters, then do two line spaces (hit enter twice) and write the next paragraph at whatever length we need. The user will see the ad as follows: the first sentence, and below a text that says "… see more." If they click here, they'll see the extended version of the ad which displays the entirety of the text that we've entered.
Image ads are shown in the LinkedIn feed, which gives them a high level of visibility. If you create attractive banners with a clean and elegant design and a clear message that is relevant to the target audience, the ads can work quite well. The CTRs are highly variable, although we can say that a CTR of between 0.5% and 1% is relatively easy to achieve.
This ad format is a superstar on LinkedIn, and is the most popular among advertisers. Its success comes from the fact that the ad format achieves excellent results and is relatively easy to create.
This format is suitable for all phases of the sales funnel: we can use it to generate awareness; to invite the user to discover our product (interest); to demonstrate success cases (consideration); and to show advertisements with direct actions at the bottom of the funnel such as inviting them to request a demo of the product.
Image ads support the LinkedIn Lead Generation Form (explained below) and are an excellent option to generate leads.
If your goal is to generate qualified leads I recommend you read this other article: 5 campaigns to generate leads on Linkedin for your company.
LinkedIn Lead Generation Form
LinkedIn allows you to generate leads using the Lead Generation Form within the application.
As advertisers, we can define the information we want to obtain from the user through the form, such as their name, surname, email, company name, and position.
The user sees the ad, and then they can open a pre-filled form if they decide to take action (it can be pre-filled because LinkedIn already has all that information). Therefore, the user only has to click on the "Send" button (and accept the privacy policy checkbox), which saves them from having to enter their data manually.
This aspect generally makes the conversion rate much higher compared to ads that send the user to your landing page.
Below you can see an example of a LinkedIn Lead Generation Form:
This option is the most efficient way to generate leads in LinkedIn.
However, I recommend combining your targeted "lead gen form" campaigns with campaigns that send traffic to your website because you want users to navigate through it and learn what you're all about.
Later, you might also be interested in creating remarketing campaigns on Linkedin and other PPC platforms such as Google Ads, AdRoll, etc. You need the user to visit our website for this to be successful.
Virtually all LinkedIn ad formats allow you to use the LinkedIn Lead Gen Form, except for text ads and a few variants of the dynamic ads.
Text Ads
Text ads are composed of a 25-character title, a 75-character phrase, and a small 50×50-pixel image. They're usually shown on the right-hand side of LinkedIn or horizontally on top (in this case the image is not shown), just below the LinkedIn menu options.
Below you can see an example of a text ad on LinkedIn:
This ad format doesn't have as much visibility as image ads, not by its size nor the position of the space that it occupies.
As a result, the click-through rates (CTRs) are usually much lower than image ads. On the other hand, the average cost per click (CPC) is also generally lower than the image ads, often by about half the price or less.
I have seen many cases in which they work well to generate conversions.
There's a simple explanation as to why it works: if the ads are relevant to the audience we're showing them to, and if what we offer is attractive (say an interesting eBook, etc.), then the user will download it and convert, despite all the inconveniences associated with this type of format.
That said, this ad format isn't designed to generate a large number of leads because it doesn't allow us to use the LinkedIn Lead Generation Form and only displays on the LinkedIn desktop version.
We'll need to use image ads with the LinkedIn Lead Generation Form to obtain a large number of leads
Carousel Ads
Carousel ads allow you to display multiple images in the same ad. The advertisement consists of an introductory text of up to 150 characters and several images, which we call "cards."
We have to create at least two and less than ten cards for a carousel advertisement: Each card is composed of:
• An image of 1080×1080 pixels.
• A maximum of 45 characters, which are displayed below the image.
• Each card can have its own landing page, or we can configure a single landing page for all the cards.
Below you can see an example of a carousel ad:
Image source: https://www.redpoints.com/
Carousel ads display in the user's LinkedIn feed on both mobile and desktop versions.
Carousel ads are ideal for displaying stories, sequences, listing items, etc. Creating some continuity between the images on the cards reinforces the sequence-history concept.
We can use carousel ads to work practically every phase of the sales funnel. For example, we could create a series of carousel ads in the awareness phase to illustrate the "pain points" that we know a user without our product would have.
Each card could be a "pain point" accompanied by a positive message detailing how their problems would be solved with our product.
In the interest phase, you could display carousel ads that show the functionality of our product. You might also do another series of carousel ads to show the benefits.
In the consideration phase, you could display a carousel ad with success stories and the images of several clients with a small "quote" about the product. You'd then prompt the user to take action by inviting them to ask for a demo or to try the product.
I highly recommend you tailor the call-to-action to the user's phase in the sales funnel and the type of information that you're offering them.
Carousel ads allow us to use the LinkedIn Lead Gen Form, which facilitates both the generation of new leads and continuing to progress existing leads through all phases of the funnel.
Video Ads
Video ads include a video, a title below the video, and an introductory text at the top of the video. They're displayed in the user's feed on LinkedIn on both the mobile and desktop versions.
For these ads, payment is made per visualization and priced at a number of euro cents [HS1] for each user who watches the video.
LinkedIn considers that the user has viewed the video if they have seen more than 3 seconds (in the performance metrics, we can see the percentage of people who have watched 25%, 50%, 75% and 100% of the video).
You can see an example of a video ad on LinkedIn below:
Image source: https://www.signaturit.com/en
Video format: the video format must be MP4, and its file size cannot exceed 200MB.
Subtitles: we highly recommend you add subtitles to the video so that the user can see what's happening even if there volume is on mute. You can do this either through a subtitle file (.srt format) or by using superimposed text on the video.
You should know that a large number of Linkedin users watch videos with the sound off (it displays ads on mute by default), so we need to tell them what's going on to pique their interest and prompt them to turn the sound up.
The video format is an excellent way to communicate a message and get the user's attention. If done correctly, it can improve all phases of the funnel. It's outstanding at branding campaigns, and can also help us to communicate the benefits of our product and its functionalities, as well as showcase its success stories, etc.
Videos that generate leads with the Lead Generation Form: video ads allow the use of the LinkedIn Lead Generation Form, and it actually works! I've seen loads of video campaigns that not only communicate a message but also generate new leads.
Here's an idea: make an advertisement with a success story. As a call-to-action, invite the user to download the success story using the LinkedIn Lead Generation Form. This process feels natural for the user as they've seen the video and they're now interested in getting the information in PDF format.
And for us it works great too because we're communicating the value of our product and getting a lead at the same time.
Dynamic Ads
Dynamic ads occupy a space of 300×250 pixels and are displayed on the right-hand side of the LinkedIn desktop version only (they don't appear in the mobile version).
The dynamic ads include:
Follower Ads: allow you to obtain more followers to your LinkedIn page:
Image Source: https://business.linkedin.com/en-us/marketing-solutions/dynamic-ads
Spotlight Ads
Allow you to display a message with a call to action button, which takes the user to a landing page of our choice when clicked.
Image source: https://www.captio.com/
Recommendation: Use this ad format to create remarketing campaigns. You could develop remarketing lists for users who've seen a key page on your website but failed to take action (for example, they've seen the demo page but didn't request a demo).
Through the dynamic ads "spotlight," you could then invite them to request a demo. You can use this same idea with other audiences.
Content Ads
Allow you to promote content and generate leads using the LinkedIn Lead Generation Form.
As is explained on 
the official LinkedIn page
, this form may not be available for your Linkedin advertising account, and you may need to speak with your LinkedIn sales representative.
Image source: https://business.linkedin.com/en-us/marketing-solutions/dynamic-ads
Job Ads
Allow you to display ads for job offers within your company.
InMail Messages Advertisements
InMail message ads allow you to send messages to LinkedIn members automatically. We can define our audience by setting the targeting criteria, and we can specify the message we want to send them (we can also use specific macros to personalize the message with the first name or surname of the user, the name of the company where they work, etc.).
Once you've launched the campaign, the system sends the inMail messages to your target audience.
You should be aware that when a LinkedIn user receives an InMail sponsored by an advertiser, there is a cooling-off period of 45 days until they can receive another sponsored inMail.
While you can technically use this ad format for any phase of the funnel, I recommend reserving it for the lower section. Why? It's a more intrusive ad format than the others as it appears in the LinkedIn user's message box. Therefore, it's better to use it when we know that the user has shown interest in our product.
InMail message ads allow the use of the LinkedIn Lead Generation Form.
Targeting options on LinkedIn
Before entering targeting options, LinkedIn allows you to specify the geographic regions you want to reach: cities, states, countries, or even entire continents. We can also make exclusions.
Furthermore, we can target users according to the language in which they've configured their LinkedIn interface.
This option is effective for campaigns aimed at people in a foreign country because you can use their native language. The English language something of a wild card: if you select "English," you'll reach all Linkedin users regardless of the language in which they've configured their Linkedin interface.
There are two ways to target your audience in Linkedin:
• User Attribute Based Targeting
• "Matched Audience" Targeting
We can create campaigns by targeting solely through user attributes, targeting solely through "matched audiences," or by combining both methods.
We'll explain each targeting option in detail.
User Attribute Based Targeting options
Remember when you signed up for LinkedIn? What kind of information did you include in your profile? You most likely told them about the position you hold in your current company, your present job functions, and the job functions of your former positions.
Undoubtedly, you've indicated what studies you've undertaken, what universities you've graduated from, and what certifications you've obtained, etc. Your contact network has also likely endorsed a series of skills that pertains to your work. Well, LinkedIn allows you to target users based on all this information.
User Attribute Based Targeting options are divided into five categories: Company, Job Experience, Education, Interests, and Demographics.
Company
The Company targeting criteria allow us to restrict the characteristics of the company we want to address.
Company Size: we can specify the number of employees. The ranges that we can select are as follows:
Myself Only
2-10 employees
11-50 employees
51-200 employees
201-500 employees
501-1000 employees
1001-5000 employees
5001-10,000 employees
10,001+ employees
This option is vital because the messages and content of our campaigns differ between Small Businesses (SMB), Mid-Market, and Enterprises. Targeting also tends to vary depending on the size of the company.
While we could find positions with a clear role in an Enterprise company, a highly specific position would usually not exist in a small business so we would have to broaden our targeting.
Recommendation: Try to avoid combining big audiences from enterprise companies with small audiences from small companies.
Say you target companies of 10,000+ employees and an audience of 200,000 LinkedIn members. Then, you select the "2-10 employees" option and increase the audience by 30,000, making a total of 230,000.
If you were to do this, you would distribute your ad campaign impressions among both enterprise company employees and small business employees.
However, there would be a proportionally greater impact on enterprise staff. If you're sure you want to target small business as well, then don't mix the two together. Do one campaign for small businesses and a separate one for enterprises. That way, you can also adapt the message and content to be more relevant to the specific audience.
Company Industry: allows us to determine the industries of the companies we want to target. This option is also important because approaching specific sectors is crucial for most B2B companies. LinkedIn allows us to launch campaigns aimed at members working in companies within specific industries. The platform has a list of available industries, which are grouped by category.
Company Name: allows us to specify the names of the companies we want to advertise to. This option is extraordinarily simple in its concept and use, but also super powerful. I propose the following: ask your CEO or VP of Sales for ten companies they would like to convert into clients this year. Once you've got the list, create several campaigns by introducing these companies into the configuration. By doing so, you'll be well in your way to transforming these companies into future client accounts.
This example illustrates the power of the targeting option. These targeting techniques are part of the Account Based Marketing Strategy and require coordination between marketing and sales to be effective. Take a look at this article for more information. [LINK].
Company Followers: this option allows you to target the users who are following your LinkedIn page. It's highly advantageous for remarketing campaigns, to publicize news, and for seasonal campaigns, etc. If we have thousands of followers, we might consider applying more filters in the targeting options to only address those who have specific professional characteristics.
Company Connections: allows us to reach the first-level contacts of the employees of our desired companies. We can only select companies with more than 500 employees. One application of this targeting option could be to reach your competitor's contacts.
Job Experience
This option allows us to specify the work experience of the users that most interest us. Consider the following options:
Job Title: will enable us to enter the position of a LinkedIn member who we want to target. When entering a position, for example, the "Director of Finance," the system suggests similar positions as well. This targeting option is undoubtedly the best because it allows us to target a buyer and adapt our message, creativity, and strategy towards the buyer persona.
Job Function
This option allows us to specify the work function of the LinkedIn members who we want to reach.
From the list of job functions, we must select those which interest us the most. Instead of specifying the "Director of Finance" position, with this targeting method we would specify that the job function should be "Finance."In this case, we'll be targeting the LinkedIn members with a finance-related position without having to determine their actual position. This option is good at further broadening our targeting, so we can reach finance professionals with positions that we hadn't thought of.
On the contrary, the audience isn't as selective as it would be if targeting by position. If your budget permits, I recommend launching simultaneous campaigns targeted by position and others by job function. Then you can make the appropriate optimizations based on their performance.
Job Superiority
This option allows us to specify the level of command we want our audience to have. Consider the following options:
Unpaid
Training
Entry
Senior
Manager
Director
VP
CXO
Owner
PartnerThis targeting option is ideal for combining with the Job Function option. For example, we could target LinkedIn members whose job function is "Finance" and who also have a high level of command (Director, Manager, C-Level, etc.).
This would be equivalent to targeting by position, such as the Director of Finance, but wouldn't require us to specify every position.
Years of Experience: allows us to specify the number of years of experience a user must have. It can be useful in campaigns when we're interested in reaching users with a lot of or very little experience.
Education
This option allows us to specify the aspects related to the user's education. We can restrict our targeting to users who've studied specific academic disciplines, who have certain degrees and qualifications or who've studied at particular universities.
Interests
There are two ways to target by user interest in LinkedIn: Member interests and Group Interests.
Member Interests: LinkedIn has an extensive list of more than 200 member interests which have been classified into the following nine categories:
• Arts and Entertainment
• Science and the Environment
• Economy and Finance
• Marketing and Publicity
• Business and Administration
• Politics and Law
• Society and Culture
• Technology
• Retail and Sales
We can use this targeting to discover new audiences based on their interests, regardless of their job function, job position, etc. Alternatively, we can use member interests to further narrow down an audience based on other criteria.
Group Interests: if a LinkedIn user is part of a group, they're giving us a clue as to what they're interested in. Therefore, we can use groups to target users as we know that they have a particular interest in the corresponding topic or theme.
Again, we can use this targeting to discover new audiences (without applying extra filters), or we can target by group and apply additional filters to further narrow down the audience (for example, to limit our targeting to specific industries).
Demographics
This option allows us to target users according to their gender (male/female) and age. It could make a lot of sense to use these targeting options depending on the product in question.
We've explained all the targeting criteria available on LinkedIn based on the audience attributes. If you want to learn more you can read the article Targeting Criteria on LinkedIn.
Matched Audiences
Through the "Matched Audiences" menu option, we can construct audiences to reach the people who have visited our website, as well as to impact our contact lists and company listings. Additionally, we can create similar audiences from previous audiences.
We'll explain each type in detail:
Uploaded lists: we can upload two file types on LinkedIn:
– Files with a list of email addresses
: the people we would like to impact with our ads. We can download a template file from the LinkedIn campaign manager.Based on this template, we can add all the email addresses of the people we want to reach. The system takes several hours to process the file once it has been uploaded (sometimes it can take between one and two days).
When finished, it tells us the percentage of emails that we've been able to match with LinkedIn members. As a result, we know how many LinkedIn members are in that audience.
This option is ideal for launching campaigns for audiences that we already have in our CRM. For example, we could load the list of emails (leads) that are in the advanced stage of the funnel and make a relevant InMail campaign.
– Files with a list of companies: another option is to upload a file with a list of companies by entering the name of the company and your website domain, although the latter is optional.
The process is identical to the above option: the file is loaded into the system, and after a few hours it tells us the percentage of companies it has been able to match with LinkedIn companies.
As a result, we know the number of people we could reach. Keep in mind that we can reach all the employees of each company that the system has found and that these audiences are typically rather large once the file has been processed.
This option is ideal for developing Account Based Marketing strategies.
If the sales team aims to convert specific companies into clients, we can contribute as marketers by creating campaigns to influence key people in those companies.
The first step is to load the file with the companies we wish to impact, and then finish refining the audience by applying other targeting criteria based on user attributes (for example, we could specify the desired job function and the years of experience).
Website Audiences: LinkedIn allows us to create lists of users who've visited individual pages of our website.
The configuration is straightforward enough: you just have to enter the corresponding URL patterns. We can add several URLs by using the sum of function (OR). LinkedIn doesn't currently let us make lists with "AND," which would be very useful.
The advantage of a creating remarketing list in LinkedIn over other PPC platforms is that we can include it in the campaign configuration and that we can also apply targeting criteria based on the professional profile of the user and company.
For example, we could make a campaign for all those who have visited our product page and restrict the audience to users with certain positions and companies of a specified size.
We must configure the Linkedin tracking pixel for the platform to be visible on our web page.
Third party audiences: are audiences we can use on LinkedIn that come from other integrated systems.
For example, one integrated system is HubSpot, which is a fantastic marketing automation CRM. Once the HubSpot and LinkedIn integration is complete, you can share your HubSpot lead lists (the smartlists) with LinkedIn.
For example, we could share a list of contacts with a specific lead scoring or lead status. LinkedIn works the same way as the "uploaded lists" by matching HubSpot contacts with Linkedin users. The only difference is that we don't have to bother uploading the files in this case.
LinkedIn integrates with the following systems: HubSpot, Salesforce, Marketo, Microsoft Dynamics 365, and Oracle Eloqua, etc. You can see the full list on the official LinkedIn integrations page.
Lookalike Audiences: from any of the above audiences, we can ask LinkedIn to construct a similar audience for us. LinkedIn bases Lookalike Audiences on professional information. Contrary to popular belief, it doesn't factor in gender and age. The platform has confirmed this on the official LinkedIn Lookalike Audiences page.
Conclusion
LinkedIn is an exceptional Pay-Per-Click Advertising platform for its ability to target users according to their professional profile. While there are many other PPC platforms out there such as Google Ads, Facebook Ads, and Twitter Ads, none of these can target from the user's professional profile as effectively, reliably, and accurately as LinkedIn.
Along with the professional environment of the network, this aspect makes LinkedIn one of the best platforms for B2B marketers today.
About the Author
Marcel Odena is the CEO at Magnetica Advertising. He's a LinkedIn Ads Expert and PPC Specialist. He enjoys working together with his clients to increase their B2B Marketing performance. He also loves nature and climbing mountains.
For more such insights, head to our content partner's page – Socialbakers.com/blog