The New Mercurial Brings Zoom Air Designed Uniquely for Footballers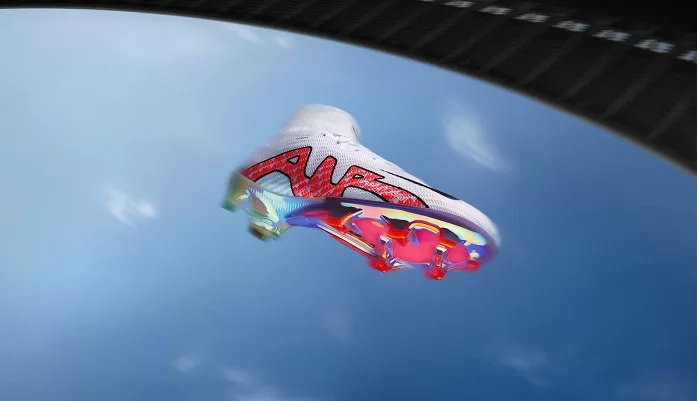 Designed ahead of a landmark year for global competition, the Air Zoom Mercurial introduces a new three-quarter-length articulated Zoom Air bag built uniquely around the needs of the footballer.
The newly designed Vaporposite+ upper features a Speed Cage design, a data-driven support system that offers lockdown support where footballers need it most.
The Academy and Club models in this season's Mercurial line are made with at least 20% recycled content by weight. Scaling sustainable materials is one way Nike moves toward its 2025 Impact targets.
Built from the ground up for the modern footballer, the Air Zoom Mercurial features an articulated, three-quarter length Zoom airbag that sits directly inside of the plate of the boot bringing the foot closer to the ground for an even greater sense of snappy, propulsive energy return. The new Zoom airbag features flex grooves that provide flexibility and natural movement of the foot to better fit the needs of dynamic movement in football.
"Being a Mercurial athlete, I'm always thinking about fast. I want to be faster than my opponent" says French Forward Kylian Mbappe. "What excited me most is that this technology is revolutionary. Air is what's really going to put the Mercurial athletes in the best conditions to perform."
The upper features a new evolution of Vaporposite. Called Vaporposite+, the upper combines a grip-enhancing chevron mesh with a Flyknit lining that helps with ball control at high speeds.
"While sprinting and cutting at high speeds, it's important that the footballer feels secure in the boot. The Vaporposite+ upper was further refined to provide a lockdown fit through a data driven designed speed cage providing optimal support of the foot in areas where footballers need it most," says Collin Eder, Senior Director of Global Football Footwear at Nike.
The Air Zoom Mercurial also debuts another new feature: a Tri-Star stud pattern. The new stud design helps footballers move laterally as well as downhill for faster play in all directions. This stud pattern will be available on all models across Men's, Women's and Kids.
The majority of the 2022 Mercurial line up, specifically Academy and Club styles, are made with at least 20% recycled content by weight. Scaling sustainable materials throughout the line is a significant step forward in Nike achieving its 2025 Impact targets.
The Nike Air Zoom Mercurial will make its debut on pitch in the Bonded colorway during all women's tournament play this summer.
Source: Nike