The Humble Origins of Richelieu Dennis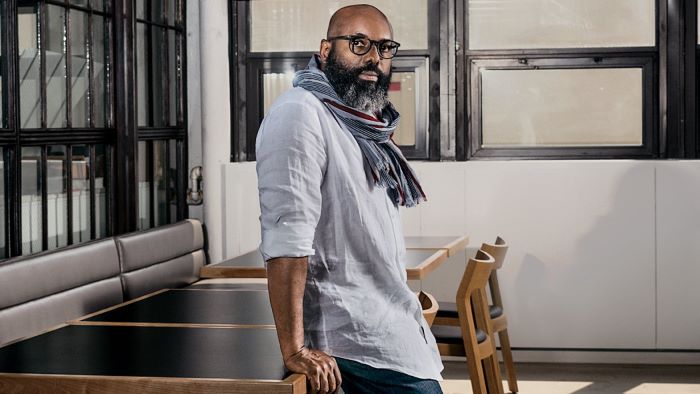 Richelieu Dennis came to America due to civil unrest in 1987. During this time, he became an entrepreneur and sold shea butter from his college dorm Babson. The need for shea butter grew his brand into Sundial Brands, and it became the biggest producer of black people's skin care products.
In 2017, Rich sold Sundial Brands to Unliliver to help West Africa and other underprivileged areas get income from the supply chain. Nonetheless, he is still the CEO and the executive chairman.
James Ledbetter, the editor-in-chief of Inc, had a chat with him about his amazing journey.
"I was born and raised in Liberia during a very turbulent and violent period. When I was ten years old, we experienced our first significant rioting that rocked the nation. Following the riots in 1979, there was an extremely violent coup d'état the following year."
Did it directly impact your family?
We suffered a significant loss of extended family members, but my immediate family also went through many hard times during that time.
Did you think, "I need to get out of here as soon as possible"?
It wasn't much of "I need to get out of here as soon as possible" but "What the hell is going on?" And "what can I do, and what role can I play?"
What brought you to Babson?
I was offered a scholarship, and as things worsened in Liberia, my mother saw it wise for me to leave.
So, did Sundial begin when you were a student?
I used to sell shea butter to my fellow students. My mother sent the shea butters, for personal use.
So you became a refugee entrepreneur.
By 1989, the war had escalated, so I couldn't turn back. This made me sell more since there was no longer money coming from home.
Why the focus on shea butter?
Shea butter was widely used in Africa for specific reasons people in the West have been trying to solve.
Did your mom relocate to the U.S. to come join the business?
She had come to my graduation. She came with two suitcases, and the rebels had bombed her home when she got to New York.
So Liberia's collapse forced Sundial to stop being a college job and become a real business.
We started making various items, like soap or incense, or just selling shea butter. The 12 of us in an apartment in Queens thought, "Back home, things will calm down, and we can go back." No one thought it would last nearly 20 years.
But there are a lot of guys selling stuff from card tables on 125th Street. When did you break out?
I learned there's always a chance for someone who can put things in order in a disorganized market. So we began to deliver. We had a Toyota Previa, so we put everything in it and started delivering to vendors, flea markets, county fairs, health food stores, and directly to customers.
How did you know you could pull it off?
Being on the ground, I realized our customers were not being served in the business. Back then, you were segregated if you were not white and stepped into a retail shop.
Can you describe what that looked like and how it could have happened?
When you entered a shop, you were followed around. Your things were stored in the bottom, in a rear corner, with low lighting.
Sundial is a B Corporation and a Trade enterprise. Did such movements have an impact?
Going around the store demonstrates the impact. The previous isolation is almost gone, and the messaging is thoughtful and respectful. There is a genuine shift in how you approach neglected serving consumers.
These certifications have helped to assure consumers that this firm, brand, or product corresponds with their beliefs.
You sold the firm to Unilever in 2017. How did the operation go?
We spent almost five years on it. We are a business with a mission.
Was Unilever the only business you thought about selling to, or were there others?
There were many suitors, but none had shown the desire and aptitude to accomplish this properly.
Did you ever think, "Unilever is the problem"? Unilever has been responsible for the market's appearance for so long. Did you ever consider that a contradiction?
It's still a conflict in my mind. However, Unilever always takes the lead and says, "We do have an issue. And we're going to do something about it."
You announced the New Voices fund last year, a $100 million fund dedicated to investing in businesses run by black women.
Only about seven of each dollar goes to a woman of color. With such disparities, we will never be self-sufficient.
So you'll need to invest more money? That is a simple task, no?
Initial capital is an issue, but it is not the main challenge. It's both access and competence. These environments must be created in these communities.
I'd like to understand more about purchasing Essence. Many people believe that getting involved in the media is the worst thing you can do now. You hold a different point of view.
Since most media companies have an audience, Essence does not strike me as a media company. Essence does not have an audience but a community. Those are not the same.
Name some American leaders you admire in industry, politics, or entertainment.
Ben Horowitz and Warren Buffett
Have you gone back to Liberia?
I do. This Christmas, I was there.
Is your type of business viable there?
It is possible as Liberia becomes more stable. Let's just find out cause we're trying our best.