The Best Brands of Groundnut Oil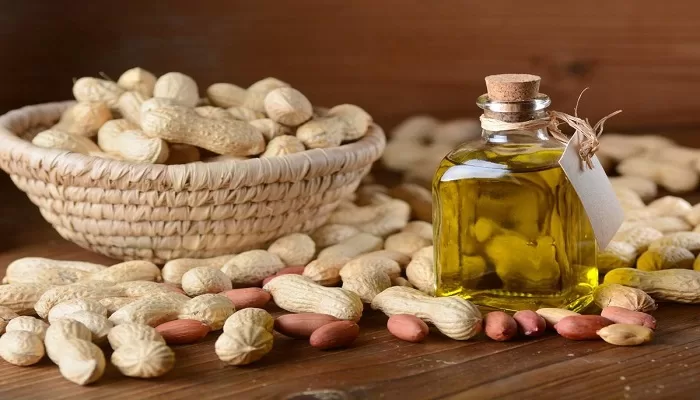 Groundnut oil is the oil extracted from the seeds of peanuts. It is vegetable oil and has an excellent taste for cooking or for making mayonnaise.
The refining process: To obtain peanut oil, the raw material should go through several stages such as cleaning, washing to remove impurities by mechanical means, scraping off any adhering matter with scrapers, drying to evaporate any excess moisture, and then pressing out the remaining water before filtering it under high pressure to separate the nuts into different sizes. These sizes are then separated or ground into different sizes.
During the refining process, some of the impurities may remain and may be removed by a further process called deodorizing where there is an addition of a chemical that will remove any remaining odors from the oil.
This chemical is added at the same time as an antioxidant to keep the oil from going rancid through oxidation. This process produces a clean, clear, tasteless vegetable cooking oil with a high smoking point and is excellent for frying foods.
Here are the best brands of groundnut oil to date:
7. Gramiyum Cold Pressed Groundnut Oil
This groundnut oil from Gramiyum is a cold-pressed variety. It comes in an easy-to-use and convenient can which makes it handy for storage and also for dispensing the amount you want. This container contains 1000ml of tasty groundnut oil. The product has been kept refrigerated during its shelf life to ensure freshness and purity at all times. There are no additives or refined ingredients in this groundnut oil, so it is good for your health. The oil has a long shelf life, about two years after purchase, and will go bad only if it is not stored in refrigeration.
6. Farm Naturelle Organic Groundnut oil

This is a 100% natural groundnut oil that has been cold-pressed to ensure its quality. It contains no additives or preservatives which are harmful to one's health and this makes it safe for cooking.
It can be used for preparing any type of meal such as pasta, salad, vegetable stew, and omelets. This product comes in a 915 ml bottle that is easy to handle and will last long enough before needing more refilling. It can be stored at room temperature in a cool dry place.
5. Daana groundnut oil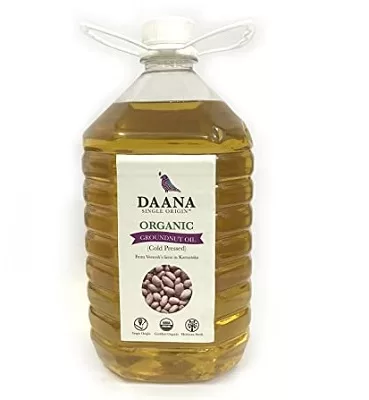 Daana groundnut oil is produced by Daana Food Limited and it is an excellent choice for frying. If you want to cook food with peanut oil, this brand will do just fine. It has a very good taste that can be used in different recipes such as soups or salads. You can also use this product when preparing sauces or making salad dressings because of its wonderful smell which adds flavor to your cooking.
4. Amrutva Extra Virgin Cold-Pressed Groundnut Oil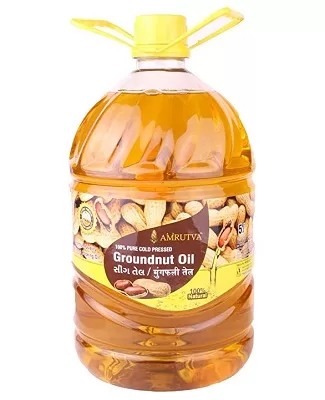 Amrutva groundnut oil is cold-pressed and the method used to extract this oil is very healthy without using any chemical process. It has a great taste with no coconut or other strange flavor. It can be used for cooking, frying as well as making mayonnaise or desserts such as ice cream. This makes it a versatile product that you can use in many dishes. The only limitation you have is your imagination on what you will cook with this oil.
3. Satvyk Organic Woodpressed Groundnut Oil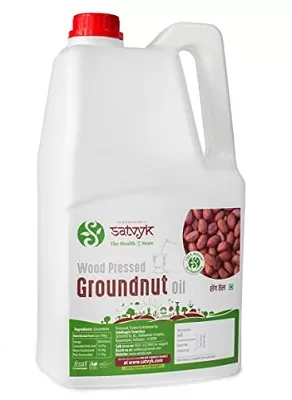 This is one of the highest quality organic groundnut oil you can get on the market. It has a deep nutty flavor and an excellent taste for frying, sautéing, or making mayonnaise. This product is free from any chemicals and preservatives because it is made through a natural process that involves pressing the peanuts into this all-natural vegetable oil with no additives whatsoever. According to its manufacturer, this means that there will be no colorants nor fragrances added to alter its taste and aroma.
The groundnut oil is made by a special process that involves the nuts being pressed directly into cold-pressed virgin vegetable oils which produces an oil with excellent flavor and no added chemicals or preservatives; you can use this delicious, natural, organic product without any worry of any harmful chemicals entering your body while enjoying foods cooked in it. The Satvyk Organic Groundnut Oil comes in a 1-liter bottle with an easy pour spout top to make it easier for you to pour it out and use to cook your delicious meals.
2. Puvi Groundnut Oil

This oil is made in India and comes with a flip-top lid. This groundnut oil is made from the best quality of peanuts which are harvested at their prime. It does not contain any additives, and it has a superior taste for your cooking needs. This product has a shelf life of one year once opened to keep it fresh. The package comes in a 1-liter plastic bottle with a screw cap closure for easy pouring or dispensing without spilling out any contents.
The container that this product comes in makes it easy to store away when not used but still handy enough for use at any time without much hassle. This makes the Puvi groundnut oil one of the best brands available today in the market.
1. Dhara Groundnut Oil, 1L Pouch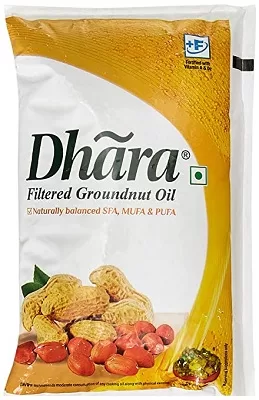 This is a refined, tasteless, and odorless cooking oil that comes with a high smoking point for frying or deep-frying. This product contains no additives or preservatives, and it retains a large portion of the Vitamin E found in natural peanuts. It also contains high levels of monounsaturated fats which makes it healthier to use when compared to other oils such as those from soybean. The product is 100% pure groundnut oil without any artificial flavors or colors.
There are two different types of peanut oil namely refined and unrefined. Both have their benefits and both have the same amount of calories, but a lower fat content in the case of unrefined. The refining process has many stages before the final product is obtained. A choice between these options depends on one's preference, what you want to use it for as well as your budget.