The Best Brands of 2 Way Radio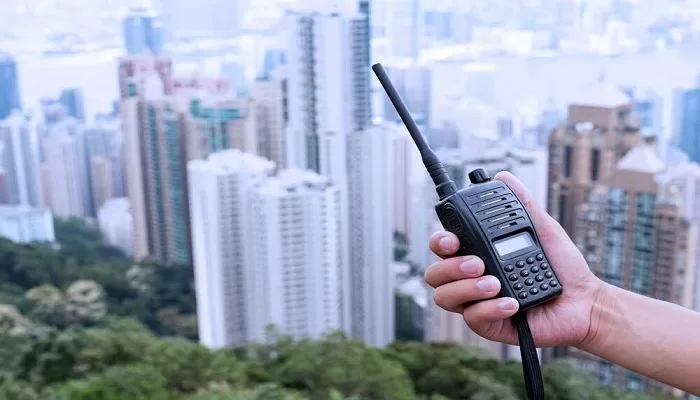 Two way radios or walkie talkies, whatever you prefer to call them, are a great way to keep in contact with others when working outdoors. They are also used by many police officers, security guards and event organizers.
There are two main types of walkie talkies – analogue or digital wireless. Digital is the most effective technology available at this point in time, but will set you back a bit more.
Nowadays, almost all walkie talkies are digital and come with some cool features such as long-range communications, secure private channels and a hands free device for answering calls while doing other tasks. These handheld devices have been around since the 1930s when they were first developed by  Donald Hings. Since then they have become more sophisticated and are now used by many people all over the world.
With so much choice on the market, it can be difficult to know what type of walkie talkie is best for you. The key is knowing exactly how you plan to use them.
For example, if you plan to use them in the great outdoors for sporting events where there are no clear lines of sight then digital radios will be your best option. This is because they have a wide range and can pick up signals from far away. They also work on a private channel so it will be difficult for others to listen in on what you're saying.
Analogue radios are less expensive but they have a limited range. They also work on an open channel, which means that anyone within listening distance can hear what is being said. It is therefore not recommended to use analogue radios for sporting events or during work.
If you are planning on using them for work, then it is best to go digital. This will ensure that no one can listen in on your conversations and the long-range ability means you won't have any trouble getting around an office or factory.
If you're going to be using the walkie talkies a lot, it is worth investing in a pair of headsets as well. This will make communicating a bit more comfortable and also ensure that you don't disrupt other people with your voice coming from the radio attached to your belt.
Here are the best brands of 2 way radio on the market:
5. Midland long-range FRS two-way radio set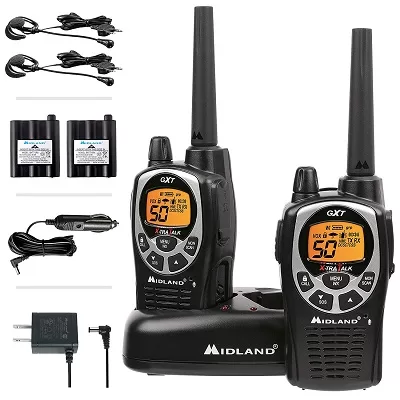 This is a great set of analogue walkie talkies for anyone who wants to keep in contact with friends or family when out and about. They are simple, easy to use and ideal for children. A nice feature is the long range distance which means you can connect with others up to 30 miles away. The range can be affected by the type of terrain you are walking through.
It's also worth noting that these walkie talkies are FCC certified which means they have been tested to meet US standards for emissions and performance.
4. Cobra AM645 Twin Walkie Talkies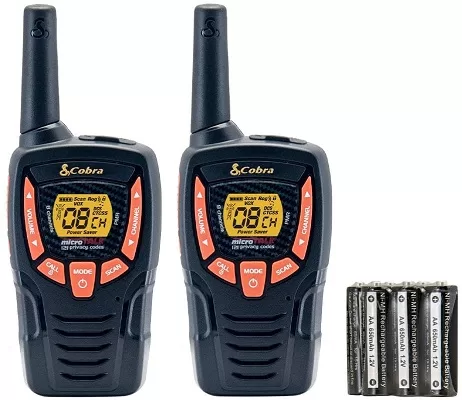 The Cobra AM645 Twin Walkie Talkies are a very popular choice and for good reason. These walkie talkies come in a variety of colours so you can choose one to suit your personality or the colour scheme of your car. The radios can be used within a range of up to 8 km. There is an emergency channel that allows you to get in touch with the emergency services if there is ever an emergency. The radios also come with voice activated technology, which means that when someone speaks into the radio, their voice will automatically go through. This saves you having to press a button each time.
3. Binatone Terrain 850 Walkie Talkies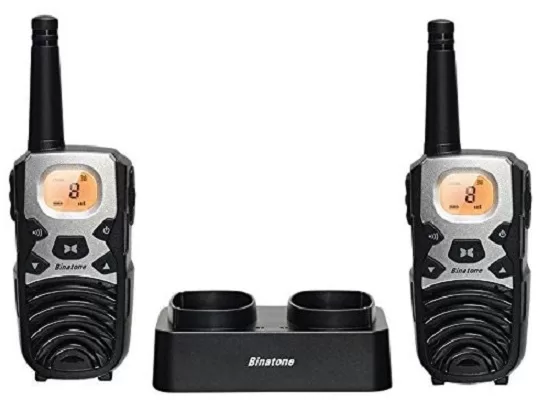 These walkie talkies are suitable for use by children as they can be used on a range of channels, including some that are specifically reserved for kids. This is great if you have several children using them at the same time without interference from each other. They are also perfect if you want to keep an eye on your children while they're out on the playing field.
The long range of these walkie talkies makes them ideal for use in a wide variety of situations including sporting events and outdoor activities. They can also be used indoors if you don't mind a bit of radio interference from time to time.
They are easy to use and come with an SOS button which you can press if someone is in trouble or needs your help quickly. This makes it a great device for children as well as adults – either way, the extra safety feature will give you peace of mind knowing that you can reach out to others if you need to.
2. Kenwood NX-1300DE3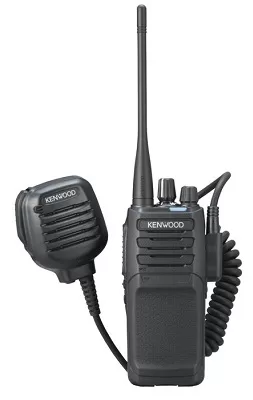 This is a great basic walkie talkie that will cost you under $100. The Kenwood NX-1300DE3 has an impressive range which means it can be used for camping, hiking and work purposes. It comes with 64 channels, making it easy to find a channel that is not being used by other people.
In terms of battery life, this radio can last up to 19 hours on one charge and takes just 4 hours for a full recharge. The range can be extended if you use an extension antenna.
This radio is also great for those who want to listen in on other channels as it has a built-in feature that allows you to scan up to 10 channels at the same time. It even comes with a weather radio, which can be used during storms and floods when communication may otherwise fail.
A few people have noted that the push-to-talk button can be quite stiff, but that is an easy fix with a bit of WD40.
1. Motorola DP4400e Two-Way Radio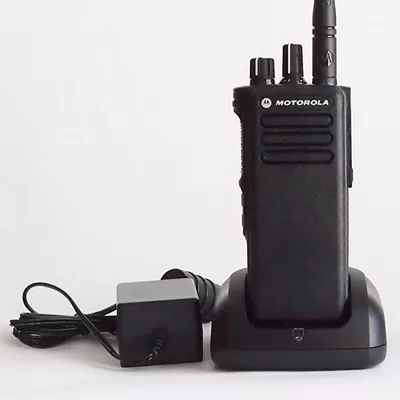 The Motorola DP4400e is a great choice for those looking for pure value. It works by using channels so that you can communicate with as many people as possible at the same time. There are also over 1000 channels to choose from, which means you won't have to worry about interference from other radios.
This is a digital radio so it has the added benefit of being able to select private channels for group conversations or long distance communication. You can also use these walkie talkies with headsets which are sold separately, making them even more comfortable to use.
These Motorola 2 way radios are very reliable and have a range of up to 3 km. They also come with rechargeable batteries for use in the field, which make them handy if you're going on a trip or working away from your charger.
The best walkie talkies are digital, have a long range and can be used without interference from others. I've narrowed down the list to five of the most popular options on the market right now. They are all affordable but also highly effective devices that will keep you in touch with your group whether you're camping, hiking or working.