The airline's newly received A380 to touchdown at Suvarnabhumi Airport in Bangkok on December 5, 2014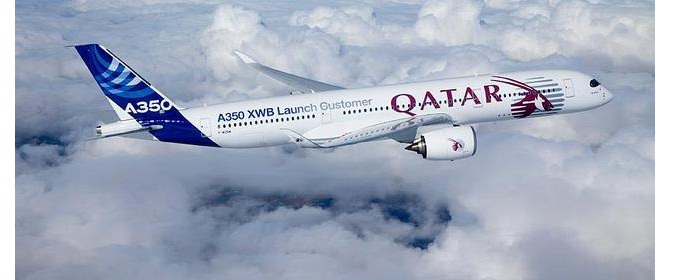 Airline flies between Bangkok and Doha four-times daily.
DOHA, Qatar – It was just last month that Qatar Airways announced that its newly received A380 aircraft would be ready for touchdown in Bangkok, Thailand, in January 2015. Responding to high demand for the state-of-the-art aircraft, Qatar Airways has brought forward the arrival date of the A380 to Bangkok to 5 December 2014.
In the wake of the overwhelming success of its inaugural service to London Heathrow, followed by a second service to Paris, Qatar Airways now operates its third A380 route to Thailand, just in time for holiday travellers to experience the airline's five-star service over the festive season.
The additional capacity offered to passengers with the introduction of the A380 operated on one of the airline's four-times daily services gives passengers the opportunity to experience the latest aircraft to join the Qatar Airways fleet.
Qatar Airways Group Chief Executive, His Excellency Mr. Akbar Al Baker, said: "Bangkok is an ever-increasingly popular destination for holiday makers and Qatar Airways is pleased to be providing additional capacity on the route.
"We recently also introduced the Boeing 787 Dreamliner on the Phuket route, deploying two of the very latest aircraft on these popular routes."
The airline's A380 superjumbo is operated in a tri-class configuration of First, Business and Economy cabins and includes a total of 517 seats.
The First Class cabin features eight seats on the upper deck in a 1-2-1 configuration. Each seat features a 90" pitch with a fully lie-flat bed, 26" HD in-flight entertainment screen and direct aisle access. The First Class cabin also features exclusive spa-like bathrooms with luxurious amenities to ensure passengers enjoy a comfortable and leisurely flight.
The Qatar Airways A380 Business Class cabin features 48 seats on the upper deck in a 1-2-1 configuration, each with an 80" fully flat bed, 17" HD in-flight entertainment screen and direct aisle access.
There are two Economy Class cabins on the Qatar Airways A380, with 56 seats on the upper deck in a 2-4-2 configuration, and 405 seats on the main deck in a 3-4-3 configuration. Each Economy Class seat is 18.5" wide with a 32" pitch and features a 10.6" in-flight entertainment screen.
The upper deck also features a spacious inflight lounge offering Premium passengers an escape from the typical airplane environment, which is unique to the A380.
Another key feature of Qatar Airways' A380 service is its in-flight Wi-Fi connectivity available across all classes of travel.
Qatar Airways has received three of its 13 A380s on order to date.
Qatar Airways has seen rapid growth in just 17 years of operation, to the point where today it is flying a modern fleet of 142 aircraft to 145 key business and leisure destinations across Europe, the Middle East, Africa, Asia Pacific, North America and South America.
Doha (DOH) and Bangkok (BKK) Daily Flight Schedule (all times local)
Depart DOH QR828 at 01:25, arrive BKK at 11:35
Depart DOH QR836 at 01:55, arrive BKK at 12:10
Depart DOH QR832 at 08:35, arrive BKK at 18:45
Depart DOH QR822 at 21:00, arrive BKK at 07:10
Depart BKK QR837 at 01:40, arrive DOH at 04:55
Depart BKK QR823 at 08:35, arrive DOH at 11:50
Depart BKK QR829 at 19:55, arrive DOH at 23:10
Depart BKK QR833 at 20:45, arrive DOH at 23:55