That'S Cocktail Hour In New Orleans Y'All!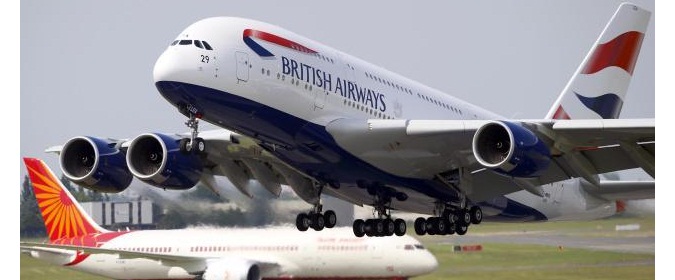 British Airways is shaking it up ahead of the launch of its new route to New Orleans.
From March 27 'The Big Easy' will be easier to reach than ever before with four direct flights a week between Heathrow and the Louisiana city.
To celebrate the airline has teamed up with award-winning drinking den NOLA to create a New Orleans inspired cocktail and Creole food menu which will be served to all customers on flights between the two cities from March 27 until April 27.
Executive chef, Brett Milligan, has collaborated with British Airways' in-house chefs to create courses which blend authentic Deep South flavours alongside traditional cooking techniques.
The airline is hosting a VIP charter flight to Mardi Gras where NOLA bartenders will be stirring and shaking signature cocktails at 40,000ft, while Nicole Scherzinger and YolanDa Brown perform an exclusive gig in the sky.
Customers will be able to try the famous 'Hurricane' cocktail, which perfectly blends rum with passionfruit and citrus, and the official cocktail of New Orleans, 'The Sazerac'; a distinguished mixture of rye whiskey, sugar, absinthe and bitters. To watch NOLA's bartenders show off their skills visit: https://www.youtube.com/watch?v=MUredkfK7bg&feature=youtu.be
James Triffo, founder and owner of NOLA, said: "I love the city of New Orleans! The music, drinks, food and culture started my love affair with the Crescent City and is what has inspired my award-winning cocktail bar and restaurant here in London. I couldn't be happier to know that British Airways is now flying direct between the two greatest cities on earth. We are proud and excited to be involved in such a great partnership and hope y'all enjoy a little taste of NOLA as we take flight. Laissez les bon temps router!"
Colin Talbot, British Airways' head of catering, said: "New Orleans is the birthplace of exotic elixirs, buzzing jazz bars and some of America's most famous cocktails so we wanted to give our customers something extra special to toast the new route. We've ensured the flavours are really authentic to give those on board a taste of the Deep South before they've even touched down."
James Triffo shares his favourite cocktail bars (and concoctions) in the city:
1) Cane and Table – Famed for its proto-tiki cocktail menu, impeccable service and unbeatable atmosphere. Their Banana Manhattan is a must try.
2) French 75 at Arnaud's – Just half a block away from the chaos of the French Quarter but step inside and you are transported back to the prohibition era. Sample the original Sazerac and their signature French 75 cocktail.
3) Erin Rose – Arguably the city's best dive bar serving frozen Irish coffee slushies and Killer PoBoys sandwiches round the clock just yards off Bourbon Street.
4) Hotel Monteleone's Carousel Bar – A long-time favourite steeped in history and novelty. It's revolving bar has been one of New Orleans' most famous drinking spots for more than six decades.
Year-round prices to New Orleans start from £599 for those flying in World Traveller, £899 in World Traveller Plus and £1,749 for those relaxing in fully-flat Club World seats, and all fares include taxes and charges.
long-haul flights include a generous free checked baggage allowance, free online check-in, seat allocation and complimentary food, drink and inflight entertainment on board.