Tereza Riavova from Trama: "We aim to make the entire trademark filing process automated"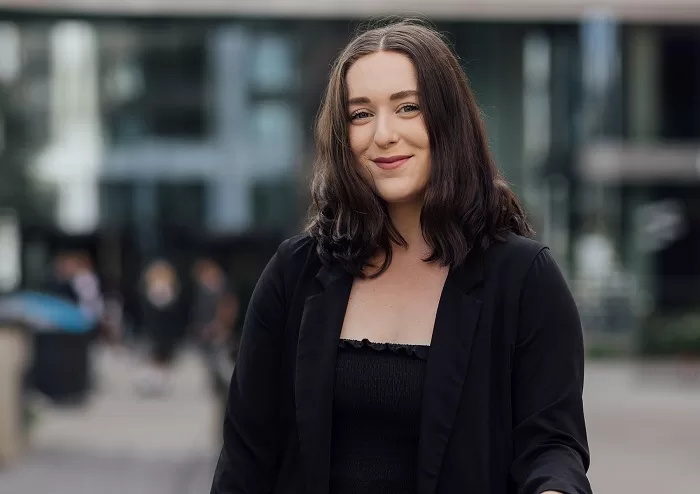 Automation helps by standardising and streamlining processes that have a direct impact on how customers interact with and experience products. At the same time, there is a growing concern that automation of legal tasks takes away the human aspect of client service. Tereza Riavova, a Legal Operations Manager at Trama, a company offering online trademark registration, believes that there is a way to combine automation and the human touch. In this interview, Tereza explains how Trama balances the convenience offered by new technologies with the personal approach to customer experience.
Tereza, what do you do in Trama?
I joined Trama over a year ago as a part of the Legal Operations team. Now my responsibilities include managing the team, dividing the work amongst my team members to ensure the smooth filing of trademark applications, and managing the processes connected with refunds and invoicing.
As a part of the Legal Operations team, do you communicate with lawyers, trademark offices, or directly with clients?
I personally communicate with our lawyers, with trademark offices, and with our clients. When it comes to internal communication with the lawyers, it is usually regarding trademark applications that need to be filed ASAP, urgent cases, or any issues we encounter with certain applications. Communication with IP offices is a bit more complicated, so we usually deal only with simple office actions. Once we receive answers from lawyers and offices, we can communicate information directly to the clients regarding, for example, the status of their applications.
Five hundred trademarks a month is a lot. And while it is definitely good news for Trama, it took me a while to come up with a way of how to properly divide the agenda amongst my team members. But I must say that we have managed to divide the tasks so that everyone knows what they're doing and doesn't feel overwhelmed with work.
As a legal-tech startup, Trama is trying to balance the use of technologies with the human touch. As a lawyer, how does the use of technologies impact your daily routine? Does it help you in any way?
I wouldn't say that our department is the most reliant one on technologies, but we are definitely benefiting a lot from them. Take, for example, our database. It has helped us a lot to cut back on the time that we spend replying to clients and offices. There are dedicated features that allow us to send all the responses and issue all needed invoices with a single click. It saves a lot of time, allowing us to get more work done. At the same time, the clients don't feel like the computer is talking to them, but actual human beings. It's a perfect balance. We can focus on more complex tasks and keep customer experience on a very high level.
How is the collaboration between the Legal Operations team and other departments set up?
We have regular meetings when we have an opportunity to go over everything, discuss the issues at hand and dedicate our attention to special cases. If there is something that cannot wait until the meeting, we have other communication channels where we can timely resolve all the issues. And such urgent cases do happen quite often, as there are many challenging cases when it comes to filing. I cannot remember the exact name of the trademark, but I know that it was filed in the UK and in the US, and after submitting it, we realized that it was filed incorrectly. The client needed the trademark to be filed ASAP, so we had to act quickly. So we approached our lawyers, contacted the IPOs, and the issue was settled in the shortest possible time. As I mentioned, when it comes to filing, mistakes are not uncommon, but because of the way the communication is set up between our teams, we can resolve the issues quickly and efficiently.
Where do you see the potential for use of technologies within the field of law?
There is a huge potential for the use of technologies within the field of law. As I mentioned previously, the use of technology allows for more tasks to get done and gives lawyers the time that they need to focus on more complex cases. This will sound odd coming from me, but our aim is to make the entire filing process automated, so we would not need members to be filling out the forms as we do now. There is still a long way to go for that to happen. But I believe that will be a great step for Trama. A possible setback with that is that if a person looks at a summary and sees a problem, they can resolve it by communicating directly with the lawyers. If the process was to get automated, I'm curious to know how we would approach such issues. But I'm certain it would have a great impact on the efficiency of the filings. As I mentioned, we aim to combine such tech solutions with excellent client experience. Our clients don't feel like they're talking to a computer, even if they get an automated message. In Trama, we want to keep it personal.
How would you describe the atmosphere in your team?
I'm very happy with the environment in my team. Work within operations can and does get quite stressful at times, because mistakes are quite easy to make. But although occasional errors are inevitable, no matter who made a mistake, everybody knows that we can approach the relevant department within Trama, and they will be willing to help us. To this day, I only had good experiences when asking for assistance or help from other team members, and I think everybody feels the same way.
How long would you say it takes for a new junior addition to your team to be self-sufficient with tasks?
Whenever someone joins our team, on the first day or two, we focus on introducing the data we work with to them first. Various websites that we use when filing, all the tools and tech solutions we are currently employing to make our work more efficient. And after a week or so, our juniors feel confident enough to file trademarks by themselves and can start their individual work. During their first weeks, they will inevitably have a lot of questions, and the entire team is always ready and open to help. So whenever newcomers have any questions, or they feel like they need a little more information in any sphere or field, we are always there for them.
Trama is continuously searching for new talent. What kind of person do you think would fit into your team?
Within my team, it is very important for a person to be detail-oriented. Given the number of trademark applications the filing team has to go through on a daily basis, it can be quite easy to lose focus with such repetitive tasks. So it is very important for the member of the filing team to really pay attention to detail. And even though you make file applications to the same jurisdictions every day, check for the things that need to be checked. So it would definitely have to be someone who does not have a problem with repetitive tasks because that is where everyone begins with the filing team. Another major point is to not be afraid to ask for help. It's always better to ask somebody to double-check your work, even if it would take a bit longer.