Supporting Africa on the Path to Safe Access to Electricity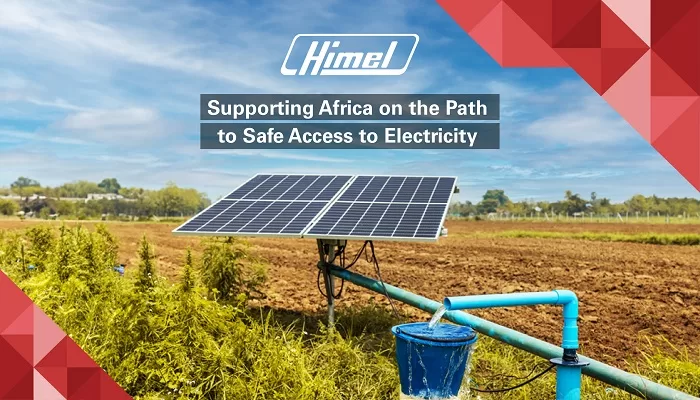 Electricity is one of the cornerstones for economic development—improving healthcare and education, promoting socio-economic inclusion, and unlocking human capital growth. Access to electricity plays a pivotal role in enhancing people's choices and opinions. Globally, developing countries have achieved a significant electrification rate with a major boost in industrial and commercial electrical access in past two decades. However, still a considerable chunk of the African population lacks access to electricity.
While the sprawling cities have unreliable supplies of electricity, large swaths of the continent's rural areas have no power at all. The IEA World Energy Outlook shows that close to 600 million people, which is about 43% of the population, remain without access to electricity in sub-Saharan Africa. The examples range from Zimbabwe, where people must work at night since it's the only time there is electricity, to Nigeria, where grid failures are frequent. To put the gap in access to electricity in picture, people in Nigeria spend more on electricity bills and petrol for generators but get only an average of 7 hours of power daily.
While there has been a continent-wide drive to propel electrification, the conversations on safe and reliable access are still on the margin. In countries, where colonization led to early electrification, aging infrastructure and frequent breakdowns have continued to pose a surmounting challenge for progress in industries and commercial segments.
According to the World Bank estimates, nearly 20 billion dollars are needed annually to achieve universal electrification across sub-Saharan Africa. Out of this, 10 billion dollars are required yearly to bring power and keep it on in West and Central Africa. Not only are the global powers focusing on 'Energy Transition' joining hands to help the continent expand its electricity access, but the World Bank has also doubled its investments.
There is no single yard stick to gauge the challenges and implement solutions for a diverse geography like Africa, but, faster yet safe electrification is the goal for most of the countries and regions to achieve progress in power parity goal. Fixing the electrification needs of sub-Saharan Africa needs strategic long-term planning and innovation such as solar energy and battery storage, along with investments for centralized and off-grid power systems. Already on the road to recovery, countries such as Rwanda, Ghana, and Kenya are on track for full access by 2030, offering success stories other countries can follow.
Building an electrical infrastructure including power plants, transmission lines, and distribution networks requires a significant upfront capital investment. There are high costs associated with these projects in terms of engineering, construction, and equipment procurement. Additionally, ongoing operation and maintenance of electrical infrastructure including repairs, equipment replacement, and system upgrades is a continuous financial commitment.
Africa, being blessed with vast reserves of renewable energy sources and the world's best global solar resources. Stakeholders must look out for innovative ways to harness these and provide affordable electricity for all Africans. In that effort, greening the power generation mix can significantly lower the costs of power generation. This approach will make it easier to bridge the gap of existing resources and future demand. Fossil fuels still dominate Africa's energy mix. Efficient transition to solar power technologies requires products that can work with dual supply of AC and DC. By 2050, only around 30% of Africa's energy production will be from solar power, hence, in conjunction, cost-optimal and affordable electrical products that boost agricultural as well as industrial efforts of the continent are key to the future-readiness of electrical framework. Additionally, ensuring that the sourced electrical products meet international quality and safety standards is crucial to building a reliable electrical infrastructure while expanding electricity access even across rural regions.
About Himel
Himel is an award-winning global manufacturer and supplier of Power Distribution and Management, Motor Control and Protection, Industrial Components, and Home Electric products.
With a footprint in 50+ countries, Himel is a leader in value-engineered electrical products for residential, commercial, and industrial sectors.
Through a wide portfolio of electrical products designed for robust performance in conditions of poor power transmission and distribution, Himel facilitates high efficiency and safety in industrial electrical equipment and residential applications.
In 2022, Himel launched its solar portfolio in Nigeria specially adapted to photovoltaic applications. The product range can be easily integrated into existing power distribution framework. With a comprehensive specification range of Miniature Circuit Breaker, Air Circuit Breaker, Molded Case Circuit Breaker, Surge Protection Device, Solar Variable Speed Drive and more, the Himel Photovoltaic Range of Switchgear meets the increasing demand of power generation mix of African countries. Download Himel Solar Brochure here.