Stay Focused When You're Working From Home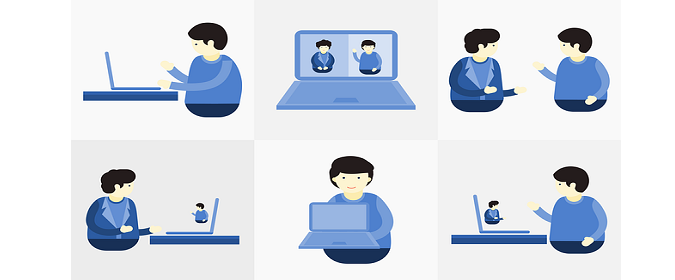 Tips for How to work from home in the right way
If you don't like your job, you don't strike. You just go in every day and do it really half-assed. That's the American way" – Homer Simpson, 1997
The widespread havoc wreaked by the outbreak of COVID 19 has placed the economy in a virtual standstill. Many firms are now speculating that work from home is a trend that will survive and thrive in the post-pandemic period as well.  A survey by E&Y reveals that the ongoing health crisis is forcing organizations to analyse their HR processes and operations via a "digital lens" While it implies a fall in turnovers and lower organizational costs, it does pose multiple challenges for employers as well as employees. The following are some solutions to overcome the obstacles of working remotely:
1. Communication is the key!
The middle-level managers should take it upon themselves to motivate the employees by stepping up their communication game. Providing them with clear cut expectations and timely feedback will go a long way in keeping the work on track. However, communication should not just be limited to work-related aspects. It is natural for employees to feel isolated and perturbed, given the circumstances. Managers should regularly check in with their employees to ensure that they are in proper physical and mental health. Regular team catch-ups through video conferencing can help simulate the office environment and galvanize the employees into action.
Some common tools for healthy team communication: ProofHub, Facebook Workplace, Slack, Twist, and Hangouts Chats.
 2. Creating a workspace
While working from home provides flexibility, one of the biggest challenges for employees while working remotely is to create a distraction-free workspace. Creating an ad-hoc ergonomic home office with proper internet connectivity will aid productivity. While your bed may seem like the ideal workspace, creating a division between rest and grind time is essential for optimal output. According to cognitive scientists, the five essentials for working from home include access to natural light, a comfortable temperature, good air quality, comfortable furniture, and a strategy for minimizing distractions. While your Netflix account and bed may be constantly begging your attention, it is important to stay focused.
3. Providing proper technical assistance:
A major chunk of the company`s workforce may not have access to the prerequisites of working from home: laptops, proper internet connectivity, and basic technical knowledge. Working from home serves as an obstacle in the proper functioning of a company mainly because employees are not familiar with the new interface. During the various stages of remote working, firms should provide employees access to the needed hardware and acquaint them with the technology that goes into making the process possible. Many firms like Sitel, Skyes, and CDW provide work at home solutions by offering services like virtual assistants for tech support and stable and tested tools for satisfactory work from home experience. There should be proper trial runs to eliminate the errors which may impede the work.
4. Setting ground rules
While working from home allows employees to adjust their work environment to match their needs and preferences, giving way to more creativity and efficiency, many people struggle to be productive in an unsupervised environment. It is advisable to set and adhere to certain ground rules. For example, starting your day early and committing to daily targets. Besides, organizing your day clearly by creating to-do lists, allowing yourself breaks, and minimizing distractions. In addition, find ways to keep yourself motivated and productive.
5. Keeping spirits up and taking regular feedback
In stressful times such as these, employees are likely to be disturbed by the looming headlines and the various implications of the pandemic. The managers need to keep the spirits up and ensure that employees are not feeling isolated and dejected. Besides, they should constantly seek feedback from employees to ensure a smooth transition to work from home. Incorporating their feedback will enable the management to overcome their shortcomings while at the same time boost employee morale.
While simulating an office environment in a virtual space is an arduous task, the right communication and collaboration tools can enable managers to achieve this goal.  Although the circumstances are getting tough, it is vital to maintain composure, connect, and take care of one another.
Benefits of work from home
Increasingly, home is being seen as the most productive place to work. A 2019 survey of 1,004 full-time employees across the U.S., including 505 remote workers, found that employees who worked from home worked an average of 16.8 more days every year than those in an office.
The benefits of home working include:
Not suffering the distractions of office life, such as phone calls, meetings and interruptions from colleagues.
Being able to adjust your working environment to match your preferences and needs, which can help you to stay more relaxed and boost your morale.
Doing tasks in the way that suits you best, allowing you to work more efficiently, creatively – and enjoyably.
Here's a list of the 12 meeting software tools.
You may think of Skype as a convenient way to make long distance-calls using your computer. But the Skype for Business product or Microsoft Teams product allows you to use Skype to run online video conference meetings.
Skype for Business is being replaced by Microsoft Teams which contains many of the same features. There's even a free version of the meeting software to get you started. If you still have Skype for Business, it should still be good till the 31st of July in 2021.
Use the tool top share your desktop and collaborate online in real-time. You can also record your meetings.
Hangouts Meet is a more business-friendly tool than classic Google Hangouts. To use this meeting software, however, you'll need a G Suite Account. Meet by Google Hangouts allows you to hold live video conferences. The number of people you can host for your online video conference varies.
If you've got G Suite Enterprise, you can host up to hundred people. But with G Suite Basic, you can host up to twenty five people with G Suite Business, you can host fifty.
With this live conferencing software, you'll enjoy many features including screen sharing, cloud recording, personal video meeting rooms and more. The number of people you can include in your web meeting depending on the level of package you purchase. With the free starter level, you can include hundred participants. At the business level, you can have up to two hundred meeting participants. And there are several levels of this web conferencing software in between.
This web conferencing software is designed specifically for online meetings. It includes a toll-free option to make your meetings more accessible. Set up a personal meeting room with your own URL. Share your desktop in real-time, so your attendees can see exactly what you're talking about. Record your meeting and store it in the cloud. You can also download a free trial video conferencing software that hosts up to 250 participants.
This popular online meeting software is a great choice for business since the most basic level is free. At the most basic level, you can host up to 100 meeting participants for up to 40 minutes. You can also use screen sharing to collaborate. And there are breakout rooms for private discussions. To get more features such as unlimited meeting duration or more participants (up to one thousand participants with Enterprise Plus), choose one of their premium plans.
This relatively new online meeting software also has a lot to offer even for very small businesses. There's a free version for individual users (with limited features such as only five participants per meeting and no webcam streams). there are premium plans that offer additional features. The pro and business level plans for example, lets you host up to 250 in your meeting and including recording.
There are also premium levels. It includes unlimited video and audio meetings as well as screen sharing. At the most basic level, you're limited to four people per meeting. At the most advanced level, include up to two hundred people in your meeting. Also nice is the fact that you can get a free trial of any level of service. Even the most basic.
ClickMeeting is a feature-rich web meeting tool that not only lets you hold online meetings, but also lets you run webinars. Your meetings can accommodate up to twenty five participants, but if you host a webinar, you can include more bpeople (based on your plan level). This tool also lets you share screens for collaboration. Plus, record your meetings for those who couldn't attend.
While you may think of adobe as having great design tools, they also offer online meeting capability through Adobe Connect. You'll meet in an online meeting room with a custom URL that's always available. You can record your meetings and even republish them. Plus, there bare add-ons that allows  you to more. A free trial is available.
Use your webcam to talk to your meeting participants through a video feed. You can share all or part of your screen to help illustrate your points. You can also record screen shares and the audio part of your meetings. This web conferencing software is compatible with your calendars. Set up automated email reminders to maximize meeting attendance.
Here's another well known company with online meeting software you may not be aware of. Set up secure web meetings with pay-as-you-go pricing. You can also use Amazon's Alexa to start your meeting. It's also easy to share screen content using Amazon Chime. Make a recording of your online meeting and store it in the cloud for later reference. Add meetings to the MS Outlook calendar.
This online meeting software offers two plans. With the free plan, you can hold a meeting of up to four web participants. The Lite plan allows you to hold a meeting of up to ten web participants. The pro plan allows you to host up to thirty. All three plans let you host up to two hundred web and phone participants. All levels include screen sharing, chat and the ability to send email meeting invitations and reminders. With the larger plan you can also have a toll-free number for your meeting as well as the ability to create a meeting recording.
To add, UberConference and BlueJeans are two other video conference softwares and nevertheless, could be equally helpful.
Key Points
There are numerous advantages to working from home. But there are many challenges, too, such as staying focused and doing your best work.
Find ways to motivate yourself to work positively and productively. Highlight things that will likely distract you, and take steps to deal with them. Set up a workspace that's comfortable and appropriate for your job, and do everything you can to limit interruptions.
Organize your day as clearly as you would at the office, including allowing yourself breaks. Maximize your time by creating To-Do Lists, and by managing the distractions of home life.
Keep the lines of communication open between you and your boss and other team members, but also make it clear when you don't want to be disturbed.
Doing too much at home can be as problematic as doing too little! So, create "no-go" zones for work devices, take regular breaks, and have a door that you can shut on your work at the end of the day.