Sparks Fly for Red, White and Blue
Did you know that for many U.S. consumers, July 4 is as important a holiday as Halloween, Holiday or Valentine's Day? It's a day to proudly display America's red, white and blue – and people want those colors on everything, including their favorite snacks. That's why here at Hershey we've invested in wrapping our power brands in patriotic packaging to make consumers' celebrations more festive and to drive excitement on our retail partners' store shelves.
Summer is a big opportunity for our retail partners. You may be surprised to hear that in 2016, early summer had the largest chocolate packaged candy dollar growth in a 52-week spani.
We love seeing summer in-store displays that focus on helping consumers find the products they love for parties and backyard BBQs from Memorial Day through Labor Day. And the pinnacle of these celebrations is July 4th, the most popular summer activity for United States.ii
"The patriotic theme has become a mini season for retailers."
Red, white and blue products are attracting consumers attention – from party supplies to grocery items –  so finding space on end caps, in seasonal aisles and displays in high-traffic areas is important. Seeing the power of the red, white and blue in-store point of sale (POS) materials sparked an idea for us.
It was time to develop a summer seasonally-relevant program for consumers. We launched our first Red, White and Blue program last summer with three large-scale customers and saw strong interest in the seasonally relevant packaging. This led to our national program (across all classes of trade except dollar) this year under the theme of "Star Spangled Summer."
Our efforts were backed by data: Confectionery products hold the third largest share of summer sales behind salty snacks and carbonated beverages.iii
Once in the stores, we lean on our Retail Sales Representatives to strategical plan with store managers to make the products stand out and include the POS materials like a standee or even balloons. This helps create an "event" in the store and adds to the overarching theme.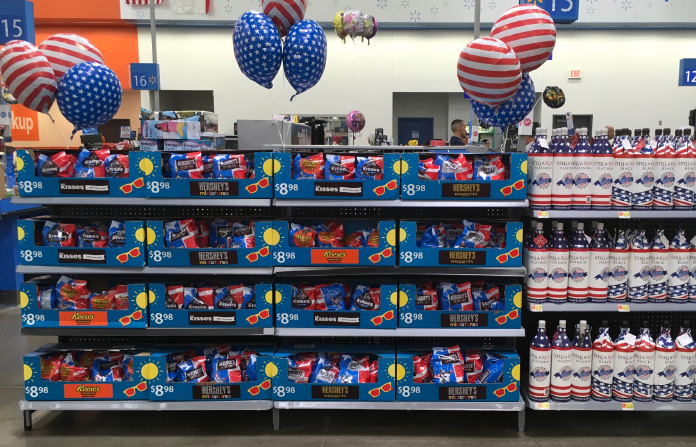 It's difficult to pass by this display, isn't it?
While the POS may first draw consumers in, a large supermarket may stock 30,000 products and a shopper's average trip is 40 minutes. That gives your product less than 0.08 second of the consumers' attention.IV
At Hershey, we're focusing on differentiating our products with unique packaging – both the outside package and the individually wrapped pieces. This year you'll find five chocolate packaged candy varieties available, including Hershey's Kisses Chocolates and Reese's Miniatures at various retailers. The celebration continues in convenience stores with King-Size packages of four brands including Hershey's Milk Chocolate Bar and Kit Kat® Bars.
We will continue to harness the power of the mini-season, expanding our red, white and blue promotion in 2018.