Slay with Our Best Formal Dresses in Your Evening Parties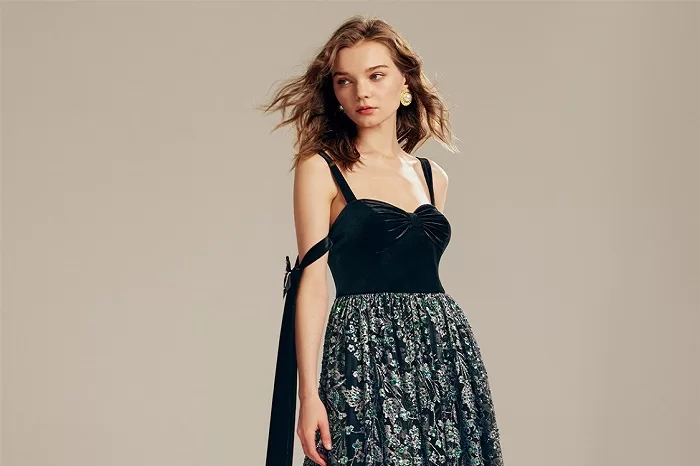 There are two main types of events: Formal and informal. In Formal events, the invited individual has to wear formal dresses to maintain the protocol of the event. Whereas informal event has no restrictions of any formal protocol.
One can wear anything one likes at a normal informal party.
But what will you wear to a formal party? Nothing to worry about. AW Bridal has got your back. One should be flawlessly, elegantly, and perfectly dressed in a formal gathering.
A perfect businesswoman should catch every eye at the event.
Dressing Elegantly
Some famous graceful dresses that are perfect for your evening parties are listed below:
AW Leeward Dress
If you're looking for a comfortable yet classy luxurious dress, this Leeward dress is all you want. The high-quality stretchable velvet dress is designed to shape around a body perfectly.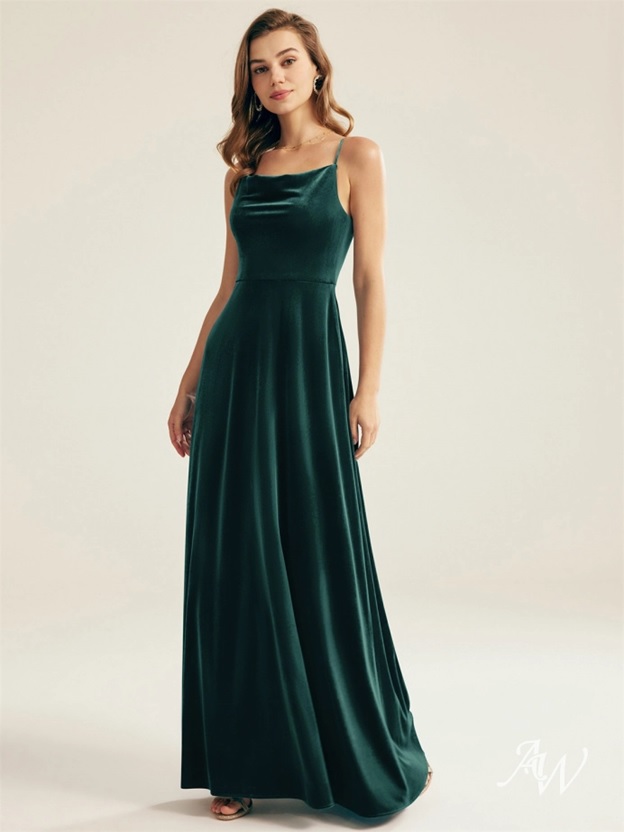 This is an A-line dress with a classic square neckline with spaghetti straps. The beauty of this elegant dress is enhanced in different colors, including Hunter Green, Dusty Rose, and Burnished Gold. The built-in bra, smooth zipper, and hidden side pocket make this a comfortable dress.
AW Delphine Dress
It's a dress with a graceful and sexy look. Delphine dress is a special dress with a deep V-neckline with a bow in the bodice. The dress is formal, yet it has the informal tendency to catch every eye. It's an A-line to floor length.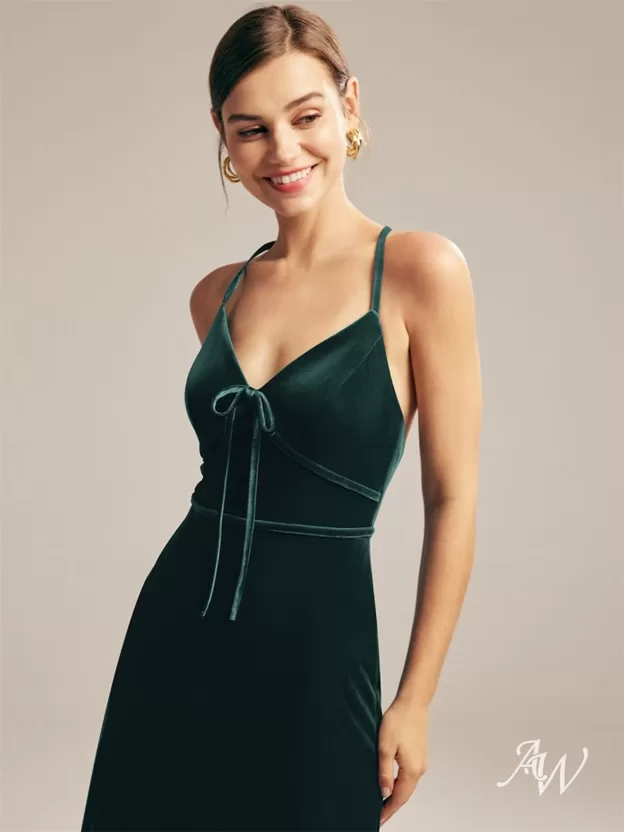 This outfit has lace embroidery at the back that leads from the halter neck down to the skirt. The velvet fabric of this dress wraps around perfectly, resulting in a smart and slim body. The built-in bra makes the dress comfortable. It is available in different mesmerizing colors like Burgundy, Burnt Orange, Hunter Green, and more.
AW Gwendolyn Dress
A dress with charming looks spiced up with the surprise of shimmer. A high-quality stretchable fabric with shimmer on one shoulder captivates the exotic looks.
This Gwendolyn dress is ideal for a retro, modern-themed wedding. It has an asymmetrical neckline laced with a spaghetti strap.
AW Sienna Dress
An off-shoulder with a bodice of shimmer is a perfect show-stopper dress. A graceful fabric of high-quality velvet wraps around the body, giving it an elegant look. It has a straight neckline with a zipper at the back. The bodice of this dress is covered with sequin. The shimmering bodice has a bra-shaped outline that leads to a fit and flare skirt.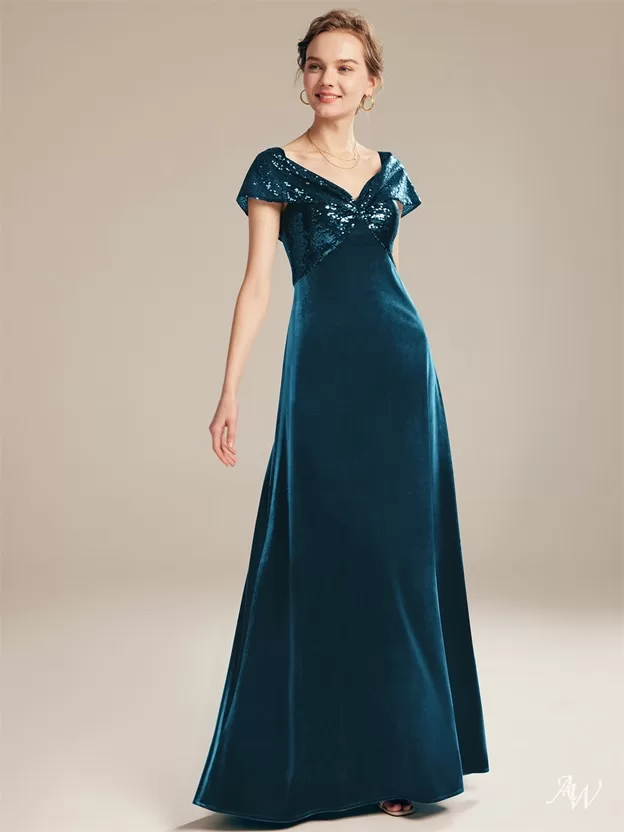 A floor-length maxi with a bent V- neck at the back and front. It shines in Burgundy, Burnt Orange, and Midnight Navy colors.
AW Marjorie Dress
The Marjorie dress is a perfect V-Neck dress with an A-line Silhouette. It is a complete outfit designed for a romantic winter wedding. Its top-quality velvet structures the feminine curves. The design in the front of the bodice accentuates the bust line beautifully. It is a graceful yet comfortable dress. Its zipper and built-in bra line make it comfortable for women. Its among the top seller at awbridal.com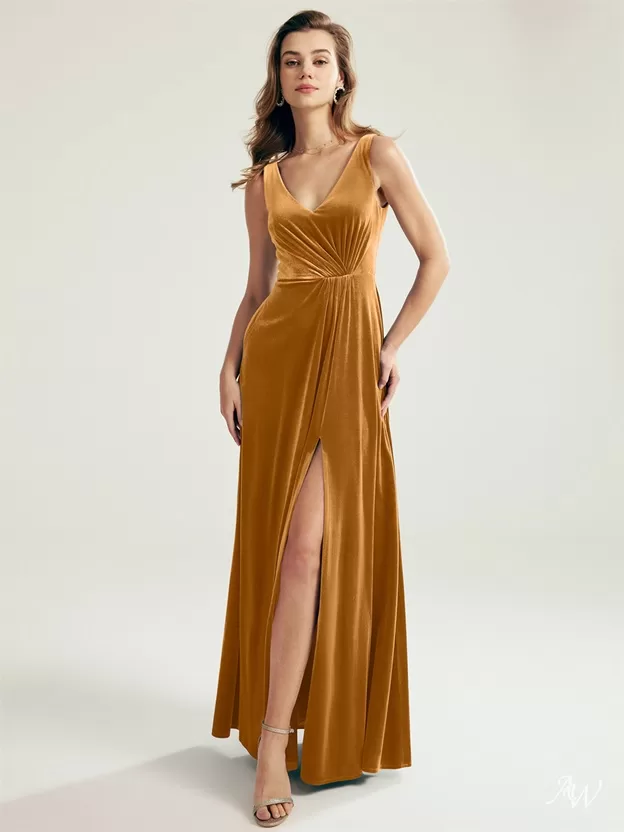 How can such a masterpiece be limited? It rules in several colors like Burgundy, Burnt Orange, Burnished Gold, and Hunter Green.
AW Neva Pants Set
AW not only contains maxi, but it also has a collection of several other silhouettes. Neva Pants Set comes in Sage green in different sizes. Created with flocking fabric. It is a jumpsuit with floor length. It's a comfortable outfit with side zipper pants pockets.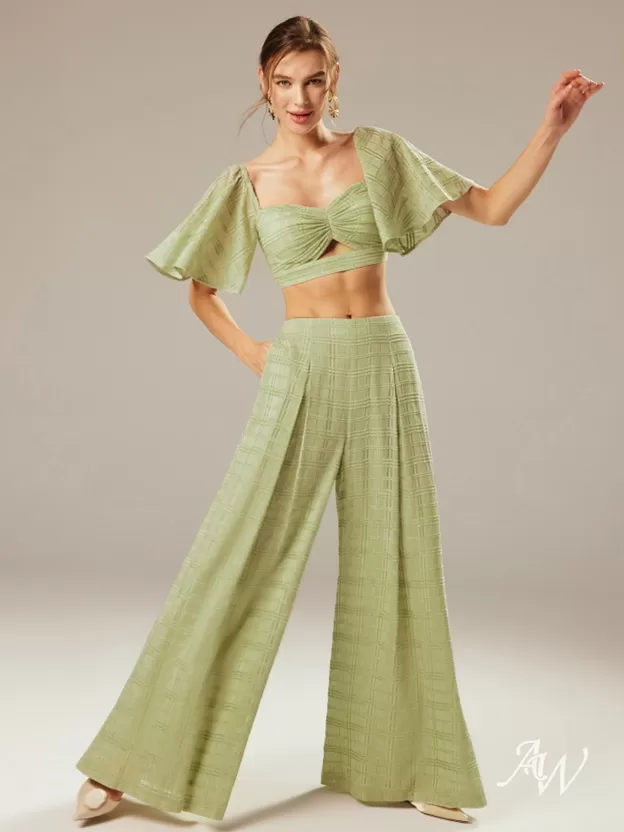 The butterfly sleeves and the buckle in the back depict a jolly elegant look.
AW Lavinia Dress
The fabric is a royal satin Charmeuse. It's a masterpiece A-line. The fitting and the zipper enhance the feminine curves. A dress with butterfly sleeves and detailed lace. The dress has a V- neck front and back and special lace embroidery.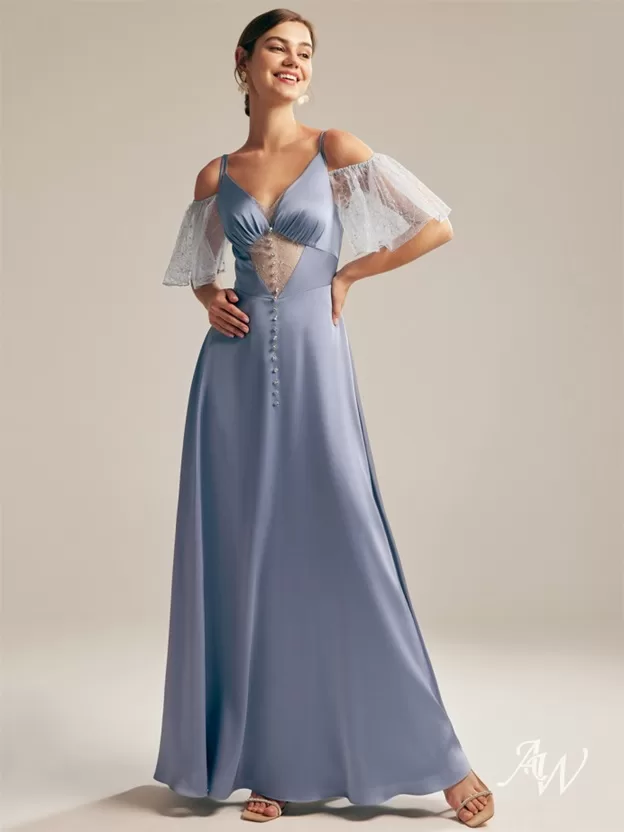 AW Floria Dress
Another swirly masterpiece is an A-line. High-quality stretchy velvet adds life to the tea-length dress. It allures a V-neckline. It is designed to provide grace and comfort at the same time. Its straps hold the bra line bodice perfectly. It shapes the beautiful pleats of the wavy fabric. This piece is available in different colors like Burgundy, Hunter Green, and several other colors designed to suit you.
Final Word
All these formal dresses not only ensure mesmerizing grace and beauty but also provide comfort. A woman looks elegant when she is confident, and she is confident when she is comfortable. AW bridal is the best place to secure a three-in-one, including beauty, comfort, and confidence.