ŠKODA VisionS: SUV Design Study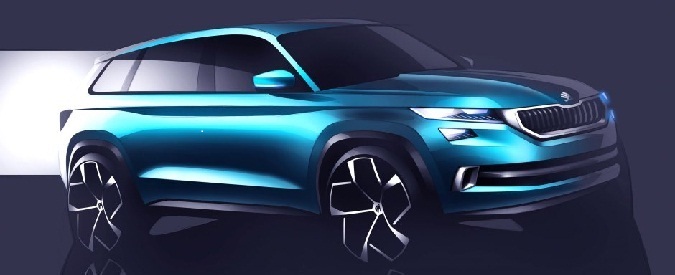 ŠKODA communicates its new, modern design language in the SUV segment. The brand will be showcasing its new show car – the ŠKODA VisionS – at the 2016 Geneva International Motor Show, hinting at how ŠKODA's future SUV could look
The design represents a perfect balance of aesthetics, power and function. Over recent years ŠKODA has completely renewed its model range and the next phase will involve broadening the range of models in the SUV segment.
ŠKODA unveiled its new design language in 2014 with the VisionC design study. The brand is now transferring this to the SUV segment with the VisionS ('S' stands for SUV) showing how ŠKODA's future SUV, which is larger than the Yeti model, could look. With a length of 4,700mm and a width of 1,910mm the 1,680mm high show car creates an instant presence on the road.
Inside traditional brand values are recreated with a large interior, here featuring three rows of seats, offering a generous space for six occupants.
Externally the ŠKODA VisionS reflects the brand's new emotional appeal. All the edges and lines are clear, precise and sharp, while crystalline design elements accentuate the exterior. The interplay of light and shadow creates powerful effects on the strikingly chiselled surfaces.
At the front the bonnet relies on the creative use of plastics, with contours flowing towards the brand logo. The wide grille and four tapered, high-set LED headlights characterise the face of the show car, emphasising the vehicle's SUV character. Crystalline elements in the vertical struts in the grille and on the logo are ŠKODA's tribute to the Czech art of crystal-glass design.
The side view also illustrates the strong SUV character of ŠKODA's VisionS with sharp tornado line spanning the entire length of the powerful car body. Angular wheel arches emphasise the off-road character and the upper-shoulder contour forms a deep groove over the sills. The quickly sloping roofline with the long spoiler and tapered rear visually accelerate the show car even when stationary.
The rear of ŠKODA's VisionS has been sculpturally designed with a strong diffuser insert bordering the large exhaust pipes, giving the large SUV a visually powerful stance. The ŠKODA logo and shallow rear lights with dynamically cut crystalline housings sit just beneath the low rear window, while ŠKODA's characteristic C-arm, beginning at the rear lights, runs into the flat reflectors in the bumper.