ŠKODA model range safer than ever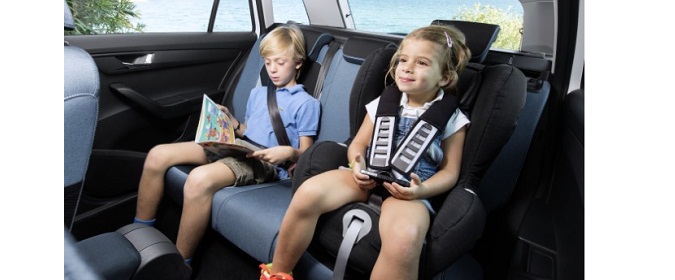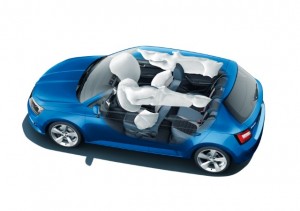 Mladá Boleslav, 2 December 2014 – ŠKODA cars protect your passengers with top safety seal of approval. All seven ŠKODA model series have achieved the maximum five-star safety rating in the internationally recognised Euro NCAP crash tests in the course of their respective market launches, with the new ŠKODA Fabia being awarded five stars most recently in November.  The universal top rating by Euro NCAP proves the high safety level of ŠKODA vehicles, and has been the result of intensive work to achieve maximum active and passive vehicle safety. In addition, the company engages various road safety initiatives as part of their social responsibility campaign.
​"The safety of all passengers is ŠKODA's top priority," says ŠKODA Board Member for Technical Development Dr. Frank Welsch. "This uncompromising standard applies across all classes of vehicles, from the city car ŠKODA Citigo to our flagship ŠKODA Superb. We are constantly working to improve the level of active and passive safety in our vehicles. This includes installing innovative assistance systems, as well as perfectly coordinated restraint systems, cutting-edge suspension technology, high-performance lighting systems and optimizing the body structures of our vehicles." 
ŠKODA employs around 1700 specialist designers, engineers and constructors in the Technical Development department. A considerable part of this work is directly or indirectly concerned with the technical issues of vehicle safety.
The new small car ŠKODA Fabia clearly demonstrates how much emphasis ŠKODA puts on safety systems. The third generation model offers a variety of safety innovations that had previously been reserved for higher vehicle segments. This means that the new ŠKODA Fabia features a safety level new to this segment, and is unmatched by any small car outside the Volkswagen Group.
The Front Assistant with integrated city emergency brake function celebrates its premiere in the new ŠKODA Fabia. The new Fabia also features a long list of additional safety features, such as multi-collision brakes, Driver Activity Assistant (fatigue detection), Speed Limiter, Hill Hold Control (assists drivers to start on an incline) and the electronic tyre pressure monitoring system. Other features available upon request include LED daytime running lights and fog lights with Cornering function.
As part of their respective market launches over recent years, all seven ŠKODA model series have been awarded the highest rating of five stars in the Euro NCAP Crash tests. The new ŠKODA Fabia received the top rating most recently in early November.
Other models to have achieved the five-star Euro NCAP status, include the ŠKODA Octavia (2013), ŠKODA Rapid (2012), ŠKODA Citigo (2011), ŠKODA Yeti (2009), ŠKODA Superb (2008) and ŠKODA Roomster (2006).
The high safety level of the ŠKODA models has been confirmed by independent experts. Euro NCAP (European New Car Assessment Programme) is an independent consortium of European transport ministries, automobile associations, insurers and consumer advocates. The organization carries out crash tests with new automobile models, assessing safety according to the four categories of occupant protection for adults, child safety, pedestrian safety and supporting safety systems.
Innovative safety assistance systems
Safety assistance systems help to prevent accidents or mitigate their consequences for passengers and other road users. Over recent years, a number of new technologies have entered the ŠKODA model range. The Czech manufacturer has been able to successfully implement these systems thanks to the technology and modular transverse matrix (MQB) of the Volkswagen Group. As part of ŠKODA's safety strategy, the brand currently offers the following security systems in various forms in each of the seven models in the series: Front Assistant, including City Emergency Braking, Multi-Collision Brake Feature, Adaptive Cruise Assistant (adaptive cruise control), Lane Assistant (lane keeping assistant), Intelligent Light Assistant (high-beam assist), Crew Protect Assistant (proactive passenger protection), Driver Activity Assistant (fatigue detection), Traffic Sign Recognition and electronic tyre pressure monitoring system.
Best passive safety with safety package
In order to best protect the passengers in the event of a collision, all ŠKODA models are equipped with a comprehensive, perfectly tuned safety package. Depending on the model, this can include up to nine airbags (Superb, Octavia and Yeti), height adjustable 3-point seat belts with pretensioners and safety headrests. Specifically optimized body structures provide very good deformation characteristics in a collision, and ensure that as much energy as possible is absorbed and the passenger compartment remains stable.
Social commitment to increased safety
In addition to the safety of their vehicles, the Czech manufacturer is particularly keen on the issue of road safety in general, which forms a substantial part of ŠKODA's comprehensive Corporate Social Responsibility (CSR) programme.
For many years, the can manufacturer has been supporting numerous projects surrounding this topic throughout the Czech Republic.  Since 2013, ŠKODA has been the main partner of the road safety portal 'Bezpečné cesty' (Safe Journeys). At www.bezpecnecesty.cz, road users and pedestrians can get important and clear information on the issue of road safety, and find tips on the best ways to behave on the road. ŠKODA provides specific information, findings and their expertise from their safety and accident research; they also give their specialist input and provide specific illustrative material in the form of texts and films.
The Internet educational programme 'Playful ŠKODA' gives kids a fun way to learn about how to behave near roads and urban areas. The nationwide competition 'Ways through Cities', which has been running for the past eleven years with ŠKODA's support, shows which methods are most effective in reducing traffic in Czech cities and towns.  The company regularly organizes events, such as 'Safe in the Car' and 'Road Safety Days' in association with the Integrated Rescue System of the Czech Republic. In the regions of ŠKODA production sites, ŠKODA AUTO has supported ten other road safety projects last year alone.
The company is also actively engaged in accident research, in which ŠKODA works in close cooperation with transport police, fire brigade, ambulance services and hospitals, and other government and private sector organizations.