Saudi Arabian Airlines Launches Lounge (Knights) New King Khaled International Airport In Riyadh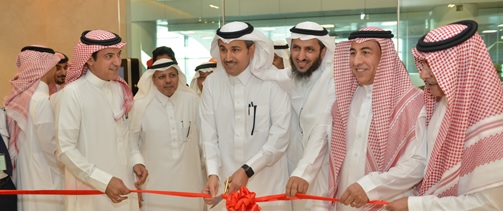 Jasser: • galleries Knights competitive advantage for Saudi Arabian Airlines and soon became a new showroom in Cairo. • firm and solid Saudi economy will exceed the current circumstances, to a more prosperous future.
Inaugurated by Director General of Saudi Arabian Airlines Engineer Saleh Bin Nasser Al-Jasser, on Sunday, the new knights lounge in Terminal (5 allocated for domestic flights King Khalid International Airport in Riyadh) that has been processed in accordance with the latest standards and provide all the necessary requirements to provide quality services to the guests, "Saudi Arabia" discerning in the presence of a professor and a serious Ghaban CEO of Saudi Arabian Airlines Catering "operating company" and directors of government agencies operating at the airport and a number of members of the knights program.
After cutting the official opening of the lounge bar ushered service to the guests, "Saudi Arabia" discerning on domestic flights who hold gold or silver or boarding on the first two classes or business card Cavalry cards, wandering in Saudi Arabian Airlines and his entourage director across the hall began from the reception area, passing through all Forums where briefed on the business center, and relaxation sessions and public sitting areas, allocated for meals and section.
And Engineer Saleh Al-Jasser was delighted with what he saw in the hall of the proper execution, processing and organization which was designed according to the identity of Saudi Arabian Airlines in all lounges knights where combines a set of specifications and standards harmonized with the products and services "Saudia Arabia" ground and air to match the halls knights with what it finds guests on board the aircraft of colors, furniture and lighting, meals and other services hand.
Eng Saleh Al-Jasser in his answers to reporters' questions about the vulnerability of Saudi Arabian Airlines is currently the economic slowdown, he stressed that the national economy is strong and solid and diversified economy, and the UK passed the conditions of variable harder than the current circumstances and always sincerity in work and positive cooperation and good planning graduated from each stage to over economy strength and durability and thankfully, pointing out that all the world's economies are exposed to periods of prosperity and the other of the slowdown, and stressing that the Kingdom is able, God willing, and then wisely its wise leadership and dedication of its people loyal to overcome this stage and scurrying to the future of a more prosperous and stable, according to the kingdom's vision 2030 program of national transformation.
He noted Jasser strategic institution that aims to modernize and develop the fleet and raise operational efficiency and service development plan, in addition to pump more seat capacity, especially on the domestic sector, which accounts for two-thirds of the daily operations, as well as increasing flights to existing plants and opening new international destinations, noting that during the year 2016 relied "Saudi Arabia" a 16% increase over the previous year, as the "Saudi Arabia" has received during the last month of 10 new aircraft, and during the 80 coming days will join 14 other aircraft to the fleet, including 10 broad planes of the body, and over the next year 2017 God willing, will receive 30 new aircraft, the largest number of aircraft received by the institution in one year.
He added: "The new knights lounge at King Khaled International Airport in Riyadh is the latest luxury lounges series and distinctive processed by Saudi Arabian Airlines to its guests in many of the Kingdom's airports as part of a comprehensive plan aimed at sophistication level of services to its guests traveling on domestic and international flights, have become galleries Knights competitive advantage Saudi Arabian Airlines, and we went to the opening of a number of galleries knights outside the Kingdom will start at Cairo international Airport in terminal 2 so as to provide a distinctive experience and a high level of service to guests, "Saudi Arabia travel."
At the conclusion of his statement, Director General of Saudi Arabian Airlines he stressed the importance of qualified national cadres in the aviation industry in the Kingdom, noting that Saudi Arabian Airlines has adopted a set of ending training programs, employment-focused through which to attract cadres young Saudi from different segments, as is the "Saudi Arabia" of the pioneers in the recruitment of Saudi girls and also those with special needs and develop training programs so as to ensure them a comprehensive training highly trained and qualified to work in various sectors, including the Saudi Arabian Airlines Catering company, which have proven their ability and proficiency in the tasks assigned to them perform.
And it contains the new hall on the distinctive wings to break comfort, privacy and luxury in one location with a total area of ​​1500 square meters and accommodates 300 guests at once Ihzawn hosted a top-class and various services meet all the travelers needs of guests on domestic flights.
And include "business area" is equipped with seats and elegant devices computers modern mechanism and Internet service through the "Wi-Fi" what can travelers get their work done during their presence in the hospitality, "Saudi Arabia" within the lounge, in addition to television screens and other follow-up flight mode, are also equipped dining area and a wide bouquet of choices and lists of meals that have been prepared very carefully and to the satisfaction of all tastes buffet in addition to snacks and hot and cold drinks around the clock system, has been allocated a special area for children equipped for playing video, drawing and coloring games, including providing them with an atmosphere of happiness and fun, Hall is also characterized by using advanced techniques in lighting through the use of one of the specialized companies.