SAP Unveils Next-Generation, Intelligent ERP with SAP S/4HANA Cloud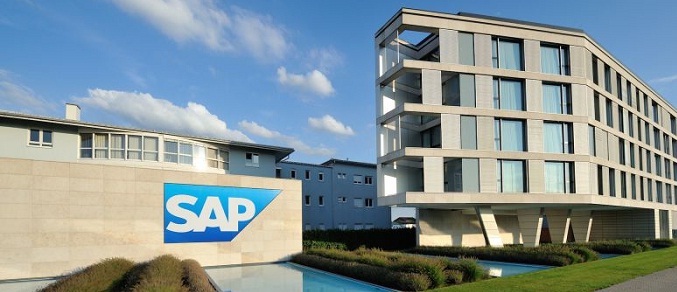 SAP SE (NYSE: SAP) introduced the latest advances to SAP S/4HANA Cloud and shared its innovation road map for the industry's next-generation, leading-edge cloud enterprise resource planning (ERP) suite.
With a new architecture of in-memory technology in combination with contextual analytics, digital assistant capabilities, machine learning and the award-winning SAP Fiori user experience, SAP S/4HANA Cloud enables customers to instantly adjust and adopt business processes and models and act on real-time insight and advice. The announcement was made at SAP Capital Markets Day at the New York Stock Exchange, where SAP executives showcased a combination of strategy and innovation.
The ERP offering from SAP provides enterprise-ready functionality for digital business in industry and line-of-business functions, with faster deployment, time to value and lower entry costs of cloud delivery. Industry research firm IDC predicts that the software-as-a-service (SaaS) business applications market will grow 17 percent annually to $103.9B in 2020 from $47.4B in 2015.*
"Decades ago, SAP invented and became the leader in first-generation ERP," said Darren Roos, president of SAP S/4HANA Cloud. "Later, we were early to build first-generation cloud ERP along with other new cloud vendors. While many cloud ERP vendors remain on this early architecture, SAP did not stop there, and invested in innovating the next generation of cloud ERP. SAP S/4HANA Cloud encompasses the latest architecture and technology innovations, along with SAP's proven set of business management expertise to usher in a true new generation of intelligent ERP in the cloud."
Intelligent, Immediate, Integrated
Thanks to the SAP HANA platform, SAP can help companies to get a real-time view of their business, with the assurance that SAP is managing their digital core and offering superior integration with SAP's full portfolio, including SAP SuccessFactors solutions for human capital management, SAP Ariba solutions for procurement, SAP Hybris solutions for customer engagement and commerce, Concur solutions for travel and expense management, and SAP Fieldglass solutions for services procurement and external workforce management.
The latest release of SAP S/4HANA Cloud enables customers to carry out their digital transformation faster and to make business processes more efficient through increased transparency, automation and quality. Different solutions in the cloud ERP suite include:
SAP S/4HANA Professional Services Cloud, delivering end-to-end project management
SAP S/4HANA Finance Cloud, an easy-to-use modern finance solution that includes procurement and order management capabilities, and supports large enterprises and subsidiaries
SAP S/4HANA Enterprise Management Cloud, combining professional services and finance capabilities for comprehensive real-time business management
"As a purpose-driven business with an ambitious strategy, we realized we needed a best-in-class ERP solution to support our growth," said Bob Barton, chief financial officer of MOD Pizza, the pioneer of the "fast casual" pizza segment with over 200 locations and over 4,000 MOD Squaders system-wide. Named America's fastest-growing chain restaurant by research and consulting firm Technomic, MOD Pizza had 220 percent growth in 2015. "MOD prides itself on its commitment to employees and customers, and SAP S/4HANA Cloud gives us a stable, scalable platform to help us manage our business and our people cohesively, with real-time access to reliable, actionable information."
Road Map for Innovation
SAP also outlined the road map for future cloud ERP innovation. The quarterly updates planned by SAP include setup wizards that will grow increasingly intelligent with machine learning and artificial intelligence; prepopulated, easy-to-adjust settings; and additional cloud-to-cloud integration and external application programming interfaces (APIs) to integrate with other applications and legacy systems. In addition, SAP detailed plans for including blockchain digital ledger capabilities and Internet of Things capabilities that will support broader global, digital business models, as well as plans for partners to build localization and industry vertical extensions.
About SAP
As market leader in enterprise application software, SAP (NYSE: SAP) helps companies of all sizes and industries run better. From back office to the boardroom, warehouse to the storefront, desktop to a mobile device – SAP software empowers people and organizations to work together more efficiently and use business insight more effectively to stay ahead of the competition. SAP applications and services enable more than 345,000 business and public sector customers to operate profitably, adapt continuously, and grow sustainably. For more information, visit www.sap.com.