Santa's Home is Now on Zillow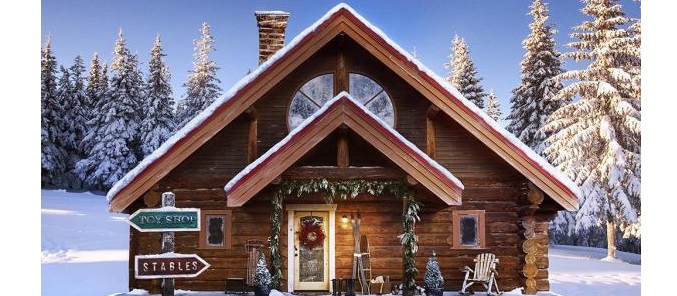 Follow Santa's Christmas Eve journey via the Official NORAD Santa Tracker from Santa's home details page on Zillow
Zillow announces that one of the most famous homes in the world — Santa Claus' North Pole house — is now on Zillow.  With a Zestimate® home valuei of $656,957, Santa's home is one of the most valuable residential properties in the Arctic.
Zillow was able to calculate a special Zestimate value for Santa's one-of-a-kind house using comparable homes in remote locationsii and applying a Santa premiumiii. The home has never been sold and is not on the market.
Santa Claus' log cabin has three bedrooms and two bathrooms and measures 2,500 square feet — about 1,000 square feet larger than the average U.S. home. It sits on a unique, 25-acre lot in the North Pole and features a river rock fireplace, a gourmet kitchen and a wood-burning stove in one of the guest suites. The property also boasts a sleigh parking garage, stables and a world-class toy workshop.
"Santa's home in the North Pole is one of the most famous homes in the world, so we're thrilled it's now on Zillow," said Zillow Chief Marketing Officer Jeremy Wacksman. "Millions of kids are looking forward to a visit from Santa this year, and now they have the opportunity to virtually visit Santa's house themselves."
To see Santa's home, type "Santa's house" into the search bar on Zillow.com. Visitors can flip through a photo gallery of the home and watch a video walkthrough to get a sense of the home's flow. Santa's house is not for sale, but by claiming his home, Santa was able to update his home's facts and add photos, which can impact his Zestimate value.
Additionally, children can start following Santa's Christmas Eve trek delivering presents around the world via the Official NORAD Santa Tracker, right from Santa's home detail page on Zillow. This feature is a result of Zillow's partnership with NORAD Tracks Santa, which has been following Santa's annual journey for the past 61 years.
"We track Santa as he makes his journey around the world every holiday season and ensure he returns home safely," said Preston Schlachter, spokesperson for NORAD Tracks Santa. "Santa puts a lot of miles on his sleigh delivering gifts all over the country and we're excited to partner with Zillow this holiday season to give families around the world a behind the scenes look at Santa's home base."
Zillow forecasts that Santa's home will appreciate 2.2 percent over the next year, in line with forecasted home value growth in the United States.
Zillow
Zillow® is the leading real estate and rental marketplace dedicated to empowering consumers with data, inspiration and knowledge around the place they call home, and connecting them with the best local professionals who can help. In addition, Zillow operates an industry-leading economics and analytics bureau led by Zillow's Chief Economist Dr. Svenja Gudell. Dr. Gudell and her team of economists and data analysts produce extensive housing data and research covering more than 450 markets at Zillow Real Estate Research. Zillow also sponsors the quarterly Zillow Home Price Expectations Survey, which asks more than 100 leading economists, real estate experts and investment and market strategists to predict the path of the Zillow Home Value Index over the next five years. Zillow also sponsors the bi-annual Zillow Housing Confidence Index (ZHCI) which measures consumer confidence in local housing markets, both currently and over time. Launched in 2006, Zillow is owned and operated by Zillow Group (NASDAQ:Z and ZG), and headquartered in Seattle.
Zillow and Zestimate are registered trademarks of Zillow, Inc.
i The Zestimate home value is Zillow's estimated market value for an individual home and is calculated for about 100 million homes nationwide. It is a starting point in determining a home's value and is not an official appraisal. The Zestimate value is automatically computed daily based on millions of public and user-submitted data points taking into account special features, location, and market conditions. Read more here for more information on how Zillow calculates the Zestimate value.
ii Zillow looked at remote locations on the coast of Alaska, as close to the North Pole as possible.
iii According to a FiveThirtyEight® survey, 78 percent of respondents cited Christmas as one of their favorite holidays. Given its popularity, Zillow increased the preliminary Zestimate value, which was determined by analyzing comparable homes in remote locations, by 78 percent, which is what Zillow deemed the 'Santa premium'.