Relax Effortlessly amongst Lush Greenery at Treetops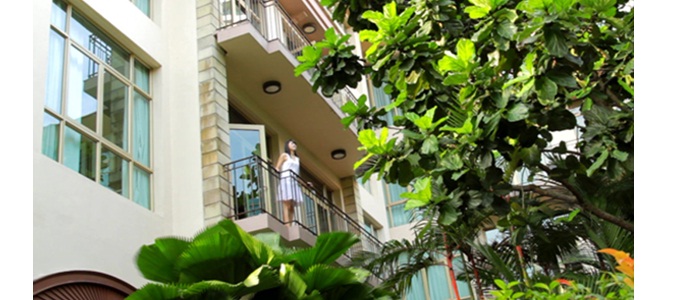 Today, the information-processing demands of our everyday activities have taken a toll on our lives, making it hard for us to find time and a place to relax.Hence our living environment comes into the picture and plays an important factor to determine our overall emotional health.
Most guests staying in serviced apartments will spend more time inside the apartment and stay for a longer period as compared to Hotel guests, it is important for a serviced apartment to have a quality and comfortable living environment.
The indoor air quality is therefore very important for our guests. Every apartment in Treetops Executive Residences is fitted with an individual high efficiency air filtering system that works 24/7 to ensure a good supply of clean, fresh air for all residents.
The extensive air filter system in Treetops works by assisting to remove micro particles, dust and bacteria in the air while releasing active carbon to help remove additional harmful matters in the air. The same system also helps maintain a good level of oxygen within the apartment by expelling unnecessary amount of carbon dioxide, allowing residents to breathe cleaner and better at Treetops.
Treetops has further enhanced their air filtering system to include additional ionizers and filters to treat the external air before channelling it into the building, further improving the indoor air quality. 
 Apart from allowing all our guests to breathe better, we also care for our guests' overall well-being. Set within five acres of lovingly tendered grounds of native trees and plants, Treetops Executive Residences, is surrounded by luscious foliage of greenery for a quick respite from a busy lifestyle, anytime.
A study conducted at six low-rise apartment communities has shown that having natural elements or settings in the view from the window contributes substantially to residents' satisfaction with their neighbourhood and with diverse aspects of their sense of well-being, compared with views of built elements, the sky or general weather. Aside from reducing mental fatigue, having a window with a greenery view can also make you feel happier.
The benefits of a green landscape do not stop there,plants are also known to reduce toxins in the air.  Even at their lowest rate of filtration, plants are a positive step towards "greener" air.
With its unrivalled luxury of landscape, you will find coming back to Treetops after a long day, a therapeutic experience as you walk through the planted pathways against the sounds of the waterfall.
Here at Treetops, we give you the luxury experience of eco-living for the body, mind and soul.
Reference:
http://www.sfrc.ufl.edu/urbanforestry/Resources/PDF%20downloads/Kaplan_2001.pdf