Qatar Airways to Unveil a World First in Business Class Travel on the Opening Day of ITB Berlin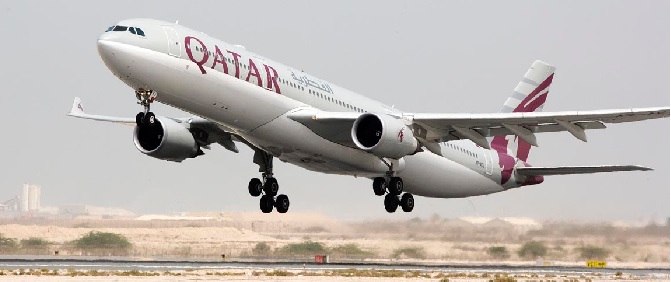 Airline will unveil a revolutionary new Business Class experience in a world exclusive premiere of its new patented product
Qatar Airways is set to take centre stage on the opening day of ITB Berlin, Wednesday 8th March, as the airline unveils its highly anticipated new patented Business Class experience in a world exclusive ceremony to international media, travel industry representatives and VIP guests.
The airline's new and unique seat design, patented by Qatar Airways, is set to revolutionise the Business Class experience for business and leisure travellers alike. Supported by a host of other innovations across touchpoints – including dining, amenities, entertainment and service – the airline's already award-winning Business Class cabin is set to challenge industry norms and expectations.
Qatar Airways Group Chief Executive, His Excellency Mr. Akbar Al Baker, commented: "Qatar Airways often uses the platform of ITB Berlin to showcase its latest product designs and aircraft features to the gathering crowds of international media and airline industry representatives. This year is no exception, and I am particularly proud that we will be unveiling the future of premium travel on day one, presenting the revolutionary developments to our Business Class offering to ensure we continue to provide our passengers with the exceptional travel experience they deserve."
The unveiling ceremony will take place at 11:00am on 8th March, the opening day of ITB Berlin, at the airline's stand in Hall 2.2 and will be attended by international media and guests of honour, including the Mayor of Berlin, Mr. Michael Müller and the Qatari Ambassador to Germany, His Excellency Sheikh Saoud Bin Abdulrahman Al-Thani. Befitting of a truly global airline the unveiling will be live-streamed through Qatar Airways' popular Facebook page. The ceremony will precede a noon press conference to be held at the CityCube during which international media will be briefed on the finer details of the new cabin design.
Visitors to the exhibition will be invited to relax in the new Business Class cabin, while sampling the hospitality offered by Qatar Airways at the airline's booths 207 and 208 in Hall 2.2, home for the airline at this year's exhibition.The ITB Exhibition is of even more significance this year in Germany as the State of Qatar celebrates the Qatar German Year of Culture, of which Qatar Airways is a proud sponsor. The year-long event celebrates the strong trade and business relations that exist between the two countries and follows on from partnerships between the Qatar and Japan in 2012, the UK in 2013, Brazil in 2014, Turkey in 2015, and China last year, 2016.
Qatar Airways, one of the youngest and fastest growing global airlines, is a leader in the aviation industry. The airline was awarded the World's Best Business Class by Skytrax in 2016, and was recently honoured with five stars for its home and hub, Hamad International Airport.
About Qatar Airways
Qatar Airways, the national carrier of the State of Qatar is celebrating 20 years of Going Places Together with travellers across its more than 150 business and leisure destinations. The world's fast growing airline will add a number of exciting new destinations to its growing network in 2017, including Auckland, Dublin, Nice, Skopje and many more, flying passengers on board its modern fleet of 194 aircraft.