Qatar Airways Launches Stylish and Innovative New BRIC's Amenity Kits Collection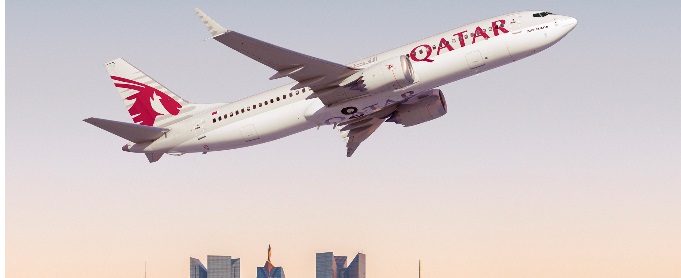 First Class female kit transforms into contemporary cross-body bag
The airline's First and Business Class passengers to receive kits on long-haul and ultra-long-haul day and night flights
Qatar Airways is pleased to reveal its new line of luxurious amenity kits for passengers in its First Class and Business Class cabins. Created by BRIC's, the celebrity-favoured premier luxury travel brand, the new amenity kits will be distributed to passengers in First and Business Class on long-haul and ultra-long-haul flights.
The new collection of BRIC's amenity kits includes designs and contents created for both male and female passengers and features all natural Castello Monte Vibiano Vecchio skin care products. The range includes lip balm, hydrating facial mist and anti-ageing moisturiser in Business Class, with Night Recovery Cream included in the First Class kits. Socks, eyeshades and earplugs complete the range, with the addition of a BRIC's signature spectacle pouch and hairbrush in First Class.
For the first time, the versatile First Class female kit contains an adjustable strap that transforms it into a contemporary cross-body bag, enabling passengers to continue using their unique BRIC's amenity kit as a fashion accessory. This kit comes in two colours, black with red trim and red with pink trim. The attractive First Class men's kit comes in two colours, mustard yellow with navy trim and navy with green trim and can be reused as a washbag for years to come.
Qatar Airways Senior Vice President Marketing and Corporate Communications, Ms. Salam Al Shawa, said: "We aim to provide a superior service to all of our passengers – from the comfort of their seat, to the food they are served, to their in-flight entertainment. Our new line of BRIC's amenity bags is of such high quality that they can be used over and over again and for the first time, our female passengers in first class can enjoy turning their amenity kits into cross-body bags. With our men's kits doubling up as washbags too, we are further demonstrating our commitment to providing superior, innovative products for our passengers."
The airline's new range of amenity kits comes in a variety of colours for male and female passengers – black, green, mustard yellow, navy and red – with more colours to be added in the future.
A multiple-award-winning airline, Qatar Airways was named 'World's Best Business Class' by the 2018 World Airline Awards, managed by international air transport rating organisation Skytrax. It was also named 'Best Business Class Seat', 'Best Airline in the Middle East', and 'World's Best First Class Airline Lounge'.
Qatar Airways currently operates a modern fleet of more than 250 aircraft via its hub, Hamad International Airport (HIA) to more than 160 destinations worldwide.
Qatar Airways will add a number of new destinations to its extensive route network in 2019, including Lisbon, Portugal; Malta; Rabat, Morocco; Langkawi, Malaysia; Davao, Philippines; Izmir, Turkey; and Mogadishu, Somalia.
About Qatar Airways: 
Qatar Airways, the national carrier of the State of Qatar, is celebrating more than 20 years of Going Places Together with travellers across its more than 160 business and leisure destinations on board a modern fleet of more than 250 aircraft. The world's fastest-growing airline will add a number of exciting new destinations to its growing network this year, including Lisbon, Portugal; Malta; Rabat, Morocco; Langkawi, Malaysia; Davao, Philippines; Izmir, Turkey; and Mogadishu, Somalia.
Source: Qatar Airways