Qatar Airways Cargo Increases Pharma Express Flights from Basel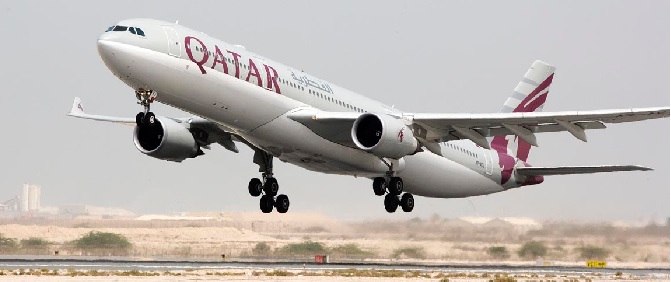 The fourth Pharma Express freighter operating from Basel,
an Airbus A330 freighter, scheduled to commence on 8 May
Qatar Airways Cargo will commence its fourth Pharma Express freighter service operating from Basel, effective 8 May. The additional freighter brings the total Pharma Express flights to 10 each week, providing dedicated uplift for pharmaceuticals and healthcare products.The award-winning cargo carrier recently increased its Pharma Express flights from both Basel and Brussels in February this year.
Mr. Ulrich Ogiermann, Chief Officer Cargo said, "There is a growing demand worldwide for the safe and reliable transportation of pharmaceuticals. By increasing capacity from Basel, the hub of the Swiss pharmaceutical industry, we are able to provide increased uplift to our customers as well as a seamless cool-chain for pharmaceutical exports out of Basel through our GDP-compliant hub in Doha. Our global customers benefit from additional capacity to import medicines and healthcare products from this major pharmaceutical hub to markets where they are required swiftly, via Qatar Airways scheduled or charter services."
Qatar Airways Cargo pioneered the innovative and industry-leading Pharma Express flights in 2015, which currently operate from pharmaceutical hubs such as Brussels, Basel, Mumbai, Ahmedabad and Hyderabad to bridge the world's major pharmaceutical trade lanes. The routes are served by the Airbus A330 freighter aircraft, offering 65 to 68 tonnes of capacity each way. A dedicated hub operations team proactively monitors climate-control on all temperature-sensitive shipments from end-to-end, to ensure the temperature-controlled process is seamless. Additionally, the carrier also engages in regular external audits by shippers and forwarders to maintain the highest standards of compliance and service quality.
Qatar Airways Cargo has invested continuously in product development since the introduction of QR Pharma solution. QR Pharma, the specialised air freight solution for time and temperature-sensitive pharmaceuticals and healthcare products, is the airline's fastest growing product within their cargo business. The product offers active and passive transportation for customers. Both solutions have a high loading and handling priority, including late cut-off times and prioritised destination delivery for QR Pharma shipments. As required by product specifications, pharmaceutical shipments are stored, transported and handled under strictly monitored conditions in a climate-controlled environment, during every stage of transportation, including ramp transportation, warehouse storage and aircraft-to-aircraft transfers.
The use of refrigerated trucks at the hub in Doha ensures the cool-chain is continuous and seamless.
The airline has seen a rapid rise in its pharmaceuticals volume, with a 39 per cent increase in temperature-controlled shipments in 2016-17 over the 2015-16 result. The cargo carrier recently added Sao Paulo as its 71st destination to the expanding QR Pharma network and added the 12th Boeing 777 freighter to its fleet.
About Qatar Airways Cargo:
Qatar Airways Cargo, the world's third largest international cargo carrier, serves more than 50 exclusive freighter destinations worldwide via its world-class Doha hub and also delivers freight to more than 150 key business and leisure destinations globally with 195 aircraft. The Qatar Airways Cargo fleet includes eight Airbus A330 freighters, 12 Boeing 777 freighters and one Boeing 747 freighter.