Qatar Airways Becomes The First Middle Eastern Airline to Serve the popular Beach Destination of Krabi ,Thailand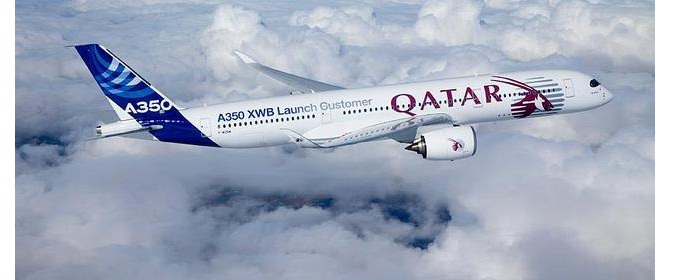 New service provides another convenient travel option to Southern Thailand's tourism gateway Qatar Airways now serves three destinations in Thailand; will start service to Chiang Mai in 2017 .
The coastal gateway of Krabi, Thailand, welcomed the first Qatar Airways flight to arrive at its international airport from Doha, Qatar. The Airbus A330-200 was greeted by a water salute to usher in the new four times weekly service to Southern Thailand's west coast. On board the inaugural flight was Qatar Airways Senior Vice President of Asia Pacific, Mr. Marwan Koleilat, and Thailand's Ambassador to Qatar, His Excellency Mr. Soonthorn Chaiyindeepum.
With the launch of this new service Qatar Airways has become the first Middle Eastern airline to provide scheduled services to Krabi, providing fast and convenient access to one of the world's most popular tourism regions. Travellers can now enjoy year-round services to the incredible islands of Phi Phi National Park, while also enjoying other cultural experiences in the Southern Thai province famous for stunning land and seascapes, world-class diving, national parks and eco-tours.
Qatar Airways Senior Vice President of Asia Pacific, Mr. Marwan Koleilat, said: "I am delighted to be able to inaugurate the first service to Krabi, providing travellers from key markets with direct access to Krabi and the region's tourism hot spots – undeniably some of the most popular and sought after travel destinations in the world. Thailand remains an important market for Qatar Airways as we continue to explore key secondary destinations to better serve the global traveller. Guests can now enjoy Qatar Airways' award-winning service on board one of the youngest fleets in the industry when we fly together to Krabi, Thailand.
"Additionally, the new service to Krabi opens up a host of convenient global destinations for the people of Krabi and its region and I'd like to thank the Thai people for their continued support over the last 20 years."
Qatar Airways touches down in Krabi, Thailand, for the first time and receives a traditional water cannon salute.
Mr Marwan Koleilat, Qatar Airways Senior Vice President of Asia Pacific (right), presenting a token of appreciation to Mr. Nob Kongpun, Vice Governor of Krabi (left).
Mr. Marwan Koleilat, Qatar Airways Senior Vice President of Asia Pacific (centre), being accompanied by senior officials from the Thailand and Krabi government bodies, Krabi International Airport and Tourism Authority of Thailand to celebrate Qatar Airways first flight to Krabi, Thailand.
Mr Marwan Koleilat, Qatar Airways Senior Vice President of Asia Pacific, receiving a welcome garland from Mr. Nob Kongpun, Vice Governor of Krabi
The Southern Thai region of Krabi is a province of stunning natural beauty, with towering limestone formations hugging a myriad of tropical beaches. The area is home to the famous Tiger Cave Temple, Railay Beach. Ko Poda, Khao Phanom Bencha National Park and Ko Lanta Yai; combining to attract a considerable number of sun-seeking tourists every year.
Tourism Authority of Thailand Governor, Mr. Yuthasak Supasorn, said: "We wish to express our warmest welcome to Qatar Airways and its new route between Krabi and Doha. Thanks to the new route launch; Thailand now has even better connections to the world. Krabi is one of Thailand's most iconic regions; situated on the Andaman Sea on the South-Western coast it is rich with pearly beaches, translucent waters, coral reefs, waterfalls and natural caves. Last year, Thailand received more than 39,000 tourists from Qatar and with this new route, we expect more tourist arrivals in the years ahead. This new route also provides great connectivity for travellers coming from other parts of the GCC, the Middle East, Europe and Africa."
Krabi becomes the third strategic destination in Thailand that Qatar Airways serves. Following the inaugural service to Bangkok in 1996, Qatar Airways launched services to Phuket in 2010 and will begin services to Chiang Mai in 2017.
Qatar Airways, the national airline of the state of the Qatar, is one of the fastest growing airlines in aviation history, connecting global travellers to more than 150 key business and leisure destinations across six continents. Travellers will enjoy a quick and convenient transfer at the airline's state-of-the-art hub, Hamad International Airport in Doha.
For travellers who would like to run their transit into a stopover experience, they can also take advantage of the new 96-hour transit visa offered in partnership with the Qatar Tourism Authority. Transiting passengers can explore the various highlights Doha has to offer – from the world-renowned Museum of Islamic Art to the Katara Cultural Village or desert safaris to bustling and cosmopolitan city scape.
In addition to its inaugural service to Krabi, Qatar Airways continues to expand its global reach. In 2016 alone, Qatar Airways also launched services to Adelaide (Australia), Atlanta (USA), Birmingham (UK), Boston (USA), Helsinki, (Finland), Los Angeles (USA), Marrakech (Morocco), Pisa (Italy), Ras Al Khaimah (UAE), Sydney (Australia), Windhoek (Namibia) and Yerevan (Armenia). Services to Seychelles will follow later this month.
Doha – Krabi Flight Schedule:
Monday, Tuesday, Friday, Saturday
Doha (DOH) to Krabi (KBV) QR824 departs: 05:30 arrives: 16:20
Krabi (KBV) to Doha (DOH) to QR825 departs: 17:20 arrives: 20:45
About Qatar Airways:
Qatar Airways, the national carrier of the State of Qatar, is one of the fastest growing airlines operating one of the youngest fleets in the world. Now in its 19th year of operations, Qatar Airways has a modern fleet of 191 aircraft flying to more than 150 key business and leisure destinations across six continents.
A multiple award-winning airline, Qatar Airways was awarded World's Best Business Class; Best Business Class Airline Lounge and Best Airline Staff Service in the Middle East at the prestigious 2016 World Airline Awards managed by international air transport rating organisation Skytrax.
Qatar Airways is a member of the oneworld global alliance. The award-winning alliance was named the World's Best Airline Alliance 2015 by Skytrax for the third year running. Qatar Airways was the first Gulf carrier to join global airline alliance, oneworld, enabling its passengers to benefit from more than 1,000 airports in more than 150 countries, with 14,250 daily departures.
Oryx One, Qatar Airways' inflight entertainment system offers passengers up to 3,000 entertainment options from the latest blockbuster movies, TV box sets, music, games and much more. Passengers flying on Qatar Airways flights served by its B787, A350, A380, A319 as well as select A320 and A330 aircraft can also stay in touch with their friends and family around the world by using the award-winning airline's on-board Wi-Fi and GSM service.
Qatar Airways is one of the world's leaders in sponsoring global sporting events, including the strategic team sponsorships of FC Barcelona and Al-Ahli Saudi Arabia FC. Qatar Airways' strategy reflects the values of sports as a means of bringing people together, something at the core of the airline's own brand message – Going Places Together.
Qatar Airways Cargo, the world's third largest cargo carrier, serves more than 50 exclusive freighter destinations worldwide via its Doha hub and also delivers freight to more than 150 key business and leisure destinations globally on 191 aircraft. The Qatar Airways Cargo fleet now includes eight Airbus 330Fs, 11 Boeing 777 freighters and two Boeing 747 freighters.