Qatar Airways Announces Third Daily Direct Flight To Bali Denpasar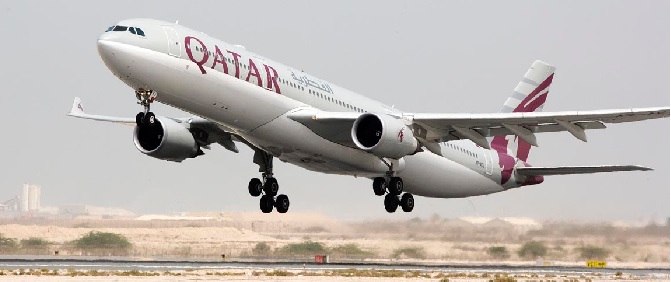 The third daily direct flight from Doha's Hamad International Airport will commence 7 May
Triple daily flights will offer passengers enhanced travel options while increasing the number of daily seats available on the non-stop route by 35 per cent
Qatar Airways has announced that commencing 7 May 2017, the airline will operate a third daily non-stop route from Doha's Hamad International Airport to Bali Denpasar.
Bali has long been a popular destination for Qatar Airways' passengers, with the airline offering its first direct service in 2014, later enhancing this to a twice daily frequency. Prior to this Qatar Airways served the destination via a touchdown in Singapore, but the expanding global reach of the airline and significant growth in size of its fleet has enabled the airline increasing popularity to now offer three daily direct non-stop flights.
Qatar Airways Group Chief Executive, His Excellency Mr. Akbar Al Baker said: "The start of triple daily non-stop services from Doha to Bali Denpasar offers passengers from our global network even greater access to this popular leisure destination with smooth international transfers and a variety of times to suit their own schedules.
"We are delighted to confirm that the Boeing 787 Dreamliner will operate the third frequency on this route, offering the very latest in design and comfort to passengers, complemented by our other wide body aircraft, the Boeing 777 and the Airbus A330."
The new direct flight, which commences on 7 May this year, will operate with the Boeing 787 Dreamliner. One of the world's newest aircraft, the Dreamliner will enable passengers to enjoy Qatar Airways' renowned service, while experiencing the very latest in international air travel design and comfort. The route is currently operated by a Boeing 777 and Airbus A330 wide-body aircraft on its existing double-daily offering.
Flying direct to and from Bali Denpasar, the Dreamliner has a two-cabin configuration, comprising of 22 seats in Business Class and 232 Economy Class seats with a high standard of comfort on board, including individual 10.5 inch television screens on all Economy Class seats and a full complimentary food and beverage service.
The additional flight is certain to be popular for those travelling from Qatar Airways' extensive route network in Europe, the Middle East and the United states, with connecting times to Bali reduced with one quick international transfer at Doha's Hamad International Airport (HIA).
The airline currently holds the title of World's Best Business Class as awarded by Skytrax in 2016, and its Doha hub, HIA was also recently given five stars at the Skytrax World Airport Awards and was ranked Sixth Best Airport in the World.
Qatar Airways is the national carrier of the State of Qatar, and is one of the fastest growing airlines operating one of the youngest fleets in the world. Qatar Airways has a modern fleet of 195 aircraft flying to more than 150 key business and leisure destinations across six continents.
For more information on Qatar Airways, please visit www.qatarairways.com.
New Daily Direct Flight to Bali Denpasar:
QR964 Dep 17:45 DOH – DPS Arr 08:10+1
QR965 Dep 09:30 DPS – DOH Arr 14:05
About Qatar Airways:
Qatar Airways, the national carrier of the State of Qatar is celebrating 20 years of Going Places Together with travellers across its more than 150 business and leisure destinations. The world's fast growing airline will add a number of exciting new destinations to its growing network in 2017/18, including Dublin, Nice, Skopje, Sarajevo and many more, flying passengers on board its modern fleet of 195 aircraft.