Qatar Airways Announces Service to Yanbu and Tabuk – Its Ninth and Tenth Destinations in Saudi Arabia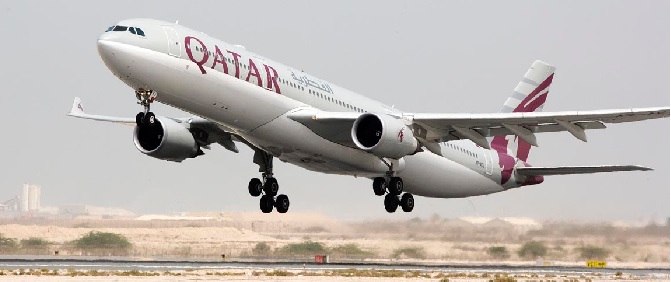 From 9 May and 19 June Qatar Airways will connect Yanbu and Tabuk respectively to more than 150 destinations worldwide through its home and hub, Hamad International Airport
Three weekly flights from Doha to Yanbu and Tabuk will operate with an Airbus A320 aircraft
Qatar Airways confirmed the start of its new services to Yanbu and Tabuk in the Kingdom of Saudi Arabia with three-weekly flights beginning 9 May for Yanbu and 19 June for Tabuk, with flights now on sale at qatarairways.com. The additional destinations take Qatar Airways' total network connectivity within the Kingdom to 10 destinations, connecting travellers from Saudi Arabia to more than 150 worldwide destinations through the five-star rated Hamad International Airport in Doha.
Qatar Airways Group Chief Executive, His Excellency Mr. Akbar Al Baker said: "We have been steadily growing our presence and services to Saudi Arabia for the past 20 years; both Yanbu and Tabuk as our ninth and tenth new destinations in the Kingdom will bring additional flight options for passengers connecting from Asia, the Middle East, Europe and the Americas. Passengers from Yanbu and Tabuk will now be able to travel seamlessly through our state-of-the-art Doha hub, Hamad International Airport, to popular cities in our expanding network such as Auckland, Boston and Skopje. The launch of the new destinations also provides passengers travelling to Saudi Arabia from international markets the convenience of additional gateways within the Kingdom of Saudi Arabia."
The airline will fly the A320 aircraft direct to and from Yanbu and Tabuk on a three-weekly schedule, featuring a two-class cabin configuration with 12 seats in First Class and 132 Economy Class seats.
Qatar Airways began operations to Saudi Arabia in 1997 with non-stop flights to Jeddah. The airline has added Riyadh, Dammam, Madinah, Gassim, Ta'if, Al Hofuf and Abha to its portfolio of destinations, all non-stop to and from Doha, with connections to Qatar Airways' destinations worldwide.
Qatar Airways currently operates 158 weekly flights to eight key cities in Saudi Arabia. The addition of Yanbu and Tabuk will increase the number of Qatar Airways' weekly flights to Saudi Arabia to 164 non-stop flights.
Passengers flying from Saudi Arabia and onwards to any of the more than 150 destinations that Qatar Airways operates will enjoy a quick and convenient transfer at Hamad International Airport, featuring more than 100 retail and dining options and unique services such as the airport hotel with swimming pool and spa.
Qatar Airways, the national carrier of the State of Qatar, is one of the fastest growing airlines operating one of the youngest fleets in the world. Now in its 20th year of operations, Qatar Airways has a modern fleet of 193 aircraft flying to  key business and leisure destinations across six continents.
Flight Schedule:
Doha – Yanbu
Tuesday, Thursday and Saturday
Doha (DOH) to Yanbu (YNB) QR 1216 departs 12:55 arrives 15:35
Yanbu (YNB) to Doha (DOH) QR 1217 departs 16:35 arrives 19:00
Doha – Tabuk  
Mondays, Wednesdays and Friday
Doha (DOH) to Tabuk (TUU) QR1220 departs 12:35 arrives 15:20
Tabuk (TUU) to Doha (DOH) QR1221 departs 16:20 arrives 19:00
About Qatar Airways
Qatar Airways, the national carrier of the State of Qatar is celebrating 20 years of Going Places Together with travellers across its more than 150 business and leisure destinations. The world's fast growing airline will add a number of exciting new destinations to its growing network in 2017, including Dublin, Nice, Skopje and many more, flying passengers on board its modern fleet of 193 aircraft.