Putting Together Diverse Brands to Maximize In-Store Inventory and Drive Sales
Summer is in full swing.
It's the time of year we get to relax a bit, spend time outdoors, and enjoy simple pleasures with family and friends.
All along the way, traditional summer favorites – like soda, snacks and beer – will be must-have favorites at summer celebrations, get-togethers and other seasonal demand moments.
So this summer PepsiCo and our friends at Anheuser-Busch have partnered to put great-tasting Pepsi, Frito-Lay andAnheuser-Busch products together, front-and-center in retail stores across the United States.
PepsiCo's partnership is designed to help shoppers find big-brand, party essentials quickly and help drive sales during key sales seasons.
Memorial Day and July 4th
The summer program started with the Ready. Set. Summer. campaign that kicked off Memorial Day and is being refreshed with the United We Celebrate campaign for July 4th.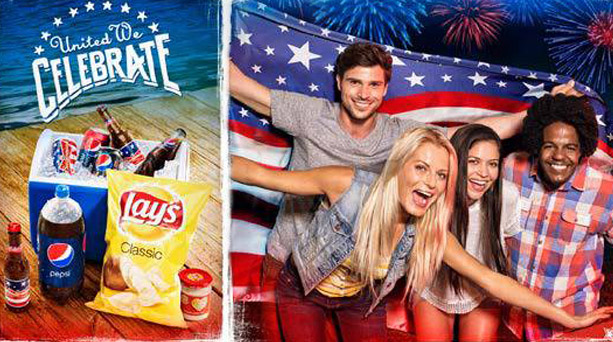 Both Memorial Day and July 4th, and the get-togethers that celebrate them, generate strong salty snack and soft drink sales.
To help drive sales during these key demand periods, the campaigns promote iconic products that are frequently purchased together using unified, point-of-sale displays.
This in-store creative is designed around simple moments when family and friends get together to enjoy good food and great company, says Jessica Robinson, director, PepsiCo Portfolio Marketing.  "The creative celebrates those times that our products help make a little more special," she said.
Sales teams from Pepsi, Frito-Lay and Anheuser-Busch have access to a variety of co-branded, point-of-sale displays that can be staged to feature Pepsi, Frito-Lay and Anheuser-Busch products together in store lobbies, perimeter aisles and other high-traffic locations.
In addition to providing a one-stop, summer-product shopper experience, putting products together from PepsiCo's diverse drink and snack portfolio and Anheuser-Busch helps maximize PepsiCo's inventory on display and the number of displays in stores during the key summer sales period.
At one major U.S. retail chain, the combination of Pepsi and Lay's potato chips drove increases in display inventory of approximately 40 percent and resulted in gains in sales during the 2013 Fourth of July holiday season.
Promotions and Sweepstakes
The partnership also offers the opportunity for national and local promotions and sweepstakes that can be tailored to the specific needs of retail customers.
During the month leading up to Memorial Day, for example, Publix grocery stores piggybacked on the Ready. Set. Summer campaign to offer its customers a chance to win gift cards for gas and groceries. The company leveraged the promotion by modifying point-of-sale displays to include sweepstakes information along with photographs of Pepsi and Frito-Lays products.
More to Come
While many people will hate to see the summer end, the post-Labor Day timeframe does have a silver lining – NFL football.  And you can be certain that PepsiCo will be back in the stores, leveraging its longtime NFL partnership with NFL and team-specific point-of-sale displays that combine great products for tailgating and football parties.
So stay tuned.