Prepare To Be Bowled Over: MorningStar Farms® Introduces Five New Flavor Combinations To Their Line Of Heat-And-Serve Veggie Bowls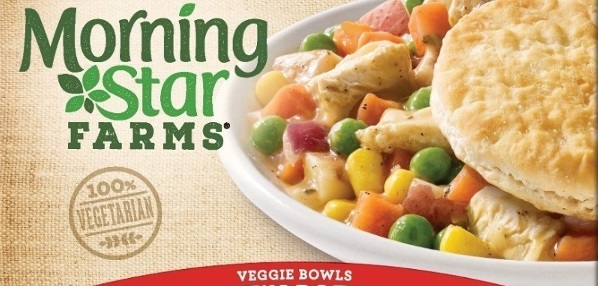 New offerings combine bold, globally-inspired flavors and spices to put a veggie spin on classic dishes
MorningStar Farms®, a leader in plant-based food innovation for over 40 years and the world's largest producer of frozen meat alternatives, today announces the release of five new, 100% vegetarian heat-and-eat veggie bowls.  The line of delicious, easy-to-prepare meals are bursting with bold flavors and offer a unique twist on classic favorites, sure to satisfy a variety of culinary cravings.
Offering internationally-inspired varieties, as well as unique twists on classic favorites, such as Chik'n pot pie with a creamy wine and herb sauce, an Italian veggie sausage bake with creamy béchamel and tomato basil sauces, and vegan Japanese soba noodles with a zesty soy ginger garlic sauce, the new MorningStar Farms bowls deliver full flavor and true-to-meat texture.
"Our new protein-packed veggie bowls combine a blend of flavorful ingredients and seasoning with superior taste and texture," said Todd Smith, director of brand and innovation marketing at MorningStar Farms. "We know that more and more people are looking for convenient and nutritious meal options, including tasty alternatives to meat. That's why we're excited to debut our latest line-up of tasty, veggie-full products that are not just good for you, but that are also good for the planet."
Each of the new bowls, along with more than 30 other MorningStar Farms products, such as meatless burgers, breakfast sandwiches, and Meal Starters®, taste great and are good for you. In fact, it's been shown that a veggie-based meal tends to be lower in cholesterol and saturated fats than their meat-based counterpart. [1] Beyond personal health, eating more veggie meals in place of meat-based meals is also good for the planet, with a range of environmental benefits, such as helping reductions in water consumption, greenhouse gas emissions and land usage. [2]
The full collection of new bowl flavors include:
MorningStar Farms Japanese Soba Noodles

A flavorful and authentic tasting blend of soba noodles, veggie Steak Strips, edamame and bamboo shoots in a zesty soy ginger garlic sauce
MorningStar Farms Moroccan Medley

A sweet and spicy blend of peppers, sweet potatoes, green beans and Chik'n Strips over couscous in a spicy Harissa sauce
MorningStar Farms Chik'n

Tikka Masala

A colorful and spicy blend of veggies, veggie Chik'n Strips and authentic spices, with a savory tomato curry sauce and a side of naan
MorningStar Farms Italian Sausage Bake

A combination of spinach, zucchini, Veggie Sausage Crumbles™ and cheese layered with béchamel and tomato basil sauces
MorningStar Farms Chik'n Pot Pie

A spin on the classic pot pie with Veggie Chik'n Strips and a creamy wine and herb sauce topped with a biscuit crust
These five bold new flavors join the existing award-winning line-up of MorningStar Farmsveggie bowls, which was first introduced in spring 2016 and includes favorites such as Tuscan Greens & Beans, Spicy Black Bean Enchilada, Thai Yellow Curry, and Mushroom & Asparagus Orzo.
For more information about the delicious MorningStar Farms vegetarian and vegan offerings, and to learn how you can make an impact through choosing more veggie-based meals over meat-based meals, visit www.MorningStarFarms.com.
Click to Tweet: @MorningstrFarms introduces 5 new bold flavor combinations to their line of delicious, heat-and-serve veggie bowls #MeatlessMonday
Click to Tweet: @MorningstrFarms newest heat-and-serve veggie bowls blend good-for-you deliciousness with bold, globally-inspired flavors #MeatlessMonday
About Kellogg Company
At Kellogg Company (NYSE: K), we strive to make foods people love. This includes our beloved brands – Kellogg's®, Keebler®, Special K®, Pringles®, Kellogg's Frosted Flakes®, Pop-Tarts®, Kellogg's Corn Flakes®, Rice Krispies®, Cheez-It®, Eggo®, Mini-Wheats® and more – that nourish families so they can flourish and thrive. With 2015 sales of 13.5 billion and more than 1,600 foods, Kellogg is the world's leading cereal company; second largest producer of cookies, crackers and savory snacks; and a leading North American frozen foods company. Through our Breakfasts for Better DaysTM global hunger initiative, we've provided more than 1.4 billion servings of cereal and snacks to children and families in need around the world. To learn more, visit www.kelloggcompany.com