POSB Offers More Ways for Customers to Get New And Good-As-New Notes this Lunar New Year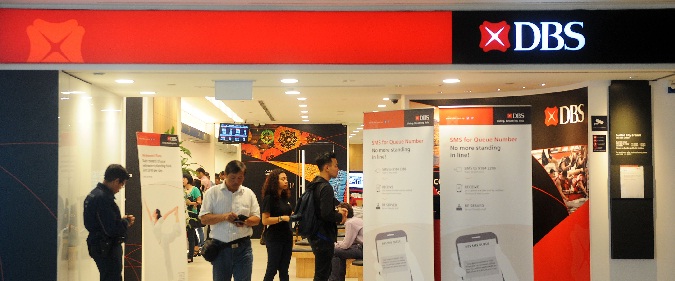 Back by popular demand, POSB new notes pop-up ATMs will be available in 22 community clubs across the island, 10 more than last year
Customers can also reserve new and good-as-new notes online and collect them at their preferred dates at all full-service branches
DBS/POSB is offering more convenient ways for customers to get new and good-as-new notes as they prepare to welcome the Lunar New Year. From January 11 onwards, customers will be able to withdraw new and good-as-new notes at 41 POSB new notes pop-up ATMs located in 22 community clubs across the island, an increase from the 36 ATMs in 12 community clubs last year. Since their debut in 2015, POSB new notes pop-up ATMs have been well-received by customers for their accessibility and ease of use. POSB is still the first and only bank to offer such services to its customers.
A key benefit to customers is that most of the ATMs are fully operational round-the-clock and in the last two years, more than 40% of pop-up ATM users withdrew new notes outside branch opening hours. This year, all pop-up ATMs are conveniently accessible to customers 24 hours daily with the exception of the ones located at Chong Pang and Toa Payoh West which will be available from 9am to 10pm daily. POSB ambassadors will also be on hand to guide customers at the various pop-up ATM locations from January 11 to 27, 9am to 9pm. Customers will be able to use their DBS/POSB ATM card to withdraw new notes in sums of SGD 100 (SGD 2 x 50), SGD 300 (SGD 10 x 30) and SGD 500 (SGD 50 x 10), up to their individual card limit.
Online reservation of new and good-as-new notes
This year, DBS/POSB is also offering customers the option to reserve their new and good-as-new notes online. With just a few simple clicks, customers can choose from a flexible combination of denominations and select their preferred collection dates at all full-service branches. From 9 January onwards, customers can visit go.dbs.com/sg-cnynotes to reserve their new and good-as-new notes.
Mr. Jeremy Soo, Managing Director and Head of Consumer Banking Group (Singapore), DBS Bank, said, "As there is always increased demand for new notes during the Lunar New Year season, we want to ensure that customers enjoy a hassle-free experience in getting them. Over the years, public response to our POSB new notes pop-up ATMs has been overwhelmingly positive and our pop-up ATMs are now met with great anticipation during Lunar New Year. We are delighted to deploy more of them across the island this year to bring more customers joy during the festive season."
"This year, we have also introduced an online reservation service where customers can simply select their preferred denominations and collect their new notes at their convenience. By integrating our physical and digital channels, we are constantly thinking of providing our customers with simple and convenient solutions so that they are able to conduct their banking seamlessly with us."
Dr. Ang Hak Seng, BBM, Chief Executive Director of the People's Association, said, "We have partnered DBS for the third year to provide residents with greater access to new notes for the upcoming Lunar New Year. We are happy that residents welcome this initiative every year. This year, to bring greater convenience to residents, existing ATMs located at 13 of our community clubs have also been identified to dispense new and good-as-new notes, besides the pop-up ATMs at nine community clubs. We welcome more of such partnerships which will benefit our residents."
SMS Q for DBS/POSB full-service branches
Customers are also able to get their new and good-as-new notes at all full-service DBS/POSB branches from January 11 to 27. Special priority queuing will continue to be available for the elderly and those with special needs. Customers will be able to use the SMS 'Q' notification service option, where they can request for a queue number via SMS prior to visiting the branches and receive notifications on the number of customers ahead of them. Customers can find their nearest branch's respective SMS number at www.dbs.com.sg/personal/deposits/bank-with-ease/sms-q
Send eAng-Baos with DBS PayLah!
As in previous years, POSB/DBS is also providing innovative ways to celebrate Lunar New Year via its digital offerings. DBS PayLah! (go.dbs.com/PayLah), a mobile wallet that allows users from all Singapore banks to easily send and receive cash via their mobile phones, has a special "eAng-Bao" feature. Users who have loved ones working or travelling this festive season can send them an" eAng-Bao" via DBS PayLah! anytime, anywhere, and add that personal touch to their "eAng Baos" by personalising them with photos, stickers and personal messages.
DBS/POSB red packets and digital stickers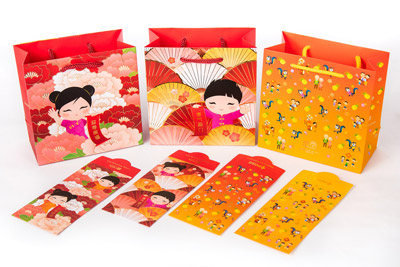 Customers collecting and withdrawing new notes at DBS/POSB branches will receive a set of either DBS or POSB red packets. Red packets will also be distributed to customers who have made withdrawals at the pop-up ATMs.
2017 marks DBS' widely-loved mascots, Xing & Jaan's, 10th year on the bank's red packets. The packets feature repeated motif designs – one with paper fans, and the other with peonies. The packets are given a contemporary twist with the edge-to-edge design, while still maintaining a traditional colour palette of warm reds and pinks. Greetings on the red packets also feature 'joy', which exemplifies the bank's purpose of making banking joyful. Besides appearing on physical red packets, the public can also interact with Xing and Jaan on various digital platforms.
2017 also marks POSB's 140th anniversary, and its red packets showcase the ever-friendly Smiley in a fun and playful setting, together with his multi-generational neighbours. Smiley and friends are interspersed with auspicious pineapples and golden cherry blossoms.
For the first time, DBS will also introduce Lunar New Year digital stickers, available for download at go.dbs.com/cny-stickers. Featuring Xing & Jaan in their Lunar New Year best, the stickers can be sent to friends and family via Facebook or WhatsApp as part of wishing them a happy Lunar New Year.
e-Dollar Ang Pows for DBS/POSB staff
This year, as part of the bank's efforts in driving innovation, DBS/POSB will introduce "e-Dollar Ang Pows" to its staff, putting its unique digital twist to the traditional red packet. Available to staff via online reservation, each e-Dollar Ang Pow comes in a SGD8 or SGD10 denomination with a unique QR code on its back. The recipient can scan the code and the amount is then instantly credited to his/her DBS PayLah! wallet. Customised greetings can also be sent to recipients in DBS Paylah! when the funds are credited. The e-Dollar Ang Pows can be placed in red packets just like new notes and given to colleagues, friends and family.
Special CNY offers for DBS/POSB customers
DBS/POSB is also offering a slew of great deals for customers this festive season*:
• This Lunar New Year, spend SGD168 on your DBS/POSB Card to redeem a sure win gift, plus enjoy 1-for-1    exclusive discounts
• With Apple Pay, customers get SGD8 off for groceries (valid at all major supermarkets) and at Bengawan Solo, Bee    Cheng Hiang and SPC with a minimum SGD80 spend in a single receipt
• Send an eAng Bao using DBS PayLah! and stand a chance to win SGD 88
*Terms and conditions apply
About DBS 
DBS – Living, Breathing Asia
DBS is a leading financial services group in Asia, with over 280 branches across 18 markets. Headquartered and listed in Singapore, DBS has a growing presence in the three key Asian axes of growth: Greater China, Southeast Asia and South Asia. The bank's capital position, as well as "AA-" and "Aa1" credit ratings, is among the highest in Asia-Pacific.
About POSB
A part of the DBS Group, POSB is the largest and oldest local bank in Singapore with over four million customers. Having served generations of Singaporeans for the past 140 years, it is known as the "People's Bank", and prides itself on being "neighbours first, bankers second".