POSB new notes pop-up ATMs for Chinese New Year 2019 (CNY 2019)
More new notes pop-up ATMs – 42 machines across 20 community clubs – rolled out this year from 15 January to 4 February
Customers can also get their new and good-as-new notes via online reservation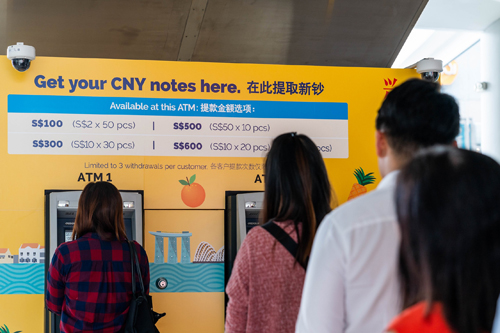 With Chinese New Year (CNY) around the corner, DBS/POSB customers may look forward to increased convenience when getting their new notes and good-as-new notes this year. From 15 January to 4 February, customers can withdraw new notes at more POSB pop-up ATMs islandwide as well as reserve new notes and good-as-new notes via DBS' online reservation system.
Said Jeremy Soo, Managing Director and Head of Consumer Banking Group (Singapore), "Chinese New Year is a joyous time of the year, where friends and family come together to celebrate. Our aim is to ensure this season is as stress- and hassle-free as possible for our customers. We hope that having more POSB new notes pop-up ATMs this year and the online reservation system will enable more customers to get their new and good-as-new notes quickly and easily, with more time to enjoy the festivities with their loved ones."
More POSB new notes pop-up ATMs across Singapore
Introduced in 2015, POSB new notes pop-up ATMs have now become a popular CNY fixture. Each year during CNY, POSB installs temporary ATMs loaded with new notes across Singapore so customers can more easily obtain their new notes at more locations. For CNY 2019, the bank will roll out 42 POSB new notes pop-up ATMs – up from 36 in 2018 – at 20 community clubs islandwide.
POSB partners with People's Association (PA) to provide this service every year and the bank continues to be the first in Singapore to provide new notes pop-up ATMs. In 2018, more than 160,000 customers used the pop-up ATMs, with the majority getting their notes outside of banking hours or over weekends.
Customers will be able to use their DBS/POSB cards to withdraw CNY 2019 new notes in sums of SGD 100 (SGD 2 x 50), SGD 300 (SGD 10 x 30), SGD 500 (SGD 50 x 10) and SGD 600 (SGD 10 x 20 + SGD 50 x 8), reducing the need for multiple transactions.
All POSB new notes pop-up ATMs are accessible 24 hours daily, except for those at Chong Pang and Teck Ghee Community Club, which will be available from 9am to 9.30pm daily. POSB ambassadors will be on hand to guide customers at various new notes pop-up ATM locations from 15 January to 4 February, 9am to 9pm.
Please click https://www.dbs.com/pop-up-atm/index.html to view the full list of POSB new notes pop-up ATMs for CNY 2019.
Make an online reservation for CNY notes
DBS and POSB customers can choose from denominations of SGD 2, SGD 10 and SGD 50 via the online reservation system, as well as collect their new and good-as-new notes on their preferred dates and timings at all full-service branches. From 15 January onwards, customers can visit go.dbs.com/sg-cnynotesor www.posb.com.sg/cnynotes to reserve their CNY new notes.
Collect or exchange CNY notes at all DBS and POSB full-service branches
Special priority queues will continue to be available for the elderly and those with special needs at all full-service branches from 15 January to 4 February. Customers will also be able to use the SMS 'Q' notification service option to request for a queue number via SMS prior to visiting the branch and receive notifications on the availability of new notes. For the nearest branch's SMS number, please visit www.dbs.com.sg/personal/deposits/bank-with-ease/sms-q.
DBS and POSB Red Packets
Customers collecting and withdrawing new or good-as-new notes at all DBS/POSB branches or new notes pop-up ATMs will receive two sets of DBS or POSB red packets. Both DBS and POSB red packets were crafted from environmentally-friendly paper for a more sustainable tomorrow.
This year's DBS red packets take inspiration from elements of earth and nature such as wood, flowers and forests. DBS' mascots Xing and Jaan are featured front and centre, and set against blooming floral motifs and elegant woodgrain patterns respectively. The packets come in vibrant, eye-catching hues of yellow and blue, and a gold overlay for a festive touch.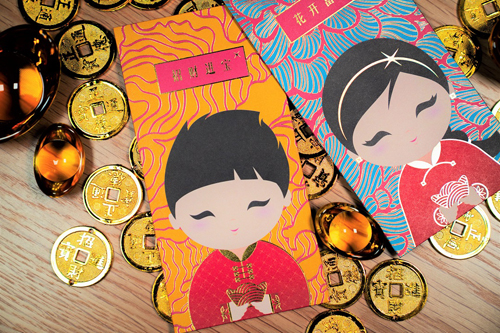 The POSB red packets feature Singapore's well-loved mascot Smiley on the front, whilst the back outlines Singapore's familiar skyline and depicts families celebrating CNY along the Singapore River.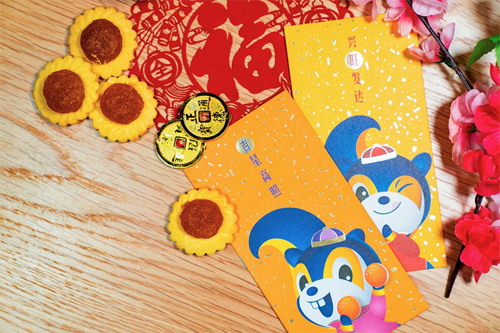 About DBS
DBS is a leading financial services group in Asia, with over 280 branches across 18 markets. Headquartered and listed in Singapore, DBS has a growing presence in the three key Asian axes of growth: Greater China, Southeast Asia and South Asia. The bank's "AA-" and "Aa1" credit ratings are among the highest in the world.
About POSB
A part of the DBS Group, POSB is the largest and oldest local bank in Singapore with over four million customers. Having served generations of Singaporeans for over 140 years, it is known as the "People's Bank", and prides itself on being "neighbours first, bankers second".
With a good understanding of Singaporeans through the years, POSB offers products and services that are relevant to the savings, borrowing, investment and insurance needs of all Singaporeans. With over 50 branches conveniently located islandwide, and over 1,000 ATMs and Cash Acceptance Machines across the island, POSB's distribution network is the largest in Singapore.
POSB acknowledges the passion, commitment and can-do spirit in each of its staff. For more information, please visit www.posb.com.sg
SOURCE: DBS