NTU-NXP to develop smart mobility test bed in Singapore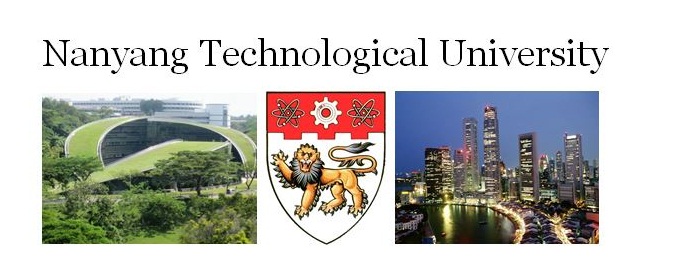 Nanyang Technological University (NTU), ranked the world's top young university, and NXP Semiconductors N.V. (Nasdaq: NXPI), technology leader in secure connected cars, are building a high-tech living test bed for smart cars and traffic systems on the NTU campus.
Supported by Singapore Economic Development Board, the new NTU-NXP Smart Mobility Test Bed will test and develop new technologies for vehicles to communicate with each other and with designated roadside infrastructures. Known as V2X (Vehicle-to-Everything) technology, this will push new frontiers in mobility.
The agreement was signed today by NTU Chief of Staff and Vice-President for Research Professor Lam Khin Yong and Mr Drue Freeman, Senior Vice President of global automotive sales & marketing
at NXP. The signing was witnessed by Mr Lim Kok Kiang, Assistant Managing Director of the Singapore Economic Development Board.
Built using the latest technology from NTU and NXP, companies, research institutes and government agencies will be able to deploy, test, and validate future V2X solutions in a real world scenario with this S$22 million campus-wide test bed. Such V2X applications will involve wireless communications between vehicles and with intelligent infrastructure such as traffic cameras and traffic lights.
NTU's sprawling campus, the largest amongst the universities in Singapore, has a robust internal transportation network involving cars, buses and even electric vehicle prototypes. This smart mobility test bed will involve 100 vehicles and 50 roadside units to research V2X technologies over the next four years.
Professor Lam Khin Yong said the collaboration with NXP is a natural one, given NTU's deep expertise in information technology, intelligent systems and applied engineering and NXP's technology leadership in secure connected cars.
"Over the past year, we have started to transform NTU into a living lab, starting with our EcoCampus initiative, which saw the deployment of Singapore's largest solar power plant, the test bedding of various electric vehicles, and the installation of smart building technologies," Prof Lam said.
"This partnership with NXP is another big step forward in the transformation of the NTU campus, as the university continues to develop next generation technologies that will contribute to Singapore's smart mobility eco-system and network."
Mr Drue Freeman said: "More roads, tunnels, or overpasses will not solve the traffic challenges in global megacities in the long run. What we need is more intelligent transport systems."
"Wireless communication technologies like V2X will bring significant benefits to society, saving lives by avoiding road traffic accidents as well as limiting congestion, travel time and CO2 emissions. With this joint initiative with NTU and other leading industry partners, we are embracing an opportunity to make the secure, smart connected city a reality sooner and bring Singapore to the forefront of smart mobility innovation."
Mr Lim Kok Kiang said, "EDB is happy to partner NTU and NXP to build up this test-bed. Through this effort, NTU, NXP and other industry partners will also enhance key capabilities for Singapore, such as wireless communications design, data analytics and network security."
In a V2X demonstration held at NTU today, three connected cars were shown to interact directly with one another and exploit real-time data from each other and the roadside infrastructure.
The intelligent V2X system, which is capable of wirelessly collecting and analysing data from other vehicles and the surrounding smart infrastructure over a distance of up to two kilometres, will ultimately be required to enable widespread adoption of fully autonomous driving.
The technology will improve road safety and traffic flow by giving drivers advanced warning of upcoming hazards such as dangerous road conditions, unexpected traffic jams, approaching emergency vehicles or road works, long before such hazards enter the drivers' field of vision or become detectable by other Advanced Driver Assistance System (ADAS) sensors.
According to a study conducted by the U.S. Department of Transportation, V2X safety functions can reduce multi-car accident figures by more than 80 per cent. V2X-capable vehicles will also be capable of receiving information from intelligent road signs and automatically recognise the operating cycle of traffic lights.
The NTU-NXP joint initiative will focus on various core areas critical to the real world adoption of V2X. These include enhancement of V2X communications to ensure maximum reliability and security against potential cyber threats, essential for ensuring the safety of passengers as well as protecting drivers' personal data.
The collaboration will also pave the way to realise Singapore's Smart Mobility 2030 vision to optimise transport systems and enhance commuter travel experience with the latest advancements in transport technologies.
The NTU-NXP partnership is timely given that Singapore is now looking to develop the next-generation Electronic Road Pricing (ERP) system using satellite positioning technology.
NXP and NTU will be inviting high-tech companies, research organisations, academia and government agencies to participate in this test bed so as to build a Smart Mobility Consortium together. The proposed consortium is aimed at researching and testing secure, smart connectivity and mobility solutions that can improve the traffic flow in cities, avoid road accidents, and enhance the user experience for mobility services.
About Nanyang Technological University
A research-intensive public university, Nanyang Technological University (NTU) has 33,000 undergraduate and postgraduate students in the colleges of Engineering, Business, Science, Humanities, Arts, & Social Sciences, and its Interdisciplinary Graduate School. It has a new medical school, the Lee Kong Chian School of Medicine, set up jointly with Imperial College London.
NTU is also home to world-class autonomous institutes – the National Institute of Education, S Rajaratnam School of International Studies, Earth Observatory of Singapore, and Singapore Centre on Environmental Life Sciences Engineering – and various leading research centres such as the Nanyang Environment & Water Research Institute (NEWRI), Energy Research Institute @ NTU (ERI@N) and the Institute on Asian Consumer Insight (ACI).
A fast-growing university with an international outlook, NTU is putting its global stamp on Five Peaks of Excellence: Sustainable Earth, Future Healthcare, New Media, New Silk Road, and Innovation Asia.
The University's main Yunnan Garden campus has been named one of the Top 15 Most Beautiful in the World. NTU also has a campus in Novena, Singapore's medical district.