NTU and Singhealth to Develop Healthcare Innovations to Improve Patient Care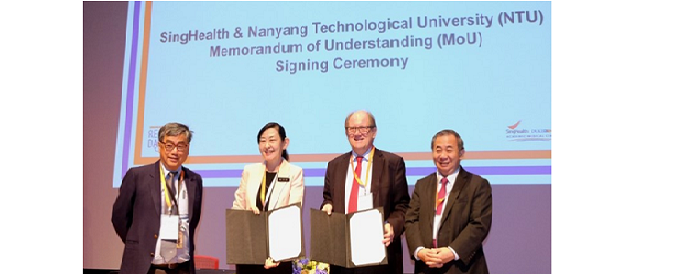 S$2 million injected to fund promising healthcare research
Elderly patients suffering from Parkinson's disease could one day benefit from only having to take their medication once a day instead of three times daily.
Scientists from Nanyang Technology University (NTU Singapore) and SingHealth have developed a pill that contains the same cocktail of three standard drugs used to treat Parkinson's disease which can release the medication slowly over a 24-hour period, benefitting both patients and caregivers.
Developed by NTU's Assoc Prof Joachim Loo from the School of Materials Science and Engineering, the new technology, which uses a patented micro-encapsulation process, is now being tested in animal models at the laboratory of Assoc Prof Lim Kah Leong from the National Neuroscience Institute.
To encourage similar collaborations that will generate more patient care innovations, NTU and SingHealth announced a new five-year research tie-up today.
The first joint research grant call worth S$2 million, which will fund six joint research projects of up to S$300,000 each, was also announced.
The funds will enable NTU scientists and SingHealth clinicians to develop practical healthcare solutions, such as biomedical devices, novel drugs and new treatment methods to prevent, diagnose or treat diseases.
Prof Ivy Ng, Group CEO of SingHealth said, "The NTU-SingHealth partnership is highly complementary and will facilitate research from bench to bedside more seamlessly.
"Our clinicians can highlight areas in clinical care that could potentially be improved to the attention of engineers and scientists. Each brings their unique expertise to the research team and ultimately, we hope working together will produce tangible outcomes that benefit patients."
NTU President Prof Bertil Andersson said the partnership taps on the deep engineering and life sciences expertise at NTU, including new life sciences techniques used in emerging research areas like phenomics and genomics at the Lee Kong Chian School of Medicine.
"NTU has a track record of working with hospitals to do research that will benefit patients, and today's partnership with SingHealth is an expansion of our previous successful collaboration.
"Already, some of our research breakthroughs are being tested with our partners in SingHealth, such as time-release nanodrugs that eliminate the need for daily eye drops for glaucoma patients and drug-eluting stents that can prevent blood clots while delivering medicine to the necessary parts of the body."
Taking healthcare solutions to the next level
The joint grant-call projects will focus on nationally-relevant diseases. It will cover several key clinical areas, which include ageing, diabetes, eye diseases, infectious diseases, skin and plastic surgery, and medical technology.
The plan is to initiate more collaborative research projects that will result in a new range of products, medications, systems and equipment, adding to those currently being developed by NTU and SingHealth.
One of the existing joint projects is to make corneal transplants safer and easier to perform through the development of a new surgical tool. The tool, which is in the prototype phase, is built by scientists from NTU's School of Materials Science and Engineering together with clinicians from the Singapore National Eye Centre.
The new surgical tool can produce vibrations in its blade, which allows for more accurate, smoother and safer removal of thin layers of cornea compared to current devices on the market.  If successfully commercialised, it would mean that eye surgeons will perform corneal transplants more easily while patients can look forward to shorter recovery time.
Another ongoing joint project aims to help heart surgeons plan for cardiac surgeries with the use of a 3D virtual reality model of patients' hearts. The project group involving NTU's Institute of Media Innovation and the National Heart Centre Singapore is now looking to set up a laboratory where realistic virtual heart models can be used for cardiac surgical planning, as well as doctors' training.
***END***
Media contact:
Lester Kok
Manager
Corporate Communications Office
Nanyang Technological University
Email: lesterkok@ntu.edu.sg
About Nanyang Technological University
A research-intensive public university, Nanyang Technological University, Singapore (NTU Singapore) has 33,500 undergraduate and postgraduate students in the colleges of Engineering, Business, Science, Humanities, Arts, & Social Sciences, and its Interdisciplinary Graduate School. It has a new medical school, the Lee Kong Chian School of Medicine, set up jointly with Imperial College London.
NTU is also home to world-class autonomous institutes – the National Institute of Education, S Rajaratnam School of International Studies, Earth Observatory of Singapore, and Singapore Centre on Environmental Life Sciences Engineering – and various leading research centres such as the Nanyang Environment & Water Research Institute (NEWRI), Energy Research Institute @ NTU (ERI@N) and the Institute on Asian Consumer Insight (ACI).
Ranked 13th in the world, NTU has also been ranked the world's top young university for the last two years running.
The University's main campus has been named one of the Top 15 Most Beautiful in the World. NTU also has a campus in Novena, Singapore's medical district.
For more information, visit www.ntu.edu.sg