Nissan Unveils New Intelligent Mobility Prototypes In Rio De Janeiro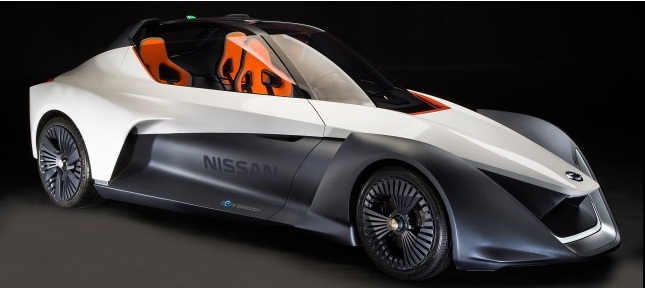 In Rio de Janeiro, Nissan unveiled two new vehicle prototypes as part of its Intelligent Mobility strategy on the eve of the Opening Ceremonies. The two new prototypes include the Nissan BladeGlider, a 100 percent electric sports car, and the Solid Oxide Fuel-Cell (SOFC)-powered prototype.
The Nissan BladeGlider is an exciting glimpse into the zero-emission future of Nissan's electric vehicles (EVs). Combining an agile and efficient EV that "glides" – in part due to the near-silent performance of its electric powertrain and aerodynamic shape of a high-performance "swept wing" aircraft – the Nissan BladeGlider brings Nissan's Intelligent Mobility strategy to life by designing, and redefining, how vehicles are driven, powered and integrated into society.
Additional features of the BladeGlider model include:
Advanced chassis configuration with a narrow front track and wider rear track for optimum aerodynamic efficiency and handling stability
High-waisted, rear-hinged dihedral doors provide a dramatic entry and exit to the cabin
An open roof, reinforced with an integrated rollover protection structure
Extended legroom for backseat passengers
A seamless cockpit windscreen providing panoramic views for all vehicle occupants
Wheel-mounted controls feed into an advanced display showing speed, state of battery charge, regeneration mode and torque map.
A two-screen central display with images of rear-view mounted cameras behind the front wheels – an innovative alternative to door-mounted mirrors that improves aerodynamic efficiency
A four point safety harness for each occupant and exceptional support for side and legs of all passengers
Also unveiled today was Nissan's Solid Oxide Fuel-Cell (SOFC)-powered prototype, a first of its kind vehicle in Brazil that runs on bio-ethanol electric power and has a cruising range beyond 600km.
The e-Bio Fuel-Cell prototype vehicle is based on the Nissan e-NV200, the company's 100-percent electric light commercial vehicle. Additional features of the prototype vehicle include:
A clean, highly-efficient and easy to supply powertrain, which runs on 100-percent ethanol or ethanol-blended water
Low operational costs equivalent to an EV – but with the driving range of a gasoline-engine vehicle
Bio-ethanol fuels are widely available in countries in North and South America therefore, the system is not heavily dependent or restricted by the existing charging infrastructure, making it easy to introduce to the market.
"When you look at our new technologies and products, and the many other activities we do in Rio, throughout Brazil and all over Latin America, one thing is very clear: Nissan is fully committed to this region and to taking the automotive industry forward," said Carlos Ghosn, president and CEO, Nissan Motor Co. Ltd.
About Nissan Motor Co., Ltd.
Nissan is a global full-line vehicle manufacturer that sells more than 60 models under the Nissan, Infiniti and Datsun brands. In fiscal year 2014, the company sold more than 5.3 million vehicles globally, generating revenue of 11.3 trillion yen. Nissan engineers, manufactures and markets the world's best-selling all-electric vehicle in history, the Nissan LEAF. Nissan's global headquarters in Yokohama, Japan manages operations in six regions: ASEAN & Oceana; Africa, Middle East & India; China; Europe; Latin America and North America. Nissan has a global workforce of 247,500, and has been partnered with French manufacturer Renault under the Renault-Nissan Alliance since March 1999.