Nissan TITAN Full-Size Pickup Line-Up Expands for 2017 with the Addition of New TITAN Single Cab Model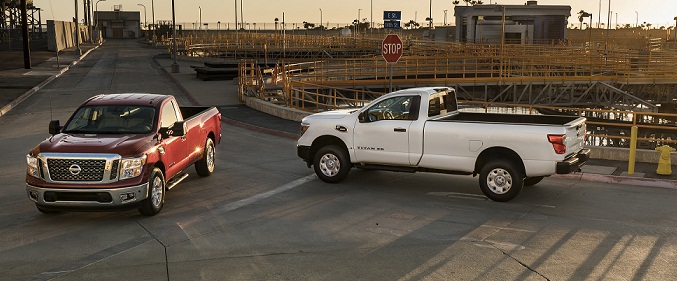 The next chapter of Nissan's "Year of the Truck" was unveiled with a sneak peek of the latest members of the TITAN full-size pickup family – the 2017 TITAN XD and TITAN Single Cab models. The first-ever single cab offering in TITAN history, the new trucks are designed to provide an affordable and rugged entry-point in the commercial fleet/work truck market. The Single Cab is the second of three eventual TITAN body configurations, joining the current Crew Cab and future King Cab. The Single Cab models are scheduled to go on sale in late fall 2016.
"Once we complete the roll-out of all TITAN cab, bed, powertrain and grade level configurations, our all-new TITAN family will cover about 85 percent of the total light pickup marketplace," said Rich Miller, director of Product Planning for Trucks, SUVs and Commercial Vehicles, Nissan North America, Inc. and chief product specialist for TITAN and TITAN XD. "More importantly, the TITAN XD and TITAN single cabs will have the power, torque, heavy duty chassis and durability demanded by today's demanding worksites – including the highest towing capacities and payloads in the lineup."
TITAN will ultimately be available in a total of three cabs, three bed lengths, three engines, 4×4 and 4×2 drive and S, SV, SL, PRO-4X and Platinum Reserve trim levels. The new single cab will be offered in both TITAN XD and TITAN configurations, with both versions sharing the same cab dimensions and 8.0-foot pickup beds but completely separate fully boxed ladder frame chassis.
The TITAN XD Single Cab, like the TITAN XD Crew Cab, will be offered in a choice of two engines – the Cummins® 5.0L V8 Turbo Diesel, which is rated at 310 horsepower and 555 lb-ft of torque; and the 5.6-liter Endurance V8, rated at 390 horsepower and 394 lb-ft of torque. The TITAN Single Cab, with about a foot shorter wheelbase, will be offered initially with the new 5.6-liter Endurance V8 (a V6 engine will be available at a later date). Diesel equipped models feature an Aisin 6-speed automatic transmission and V8 gasoline engine equipped versions will utilize a 7-speed automatic transmission.
Along with a choice of 4×4 and 4×2 drive configurations, two grade levels will be available with both TITAN XD and TITAN Single Cabs – S and SV, along with a number of optional equipment packages.
"The new Single Cab takes TITAN into new territory, bringing the innovative design and bed utility that TITAN has been known for to a wider base of commercial use buyers," added Miller.
TITAN SINGLE CAB
TITAN CREW CAB
TITAN XD SINGLE CAB
TITAN XD CREW CAB
Wheelbase (in.)
139.8
139.8
139.8
151.6
Overall length (in.)
228.1
228.1 in.
231.0
242.8 in.
Overall width (in.)
79.5
79.5 in.
79.5
79.5 in.
Overall height (in.)
74.5 – 4×2 S
75.1 – 4×4 S
75.4 – 4×2 S
76.0 – 4×4 S
77.2 – 4×2 S
77.1 – 4×4 S
78.0 – 4×2 S
78.0 – 4×4 S
Bed length
8.0 ft.
5.5 ft.
8.0 ft.
6.5 ft.
Available engines
5.6-liter Endurance V8; V6 (late availability)
5.6-liter Endurance V8; V6 (late availability)
Cummins® 5.0L V8 Turbo Diesel; 5.6-liter Endurance V8
Cummins® 5.0L V8 Turbo Diesel; 5.6-liter Endurance V8
Maximum payload (lbs)*
1,930
1,610
2,910 (gas)
2,420 (diesel)
2,590 (gas)
2,091 (diesel)
Maximum towing capacity Trailer (lbs)*
9,730
9,390
11,590 (gas)
12,640 (diesel)
11,270 (gas)
12,314 (diesel)
Maximum towing capacity Tongue (lbs)*
973 
939
1,159 (gas)
1,264 (diesel)
1,126 (gas)
1,231 (diesel)
Maximum Gross Combined Weight Rating (lbs)*
15,300
15,300
17,700 (gas)
19,450 (diesel)
17,700  (gas)
19,450 (diesel)
*When properly equipped
The new Single Cab models will be assembled in Canton, Mississippi with the 5.6-liter V8 gasoline engine assembled in Decherd, Tennessee. The 5.0-liter diesel engines are assembled by Cummins, Inc. in Columbus, Indiana.
About Nissan North America
In North America, Nissan's operations include automotive styling, engineering, consumer and corporate financing, sales and marketing, distribution and manufacturing. Nissan is dedicated to improving the environment under the Nissan Green Program and has been recognized annually by the U.S Environmental Protection Agency as an ENERGY STAR® Partner of the Year since 2010. More information on Nissan in North America and the complete line of Nissan and Infiniti vehicles can be found online atwww.NissanUSA.com and www.InfinitiUSA.com, or visit the U.S. media sites NissanNews.com andInfinitiNews.com.
About Nissan Motor Co.
Nissan Motor Co., Ltd., Japan's second-largest automotive company, is headquartered in Yokohama, Japan, and is part of the Renault-Nissan Alliance. Operating with more than 247,500 employees globally, Nissan sold 5.32 million vehicles and generated revenue of 11.38 trillion yen (USD 103.6 billion) in fiscal year 2014. Nissan delivers a comprehensive range of more than 60 models under the Nissan, Infiniti and Datsun brands. Nissan leads the world in zero-emission mobility, dominated by sales of the LEAF, the first mass-market, pure-electric vehicle. It is the best-selling EV in history with almost 50% share of the zero-emission vehicle segment. For more information on our products, services and commitment to sustainable mobility, visit our website at http://www.nissan-global.com/EN/.