Nissan Releases All-New X-Trail in December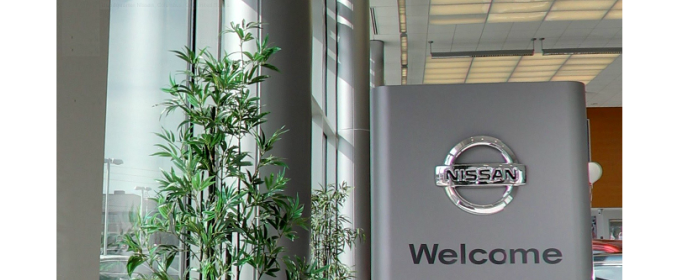 YOKOHAMA, Japan (Oct. 24, 2013) – Nissan Motor Co., Ltd. announced the launch of the all-new Nissan X-Trail, which goes on sale in December at Nissan dealers throughout Japan.
Targeting young customers who enjoy outdoor sports, the new X-Trail is a continuously evolving authentic SUV. In addition to the well-received ALL MODE 4x4i, an advanced chassis control is adopted, delivering excellent driving performance in nearly any situation. Maintaining water-repellent floor and seats as well as large-capacity water-repellent luggage space, the new X-Trail offers flexible luggage area that can easily be portioned and a large console box as evolved gear to comfortably support enjoyment of outdoor sports. In addition, Safety Shield inspired technologies, including Around View Monitor with Parking Assist, helping drivers experience more confidence when manuevering in various situations.
Highlights of the new X-Trail:
○ Excellent driving performance delivered in nearly any situation
X-Trail adopts Nissan's well-recognized four-wheel drive system, ALL MODE 4x4i, as previous generation models, with Hill Start Assist, Advance Hill Descent Control, and Yaw Moment Control. Advanced technologies, including world's first Active Ride Control and Active Engine Brake, and Cornering Stability Assist, are adopted in all grades to significantly improve riding comfort and drivability .
○ Luggage space and utility features delivering ultimate user-friendliness
With flexible luggage area that can be custom-portioned depending on size and the type of luggage, and increased storage space including pockets and cup holders, customer convenience is enhanced. Adoption of a hands-free remote-controlled back door enables a person with the Intelligent Key to easily open it just by waving a hand or an object near the sensor even when holding a package. This can be utilized in various situations from daily driving to outdoor activities. Fatigue caused by long-distance driving is reduced by newly-developed Spinal Support Front Seats. In addition to two-row five-passenger grades, three-row seven-passenger grades are newly added.
○ Advanced equipment and environmental performance appropriate for the most powerful SUV
X-Trail supports enhanced safety and security while driving in various situations with the adoption of the Emergency Brake, Emergency Assist for Pedal Misapplication, LDW (Lane Departure Warning) and Do-not-enter Sign Detection systems available together at an affordable price. BSW (Blind Spot Warning) and Driver Attention Alert are also offered as optional features. With newly-adopted Nissan first Around View Monitor with Parking Assist, a driver does not need to turn the steering wheel when parking in a garage or parallel parking. It makes parking much easier. The Advanced Drive-Assist Display also provides a variety of vehicle information to support driving
As for environmental performance, fuel-saving technologies, including direct-injection MR20DD engine, Idling Stop, the new XTRONIC CVT, reduced driving load and light-weight body, help achieve best fuel efficiency*1 of 16.4 km/L*2. Based on the dual-pillar strategy of "zero emissions" and PURE DRIVE*4, Nissan continues its efforts to reduce CO2 emissions throughout its product lineup. The new X-Trail is one of Nissan's PURE DRIVE models.
<Overview of the new X-Trail>
1. Driving Performance
Adoption of Active Ride Control which improves ride comfort and handling on bumpy roads by controlling engine and brake
Adoption of Active Engine Brake which reduces driver's steering load by adding a degree of engine braking while cornering or when decelerating to a standstill
Cornering Stability Assist adopted as standard on all grades for more secure cornering achieved by controlling each brake for four wheels depending on the driving situation based on steering and braking of a driver
Straight line stability improved by increased caster trail by about 30 percent with caster angle reduced
Adoption of sound absorption rear wheel house liner which efficiently reduce noise from tires
ALL MODE 4×4 system in which 4WD computer switches torque distribution between front and rear from 100:0 to approximately 50:50 depending on the driving situation
Hill Start Assist adopted as a standard feature, which helps prevent a vehicle from rolling back when changing the position of foot from the gas pedal to the brake pedal
Adoption of Advanced Hill Descent Control, which controls the vehicle speed (4 km/h – 15 km/h) only by pedal operation when a vehicle descends on slippery roads (all 4WD models)
2. Utility features, Packaging
Utility features
Largest-in-class*1 water-repellent luggage space that can carry a maximum of 550L
Adoption of water-repellent luggage board that can be used to flexibly divide luggage space
User-friendliness improved by increased cup holders and storage space
Hands-free power rear door that opens using the Intelligent Key
Packaging
In two-row five seat grades, largest rear-seat knee room in its class*1 and 60:40 split seats for second-row seats are offered
In three-row seven seat grades, sliding and reclining second row seats with 40:20:40 split seats
Largest-in-class*1 electric retractable panoramic sunroof (electric tilt and slide, with electric retractable shade) is adopted (factory-installed option)
Adoption of Spinal support front seats with articulated seat back pad which eases strain to spine and helps alleviate fatigue caused by long-time drive
Adoption of Quick Comfort Seat Heater for front seats which warms passengers as quickly and comfortably as possible. (20X, 20X Emergency Brake Package, 20X X-TREMER X, 20X Emergency Brake Package X-TREMER X)
Water-repellent seats and floor which can be easily cleaned up when they get dirty or wet
3. Advanced equipment and environmental features
Advanced equipment
Equipped with Emergency Brake which helps reduce the risk of frontal collisions. When the system detects a risk of collision with a vehicle or a pedestrian with the front view camera, it alerts the driver to take action using a visual warning and audible buzzer. If the driver does not act upon the warnings, the braking system is activated to help avoid a collision or reduce damage caused by collision if one is unavoidable. (20X Emergency Brake Package, 20X Emergency Brake Package X-TREMER X)
BSW (Blind Spot Warning) is adopted, which alerts the driver if a vehicle is detected in his/her blind spot. Using the rear view camera, it can detect a vehicle in the rear or to the side of the X-Trail and alert the driver by illuminating the side mirror indicator lights. When there is a vehicle detected in the blind spot area and the driver activates the turn signal to move in that direction, the system warns the driver by blinking the indicator light and providing an audible warning. (factory-installed option)
Adoption of Driver Attention Alert which alerts the driver with visual and audible warnings if it detects vehicle steering input which may suggest driver inattention. (factory-installed option)
Adoption of Do-not-enter Sign Detection, which judges when a vehicle is likely to enter a street that it is prohibited to enter using sign detection enabled by a front view camera, then warns the driver with a visual display and audible buzzer. (20X Emergency Brake Package, 20X Emergency Brake Package X-TREMER X)
Around View Monitor (with MOD <Moving Object Detection> and parking sonar) equipped with Parking Assist, which supports a driver when parking into a garage or parallel parking by independently control steering. (factory-installed option)
The driver benefits from one of the most advanced meter displays yet seen with 5 inch TFT colour display.
Environmental Performance
Adoption of Eco mode which controls acceleration and speed change of CVT to improve actual fuel economy by just pressing a switch
Equipped with MR20DD engine which offers both fuel-efficiency and strong torque realized by improved thermal efficiency
Idling Stop, which adopts an ECO motor, that restarts the engine quickly and quietly
Adoption of the new XTRONIC CVT which improves fuel economy by about 10 percent by increasing gear range and reducing friction resistance loss. Step shift control in the CVT is newly adopted that increases engine speed in line with an increase in vehicle speed
4. Design
Exterior design
The design expresses strong presence as a new SUV offered by robust appeal, sleek and stylish lines and body that hints excellent functionality and dynamic driving
Adoption of V-motion shape that starts from grille through engine hood
Adoption of boomerang-shape LED front lamp signature and rear lamp signatures
Available on seven exterior colors with Scratch Shield which is capable of restoring fine scratches over time
Interior design
Spacious interior space provided by a flowing horizontal line, starting from instrumental panel to door trim, designed in the motif of a flying bird
With the angle of rear window and interior volume optimally balanced, rear style is designed with roomy interior and user-friendly luggage space in mind
High-quality texture that exceeds existing SUVs is offered with the adoption of geometrical finisher*5 and selected materials and color tones for chrome and silver finisher
<Other Key Safety, Convenience and Environmental Technologies>
Lane Departure Warning (LDW), Emergency Assist for Pedal Misapplication (20X Emergency Brake Package, 20X Emergency Brake Package X-TREMER X)
LED head lamps (with high/low beam, auto-control and Friendly Lighting function) (factory-installed option on 20X, 20X Emergency Brake Package, 20X X-TREMER X, 20X Emergency Brake Package X-TREMER X)
Body-colored side under mirror
Electric retractable remote control body-colored heated door mirrors with integrated side turn lamps
High-strength body construction (Zone Body), Body construction for pedestrian protection
SRS frontal air bag system for driver and front passenger
SRS side air bag system for driver and front passenger and SRS curtain air bag system (factory-installed option)
VDC (Vehicle Dynamic Control <TCS functionality included>) and Brake LSD
Four-wheel ventilated disc brakes
ABS (Anti-lock Braking System), EBD (Electronic Brake force Distribution), Brake Assist
2-stage load limiter equipped double pretensioner seatbelt for driver
2-stage load limiter equipped pretensioner seatbelt for the front passenger
Emergency Locking Retractor (ELR) 3-point seatbelts for all seats
Every grade achieves SU-LEV certification, emitting 75% fewer exhaust emissions than 2005 standards*3
Achieves more than 95% recyclability rate
Friendly Lighting function
Comfort Flasher
Air-bag-linked hazard warning lights
Auto light system (linked dawn sensors)
Rear windshield wiper (working cooperatively with reverse action)
Auto ACC system
*1: M-class Gasoline SUV (As of September 2013, according to Nissan)
*2: 2WD 20X (two-row/three-row), 20X Emergency Brake Package (two-row/three-row)
20X (three-row) and 20X Emergency Brake Package (three-row) will achieve "20% improvement in fuel economy over 2015 standards" depending on options chosen, thereby fully exempting it from the automobile acquisition tax and automobile weight tax. As the values are based on in-house measurements and they have not been approved by the Ministry of Land, Infrastructure, Transport and Tourism, they are subject to change.
*3: PURE DRIVE vehicles are designed to deliver new excitement, creating a new experience and surprise in everyday driving, by combining various models with eco-technologies.
*4: Autech Japan is responsible for the production of X-TREMER X grades, which require vehicle registration in person.
*5: Adopted in 20X, 20X Emergency Brake Package, 20X X-TREMER X and 20X Emergency Brake Package X-TREMER X