Nissan Celebrates the 10th Anniversary of St Petersburg Plant with the Launch of the New Nissan Murano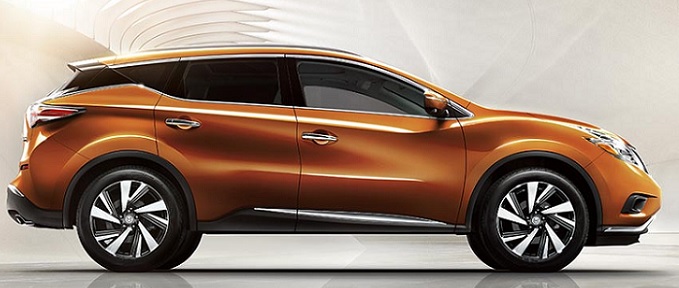 Nissan St. Petersburg Plant marks 10th anniversary
Celebrations marked by the launch of the new Nissan Murano crossover
Nissan reaffirms its strategic commitment to local production in Russia
Nissan has celebrated the 10th anniversary of its manufacturing site in Russia with the start of production of the new Murano crossover.
Reaffirming the company's commitment to Russia, this third-generation Murano completes a €167m investment in new crossover models and facility investments which have doubled the capacity at St. Petersburg.
A ceremony took place at the plant where employees were joined by Nissan's Senior Vice President for Manufacturing, Supply Chain Management and Purchasing in Europe, Colin Lawther, Russian Manufacturing Vice President Dmitry Mikhailov, and the Vice President of Nissan East, Philippe Saillard, as well as by Government authorities: Deputy Minister of Industry and Trade of the Russian Federation Alexander Morozov and Vice-Governor of St. Petersburg Sergey Movchan.
Lawther said: "Congratulations to all of my colleagues in St. Petersburg, whose commitment and exemplary quality standards are fundamental to Nissan's strategy to strengthen our position in Russia.

"Today we celebrate 10 years of friendship with the city of St. Petersburg by launching our new Murano, completing our offer of locally-built models for Russian customers and confirming our position as crossover leaders."
To mark the occasion, a new Murano mural has been created using photographs of plant employees, symbolising the commitment from all the workforce to deliver Nissan's promise of innovation and excitement in every vehicle.
Philippe Saillard, Vice President of Nissan East, said: "Nissan is delighted to present to Russian motorists and brand enthusiasts the new Nissan Murano, the latest addition to our range of crossovers and SUVs produced in Russia, for Russia.

"The new Murano will be the flagship of our crossover range and will be an impressive addition to Russian roads and highways, thanks to its bold and futuristic design and a host of innovative technologies that customers have come to expect from Nissan."
The new Murano is offered with a standard VQ-series 3.5l DOHC V6 rated at 249 horsepower and 325 Nm of torque, with an advanced Xtronic CVT® providing a sporty and smooth driving experience. The second option will be a gasoline-electric hybrid vehicle with a supercharged 2.5l gasoline engine and a 15 kW electric motor (254 hp/368 Nm).
The new Murano will be the first Nissan product equipped with ERA-GLONASS, an emergency call system which automatically sends traffic accident information to emergency services. It will be delivered, along with other St. Petersburg products, to other Customs Union members Belarus and Kazakhstan.
The start of Nissan's St. Petersburg project began in June 2006 with the signing of a Memorandum of Understanding between the Government of St. Petersburg and Nissan Motor Co Ltd. At that time the plant was predicted to employ 750 people with a capacity of up to 50,000 units per year.
Production started in June 2009, since when over 230,000 vehicles have rolled off the production line, with total investment now at €312 million in two phases, with 400 million  parts and about 2,000 tons of paint used in that time, with the plant running for a total of 28,290 working hours.
Deputy Minister of Industry and Trade of the Russian Federation Alexander Morozov, said: "I congratulate Nissan on its 10th anniversary. The company has become a powerful participant in the Russian automotive industry and continues to enhance local production. Today's launch of the Nissan Murano is proof of that.

"I want to stress that Murano will be the first Nissan model with the ERA-GLONASS emergency system. I am sure that Murano will have the position it deserves in the Russian market."
Russia remains a key strategic market for Nissan, with high potential to become its biggest market in Europe. Since 2014 the Russian model range has been refreshed to reflect Nissan's position as market leaders in crossovers and SUVs. The release of models such as Terrano, X-Trail, Pathfinder, Murano and Qashqai to the Russian market saw the company take 6th place in 2015 among all the automakers in Russia for sales.
Local production in St. Petersburg has played a key role in this, with the plant currently producing the Nissan X-Trail, Pathfinder, Qashqai and now Murano, adapted specifically to the requirements of Russian road conditions.
Dmitry Mikhailov, Vice President for Manufacturing in Russia, said: "The Nissan plant in St. Petersburg is the youngest of all the Nissan plants in Europe. But today, we already have 10 years of experience, and manufacture in Russia 95% of the Nissan vehicles sold in Russia.
"With over 230 000 vehicles manufactured, two global awards for quality and plant capacity doubled, St. Petersburg plant is well-positioned to play a key role in the next 10 years of Nissan growth in Russia."
ABOUT NISSAN IN RUSSIA
Since entering Russia in 2004, Nissan has sold more than 1 million vehicles across the country. In CY 2015 Nissan sold 91100 cars in Russia and achieved 5.7% market share in the competitive market. The Nissan plant in Saint-Petersburg produced more than 33 thousand cars (X-Trail, Qashqai, Murano, Pathfinder), another 70 thousand cars were manufactured by Alliance partners (Terrano in Moscow, Almera, Sentra and Tiida – in Togliatti and Izhevsk). Today, Nissan offers for sale in the Russian market 12 different innovative products – sedans, crossovers and SUVs.