Nike Meets Demands Of All Athletes With Expanded Metcon Family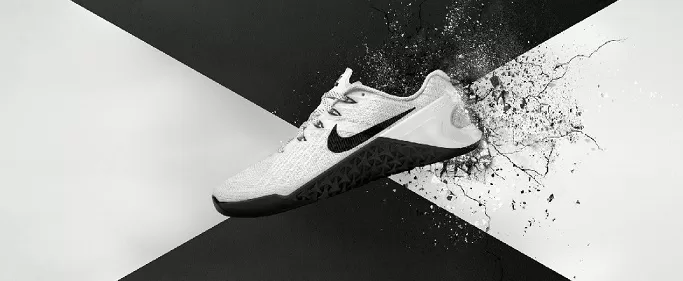 Three years after the introduction of the original Nike Metcon trainer — known for its strength and providing stability — the Metcon franchise is expanding with the new Nike Metcon DSX Flyknit and Nike Metcon 3. 
However, recognizing diversity in routines, the Metcon family's extension delivers targeted solutions for a variety of needs.
On one hand, the all-new Nike Metcon DSX Flyknit is designed for athletes like Kyrie Irving, Skylar Diggins and others who balance strength drills and cardio. On the other, the Nike Metcon 3 supports the high intensity training of champion competitors like Mat Fraser and Sara Sigmundsdóttir.
To meet the demands of all athletes, the entire Metcon family shares some crucial characteristics:
Firm rubber and external heel counter for stability

Sticky rubber in the forefoot for traction

Outsole rope wrap for abrasion protection and rope climbs

Molded flex grooves in the forefoot for natural flexibility

Low-profile heel clip to minimize drag during wall exercises and handstand pushups
Run a mile then knock out 100 pull-ups, 200 push-ups and 300 air squats; round out with another swift mile. That is "Murph," in memory of Lieutenant Michael Murphy.
The new Nike Metcon DSX Flyknit is designed to cover the details of the demanding "Murph" circuit, debuting an ultra-durable Flyknit, which provides a lighter, more flexible one-to-one fit. It also has cushioning for the running and support for the plyometrics, as well as other cardio-focused routines like the "Helen" (a three-round cycle encompassing a 400-meter run, 21 kettleball swings and 12 pull-ups), Mat Fraser and Sara Sigmundsdóttir's NTC "Row Down" workout and the NTC "The Big Four" workout.
Integrated Flywire and Flyknit at the mid-foot provide a dynamic fit that helps lock the foot in place for running, cutting, jumping and lifting. This, combined with a new dual density outsole, an elevated 6mm offset and a drop-in articulated cushioning system provide more cushioning and comfort for more miles and reps (i.e. crushing those WODs noted above).
Do 21 barbell thrusters followed by 21 pull-ups. Then do 15 barbell thrusters followed by 15 pull-ups. Finally, complete 9 barbell thrusters followed by 9 pull-ups. Do it all as fast as possible. That is "Fran."
Workouts like "Fran" and others incorporating burpees, rope climbs and squat cleans (including NTC's "Double Down" routine) require a shoe with a unique blend of durability and stability.
To that end, the Nike Metcon 3 is designed with a flat and strong platform, delivering stability for squats, box jumps and explosive lifts. The 4mm offset means it's the lowest Metcon, which equates to more support for more weight under load. The new upper, made out of ballistic mesh and embroidered TPU, is more lightweight, flexible and breathable. It is designed to be firm enough in the heel to handle the rigors of lifting yet softer and more flexible in the forefoot to provide greater cushioning — allowing smooth sailing through the toughest power circuits.
The Nike Metcon 3 releases via NIKEiD on December 19, and inline from January 6 at nike.com. The Nike Metcon DSX Flyknit OG colorway is available January 2 at nike.com.