New Stanford exhibition highlights power of reinterpretation, consultation with Native American communities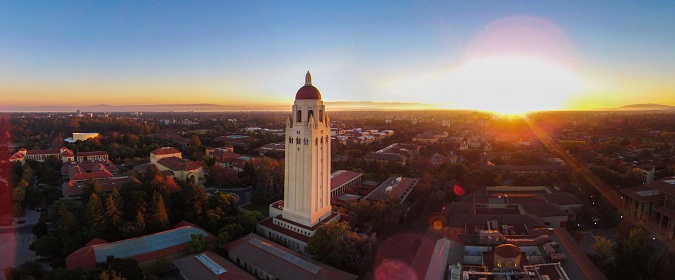 The new Stanford exhibition, "From 'Curios' to Ambassadors: Changing Roles of the Daggett Collection from Tribes of the Lower Klamath River," highlights Native American tribal objects in a way that more precisely reflects their origins. It is on view through June 4, 2016.
BY ROBIN WANDER
Christina Hodge, academic curator and collections manager for Stanford's Archaeology Collections, examines a late 19th-century dip net for salmon and eel from the Daggett Collection.
In the late 1890s, the entrepreneur and former lieutenant governor of California, John R. Daggett, assembled an ethnographic collection of objects to illustrate the lives of Hupa, Karuk and Yurok communities in Northern California.
Earlier he had served as commissioner for California's pavilion at the 1893 World's Columbian Exposition in Chicago, where exhibits showcased material culture from around the world. The exposition inspired him to collect items from tribes near one of his gold mines at the confluence of the Klamath and Trinity rivers, but he wasn't the most careful or conscientious collector. Amassing was more Daggett's style, and so he lumped different tribal communities together in his records, when he recorded at all.
And so, the objects of tribal life – tools, utensils, clothing, beads – became curios in the hands of Daggett.
Jane Stanford purchased the collection for the Leland Stanford Jr. Museum, now the Cantor Arts Center, in 1899. A century later, the Cantor transferred portions of the collection to Stanford's Anthropology Department.
Now the objects are featured in a temporary exhibition in the Stanford Archaeology Center and have come to represent more than Daggett ever intended through their accumulated histories and ongoing significance to tribal people. With each transfer of ownership, the objects' meanings changed.
The exhibition From "Curios" to Ambassadors: Changing Roles of the Daggett Collection from Tribes of the Lower Klamath River is the culmination of Christina J. Hodge's spring 2015 course Museum Cultures: Material Representation in the Past and Present. It is on view through June 4, 2016.
Hodge points out that the use of quotation marks around the word curios in the title is extremely important.
"This term was the limited and damaging view of 19th-century collectors, like Daggett. The exhibition's message is that, in part through conversations with tribal members, the academic/outsider perspective on these items has radically shifted. These items are not 'curios,' but representatives of their communities of origin, and this is how they are perceived now within Stanford's collections. They educate about the past and present vitality of tribal nations, as well as the colonialist history of anthropology and institutions like Stanford."
Honoring the past accurately
Hodge is the academic curator and collections manager for the Archaeology Collections. One of her goals is to steward diverse cultural items and support their engagement across campus and beyond. To that end, Hodge asked students in her spring Museum Cultures course to consider the past and present roles of institutional collections and to develop an exhibition using the Daggett Collection.
The students researched and selected the objects, designed the case displays and wrote the interpretive text panels and labels. They also consulted with representatives from the Yurok and Hoopa Valley tribes to learn more about these communities, gain contemporary understandings of the collection and ensure that they were displaying the objects correctly, with due reverence and sensitivity.
The students' sense of accountability was profoundly impacted by their consultation with members of the tribes, Hodge said. One of the lessons they learned from their discussions was that curators should involve the communities they are presenting.
"Sharing authority is more than an ideal, and it means not only asking for information but also providing it, as well as taking into consideration others' priorities and ceding some control," said Hodge. "There are items we did not display in the exhibition because of information we received during the tribal consultation – and that's exactly what we want to happen. So it was important for students to experience that as well."
Hodge was pleased to see the students wrestle with their responsibilities as curators, whether it was struggling to find the right words to represent indigenous ideas of time and place, or figuring out just the right arrangement for men's and women's artifacts that would not privilege some or diminish others. Hodge said that working with objects is both intellectual and practical, and creating an exhibition for the public is an entirely different experience than writing a paper for your professor.
One of Adeana McNicholl's challenges working on the exhibition was learning how to moderate her academic voice, taking into account both the public audience and stakeholder communities.
"Part of what it means to curate a museum exhibit is to relinquish your own voice for the sake of the community whose voice you are attempting to represent," said McNicholl, a doctoral student in religious studies.
One obstacle for McNicholl was finding a way to highlight the gendered nature of the objects, something the tribal members helped the students understand, without creating a gender hierarchy in the spatial arrangement of the objects in the cases. An exhibition design solution was found to address the issue. Objects were installed on platforms that varied in height so no single grouping was necessarily higher than the other.
McNicholl once considered museum work a plan B – something that PhD students might consider if they didn't get a tenure-track position. But this course changed all that.
"About two weeks into the Museum Cultures course, I fell in love with museum work and realized that there was something special about it that interested and excited me in a way that my regular academic work never had," she said.
McNicholl added, "I had friends telling me that I looked more excited while talking about this course than I had looked in years. Since taking the course, I've talked to numerous people about how my research might be accommodated in a museum environment, and I am hoping to now work toward becoming a curator."