New Special Model Series for the Compact Range: Premiere in Geneva: CLA Shooting Brake Night Edition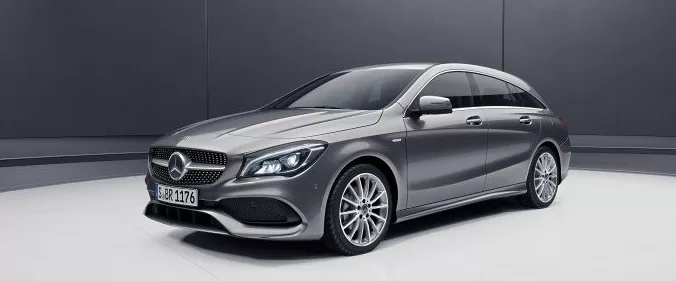 With the Night Edition, Mercedes-Benz is presenting an exclusively elegant special model series for the compact range.
It captivates thanks to the combination of AMG styling on the exterior and Urban Line with white accents in the otherwise black interior. The CLA Shooting Brake 200 d Night Edition (with DCT transmission) celebrates its premiere at the Geneva Motor Show (combined consumption 3.9 l/100 km, combined CO2 emissions 101 g/km). There will be Night Edition models for a total of four model series of the compact class from Mercedes-Benz (B‑Class, GLA, CLA and CLA Shooting Brake) – as well as the somewhat brighter version Night Edition Starlight. They can be combined with all engines line-ups. Mercedes-AMG will also be offering Night Edition models in the compact segment. Sales start in April, with the market launch in June.
With the elegant special model series Night Edition, Mercedes-Benz is celebrating the individuality and sportiness of the successful compact model generation.
As a Night Edition, the CLA Shooting Brake sports AMG styling on the exterior (with a special front apron in A‑Wing design, striking side sill panels as well as a special rear apron) with 18-inch multi-spoke AMG light alloy-wheels. In conjunction with the optional Night Package, the Night Edition is the first Mercedes-Benz to sport completely black AMG light-alloy wheels. Further features include the LED High Performance headlamps as standard and an Edition badge on the wing.
The interior is characterised by black-white contrasts. Numerous interior items feature white accents. This includes the white edges on the seat belts and white top stitching on the seats with upholstery in black ARTICO man-made leather and the instrument panel support, also in ARTICO man-made leather. The arms rests in the doors and on the centre console as well as the door trim also feature white contrasting top stitching. The edges of the air vents are also white. The trim features a carbon look. The cord floor mats feature a black-white border and Edition lettering.
In comparison to the Urban equipment line, the additional charge for the Night Edition in the CLA Shooting Brake including the Night Package is around 2650 euros (recommended retail price for Germany including 19 % VAT).
The Night Edition Starlight variant features a diamond radiator grille with pins in chrome and high-sheen multi-spoke AMG light alloy-wheels painted titanium grey.