New Look For NHRA Pro Stock Camaro SS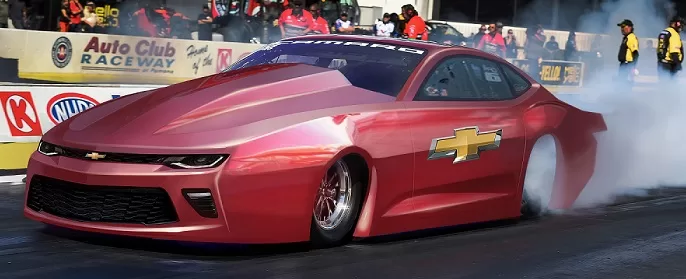 Gen Six bodywork takes to the drag strip in 2017, chasing repeat Pro Stock title
The Gen Six Chevrolet Pro Stock Camaro SS makes its public debut at the Performance Racing Industry trade show in Indianapolis.
The new model builds on the success of the championship-winning fifth-generation-based race car. It's more athletic-looking and aerodynamically optimized bodywork draws its styling from the Gen Six Chevrolet Camaro SS.
"Our goal was to minimize aerodynamic drag within the NHRA guidelines and incorporate as many design cues from the production car," said John Mack, Chevrolet Camaro exterior design manager. "The result is a sleeker and more aerodynamic Camaro SS."
The new race car makes its competition debut this February in Pomona, Calif., at the kickoff event for the 2017 NHRA Mello Yellow Drag Racing Series.
Chevrolet Pro Stock Camaro drivers won 23 of 24 events in the 2016 NHRA Mello Yello Drag Racing Series. Jason Line won eight events, capturing his third world title — and the third straight championship for Chevrolet. Runner-up Greg Anderson won eight events in a Camaro SS race car.
Track testing with the 2017 Pro Stock Camaro SS begins later this month.
In addition to the new Pro Stock Camaro SS, Chevrolet's 2017 COPO program offers specialty race cars designed for NHRA's Stock Eliminator classes, and earlier this fall Chevrolet announced a drag racing development program for production-based Camaro models.
ABOUT CHEVROLET
Founded in 1911 in Detroit, Chevrolet is now one of the world's largest car brands, doing business in more than 115 countries and selling more than 4.0 million cars and trucks a year. Chevrolet provides customers with fuel-efficient vehicles that feature engaging performance, design that makes the heart beat, passive and active safety features and easy-to-use technology, all at a value. More information on Chevrolet models can be found at www.chevrolet.com.