Neri Oxman Unveils "Gemini" Cocoon-Like Acoustic Chaise Produced with Stratasys Color Multi-Material 3D Printing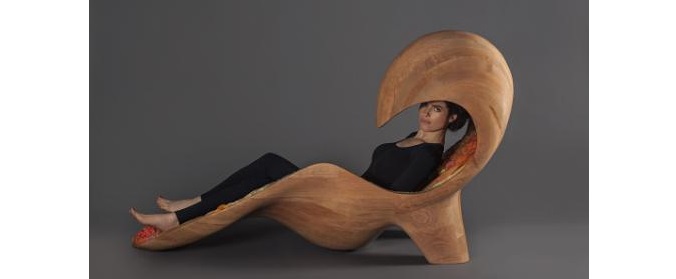 Architect, designer and MIT Professor Neri Oxman collaborates with Professor W Craig Carter and composer and MIT Professor Tod Machover to explore material properties and their spatial arrangement using Stratasys Objet500 Connex3 Color Multi-material 3D Printer 
"Vocal Vibrations" exhibition opens at Le Laboratoire on March 28th 2014 
Stratasys, Ltd. (Nasdaq: SSYS), a manufacturer of 3D printers and materials for personal use, prototyping, and production, today announced the debut of "Gemini", a two-part chaise longue designed by Neri Oxman, Architect, Designer and Professor of Media, Arts and Science at MIT, in collaboration with Professor W. Craig Carter, Department of Materials Science and Engineering of MIT, using Stratasys' new Objet500 Connex3 Color Multi-material 3D Printer.
Conveying the relationship of twins in the womb through material properties and their spatial  arrangement, Gemini combines both traditional and innovative manufacturing processes and will be unveiled tomorrow at the "Vocal Vibrations" exhibition at La Laboratoire in Paris, France. You can follow the gala opening tonight on Twitter at #gemini.
The two piece cocoon-like structure combines subtractive and additive manufacturing and continues Oxman's exploration of the Objet500 Connex3 Color Multi-material 3D Printing technology which enables a variety of material properties and color combinations to be printed in a single build.
"The twin chaise spans multiple scales of the human existence extending from the warmth of the womb to the stretches of the Gemini zodiac in deep space. It recapitulates a human cosmos, our body, like the constellation, drifting in quiet space. Here the duality of nature is expressed through the combination of traditional materials and state-of-the-art 3D printing," says Oxman. "Stratasys' new multi-material color 3D printing capability has allowed me to create a rich dialog between sound and light, rigid and flexible, natural and man-made materials and high and low spatial frequencies in ways that were impossible until now."
In a design commission to explore how materials interact with the human body, the twin chaise features an enclosure which cushions the body within a colored, multi-material 3D printed cocoon, replicating the tranquillity of the womb. A solid wood shell house provides the protective exterior. Lining Gemini from the inside are 44 composite PolyJet digital materials, including color. The 3D printed "skin" uses Stratasys' unique triple jetting technology and combines three base materials: Stratasys' rubber-like TangoPlus, rigid VeroYellow and VeroMagenta, forming varying shades of transparent and opaque yellows and oranges, in different rigidities. The materials, shapes and surfaces of the 3D-printed skin enable a unique vibrational acoustic effect for a quiet calming environment.
"Gemini is fundamentally about the complex and contradictory relationship between twins, which is mirrored in the geometrical forms of the two-part chaise and the dualities that drive their formation, such as the combination of natural and synthetic materials," explains Professor Oxman. "The Objet500 Connex3 Color Multi-material 3D Printer and technology enabled us to print 44 material combinations that not only target specific pressure points on the body to form a sensorial landscape, but also act as a soundproof anechoic chamber, an architecture for quieting the mind."
Twins born to star 
Gemini features separate, independent parts that together form an enclosure: Gemini Alpha and Gemini Beta. They are inspired by the mythical relationship between the Dioskouri twins, Castor, born of man (named GeminiBeta after the star in the Northern constellation of Gemini) and Pollux born divine (named Gemini Alpha after the second brightest star in the constellation of Gemini).
In keeping with Greek mythology, the first piece, Gemini Alpha, recapitulates the form of a swan, as it is believed that Leda, the twins' mother, became pregnant with Pollux after being seduced by Zeus in the disguise of a swan. Inspired by the lingual root of the word "swan", "sound" or "to sing", Gemini Alpha includes a sound enclosure featuring a range of Stratasys' 3D-printed PolyJet digital materials with varying elastic and acoustical properties. Surface features that are more curved than others are assigned more elastic properties, thereby increasing sound absorption around local chambers.
"I wanted to reproduce the calming and still ambience of the fetus' prenatal experience," explains Professor Oxman. "The 3D-printed soundproof skin brings the whole concept to life, transporting the visitor once seated within the chaise to ultimate serenity."
Gemini Beta, to be unveiled at the Laboratoire Cambridge exhibition in October 2014, is designed to complete its twin, creating a full enclosure; however, it can also function as an independent chaise when positioned upside-down.
Commenting on Gemini as a key aspect of Vocal Vibrations, David Edwards, founder and director of Le Laboratoire, Paris, says, "We are delighted to be collaborating with Neri Oxman, whose groundbreaking creations continue to wow audiences while demonstrating the dramatic potential of 3D printing within the design world. In fact, this will be the first time that Le Laboratoire has featured a 3D-printed piece and we expect the Gemini chaise will prove to be an attention-grabbing aspect of Vocal Vibrations."
"Once again Professor Neri Oxman has demonstrated her ability to push the boundaries of design and manufacturing with the help of Stratasys' color multi-material 3D printing," says Arita Mattsoff, Vice President Marketing for Stratasys. "This is a truly unique, functional piece of art that combines traditional manufacturing techniques with cutting-edge 3D printing technology. We are seeing more and more designers embrace 3D printing as a powerful new creative tool, enabling them to bring designs they never thought possible to life in a matter of hours."
Gemini Alpha will be on display at Le Laboratoire Paris from March 28th 2014.
Watch an exclusive interview with Professor Neri Oxman about the Gemini chaise here.
More information about the exhibitions is available here.
Stratasys Ltd. (Nasdaq:SSYS), headquartered in Minneapolis, Minn. and Rehovot, Israel, manufactures 3D printers and materials for prototyping and production. The company's patented FDM® and PolyJetTM 3D Printing technologies produce prototypes and manufactured goods directly from 3D CAD files or other 3D content. Systems include 3D printers for idea development, prototyping and direct digital manufacturing. Stratasys subsidiaries include MakerBot and Solidscape, and the company operates the RedEye digital-manufacturing service. Stratasys has more than 1800 employees, holds over 550 granted or pending additive manufacturing patents globally, and has received more than 25 awards for its technology and leadership. Online at: http://www.stratasys.com or http://blog.stratasys.com.
Cautionary Statement Regarding Forward-Looking Statements
Statements regarding Stratasys' beliefs, intentions and expectations, including without limitation statements regarding the development and performance of our products, are forward-looking statements (within the meaning of the United States federal securities laws). The statements involve risks and uncertainties, both known and unknown, that may cause actual results to differ materially from those projected. Actual results may differ materially due to a number of factors, including the risk and uncertainty that the businesses of the two companies may not be integrated successfully; the risk that the merger may involve unexpected costs or unexpected liabilities; the risk that synergies from the merger may not be fully realized or may take longer to realize than expected; the risk that management's focus on and disruptions arising from the merger make it more difficult to maintain relationships with customers, employees, or suppliers. Stratasys' ability to achieve the results presented in any forward-looking statement will depend on numerous factors, including its ability to penetrate the 3D printing market; its ability to achieve the growth rates experienced in preceding quarters; its ability to introduce, produce and market both existing and new consumable materials, and the market acceptance of these materials; the impact of competitive products and pricing; its timely development of new products and materials and market acceptance of those products and materials; the success of Stratasys' recent R&D initiative to expand the DDM capabilities of its core FDM technology; and the success of Stratasys' RedEye On DemandTM and other paid parts services. This list is intended to identify only certain of the principal factors that could cause actual results to differ. These and other applicable factors are discussed in this presentation and in Stratasys' Annual Report on Form 20-F for the year ended December 31, 2012, as well as other filings that Stratasys, Inc. has made with the SEC and that Stratasys Ltd. has made and will make with the SEC in the future. Any forward-looking statements included in this presentation are as of the date they are given, and Stratasys is not obligated to update them if its views later change, or to reflect the occurrence of unanticipated events, except as may be required by law. These forward-looking statements should not be relied upon as representing Stratasys' views as of any date subsequent to the date they are given.
Attention Editors, if you publish reader-contact information, please use:
USA – +1-877-489-9449
Europe/Middle East/Africa – +49-7229-7772-0
Asia Pacific – +852 39448888
Stratasys Media Contacts 
USA
Aaron Masterson
Weber Shandwick
Tel. +1-952-346-6258
AMasterson@webershandwick.com
Europe
Jonathan Wake / Miguel Afonso
UK Bespoke
Tel: +44-1737-215200
stratasys@bespoke.co.uk
Stratasys
Arita Mattsoff / Joe Hiemenz
Stratasys
Tel. +972-(0)74-745-4000 (IL)
Tel. +1-952-906-2726 (US)
arita@stratasys.com
joe.hiemenz@stratasys.com  
Asia Pacific
Stratasys AP
Janice Lai / Frances Chiu
Tel. +852-3944-8818
Janice.lai@stratasys.com
Frances.Chiu@stratasys.com  
Japan
Stratasys Japan
Aya Yoshizawa
Tel. +81-90-6473-1812
Aya.yoshizawa@stratasys.com
Korea
Stratasys AP
Jihyun Lee
Tel. +82-2-2046-2287
jihyun.lee@Stratasys.com
Brazil
Tatiana Fonseca
GAD Communications
Tel: +55-11-3846-9981
tatiana@gadcom.com.br
Mexico
Stratasys Mexico
Thibault Leroy
Tel. +52-1(55)4866-0800
thibault.leroy@stratasys.com
South Africa
Alison McDonald
PR Connections
Tel. +27-(0)11-468-1192
alison@pr.co.za
SOURCE Stratasys Ltd.