Most Sent Flag Emoji Is Revealed!
The flag emojis were introduced into the digital world back in 2017, EVERY single flag is on the emoji keyboard but Flagmakers find out what the most sent flag emojis are! 
Over 2 BILLION emojis have been sent via Twitter. Flagmakers created a poll on Twitter to the general public to see when people use flag emojis and we aren't surprised with the results! 70% of people use flag emojis when they are posting holiday pictures. It doesn't come to a surprise that the American flag emoji is the most sent as they are the most patriotic country in the world when it comes to national holidays and even elections! Flagmakers have analysed a real time emoji tracker which shows the amount of times emojis have been used on Twitter.
*The data is collated from Twitter which shows the amount of emojis sent. Data source: http://www.emojistats.org/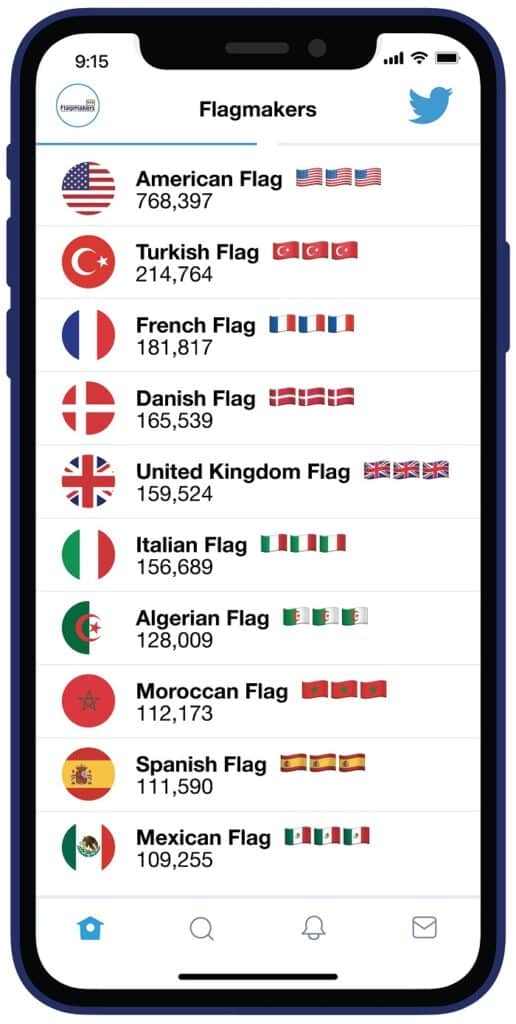 An extended list below:
| | | |
| --- | --- | --- |
| Rank | Flag Emoji | # of times sent |
| 1 |    American flag |    768,397 |
| 2 |    Turkish Flag |    214,764 |
| 3 |    French Flag |    181,817 |
| 4 |    Danish Flag |    165,539 |
| 5 |    United Kingdom Flag |    159,524 |
| 6 |    Italian Flag |    156,689 |
| 7 |    Algerian Flag |    128,009 |
| 8 |    Moroccan Flag |    112,173 |
| 9 |    Spanish Flag |    111,590 |
| 10 |    Mexican Flag |    109,255 |
| 11 |    German Flag |    104,496 |
| 12 |    Brazilian Flag |    100,687 |
| 13 |    Canadian Flag |    89,264 |
| 14 |    Swedish Flag |    80,910 |
| 15 |    Portuguese flag |    72,146 |
| 16 |    Puerto Rican Flag |    72,045 |
| 17 |    Albanian Flag |    63,212 |
| 18 |    Afghan Flag |    60,013 |
| 19 |    Australian Flag |    59,171 |
| 20 |    Russian Flag |    57,473 |
Source: Flagmakers