Moroccan Tiles: All Your Questions Answered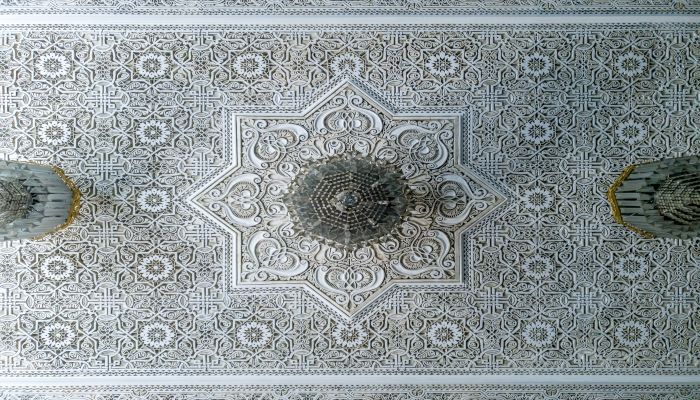 The History Of Moroccan Tiles
Moroccan tiles can be considered as works of art. For centuries, it has been passed down from generation to generation and is still created by traditional methods. These tiles, which first appeared in Morocco in the 10th century, are thought to have been inspired by the intricate patterns of the Byzantine and Roman empires. In the 14th century, Moroccan tiles began to use colors such as green, blue and yellow. Visually, seeing these cold colors brought comfort to Moroccans who have to deal with hot weather for so many months of the year.
How It's Made
Moroccan tiles are often manufactured from colorful cement combined with marble dust. The dried-colored tiles are cut to fit the design's color and shape. This curved tile creates an elaborate mosaic tile pattern on the floor, essentially upside down. The surface of these shapes is colored, smooth, and brilliant, but the reverse of these shapes must be cut in a specific beveled style for them to interlock smoothly. They then pour it into a concrete base mortar, allowing it to solidify entirely. The resulting tile is known as "Zellij".
If this method makes you tired even while reading it, do not worry, it is feasible to paint cement tiles in a patterned manner!
Molds of various shapes are divided into sections and inserted into an iron base that matches the mold's shape. Colored cement must be poured into each section of the mold one by one. Following that, the mold is filled with a second layer of sand and coarse cement. A steel cap is inserted into the hydraulic press on top of the mold. This compacts the tile and merges the layers into a single tile in the blink of an eye.
Why You Should Have It
Cleanliness was one of the main reasons why Moroccans began to use these tiles. Moroccan tiles are made of a material that prevents bacteria from growing and adhering to them. In addition, Moroccan tiles do not keep either cool or warm temperatures, helping places such as a steamy bathroom cool off quicker and avoid moisture and damp building up or you can use them for keeping the inside of your home cool throughout the summer.
But do not get us wrong, you can use Moroccan tiles not only in your bathroom but also on the floor and walls of every room in your house. You can create a colorful welcome for your guests with Moroccan tiles or if you have made your living room more minimalist than necessary, you can add some fun with tiles, or you can use any wall or floor that you want to draw attention to. We promise that neither you nor your guests will be able to take your eyes off this piece of artwork tile.