McDonald's USA Rings in Lunar New Year Through Innovative Collaboration with Viral Video Creator Karen X Cheng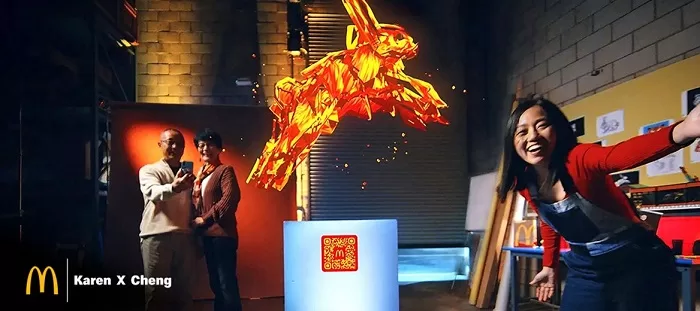 The Golden Arches is hopping into the Year of the Rabbit by partnering with award-winning, viral digital content creator Karen X Cheng to launch an interactive Lunar New Year campaign meeting brand fans where they are – in culture, technology and even the metaverse. The collaboration includes creative designs by Cheng, an experiential AR filter, an immersive metaverse experience, and even a commercial of the future using AI technology. Cheng, a longtime brand fan, is excited to bring her heritage and that of the AAPI community to life in an innovative way with McDonald's this season. Fans can join in on the fun via www.McDLunarNewYear.com.
"We know our fans live at the intersection of innovation and culture and that's where McDonald's needs to meet them," said Elizabeth Campbell, McDonald's Senior Director, Cultural Engagement Strategy. "Our collaboration with Karen X Cheng offers new, tech-forward ways to experience the Year of the Rabbit while also honoring the legacy of the holiday and uplifting the AAPI community. The Golden Arches is proud to kickstart the new year with an interactive campaign that invites our fans to become active participants in a global cultural celebration."
Regarded as one of the most influential digital creators in the world, Karen is known for her whimsical viral videos and collaborations with A-list celebrities, which have amassed over 500 million views. The partnership with McDonald's marks the San Francisco-based artist's first brand partnership recognizing and celebrating her Chinese American heritage. "Teaming up with McDonald's to create a campaign that not only leans into my passions as a creator but also my cultural identity is a dream come true," said Karen Cheng. "As a longtime Golden Arches fan, it's an honor to be provided with a creative canvas that allows me to share my personal story as well as showcase my expression of the holiday to a wider audience."
The campaign, created by IW Group for McDonald's, aims to foster Lunar New Year values of togetherness, joy, and optimism through unconventional and traditional channels. "Building on last year's groundbreaking Lunar New Year campaign, which featured a Golden Arches' trailblazing event in the metaverse, our goal was to utilize state-of-the-art technology to elevate the virtual and interactive experiences for brand fans," said Nita Song, President & Chief Momentum Officer at IW Group. Elements include:
Augmented reality (AR) filter – Available on Instagram, the filter lets brand fans experience the transition from the Year of the Tiger (2022) to the Year of the Rabbit (2023) through a breathtaking 3D illusion.
Metaverse Experience – Imagining what a Lunar New Year celebration might look like in the future, the virtual space blends traditional Asian influences with futuristic elements, including 3D sculptures of the 12 Chinese zodiac animals. Hosted on Spatial and accessible through any connected device, the experience will allow brand fans to ring in the holiday with guests from around the world and attend special events — including a Year of the Rabbit celebration (Jan 25) and an evening with the artist (Feb 2) — featuring Karen in avatar form.
AI-powered television commercial – Inspired by Karen's childhood memories of Lunar New Year, the ad spot is one of the first to incorporate NeRF (neural radiance fields) technology, which utilizes artificial intelligence to create a 3D scene. Viewers are invited to scan an on-screen QR code to experience the artwork featured in the commercial as an interactive AR filter.
Source: McDonald's