Make Your Super Bowl LVII The Best One Yet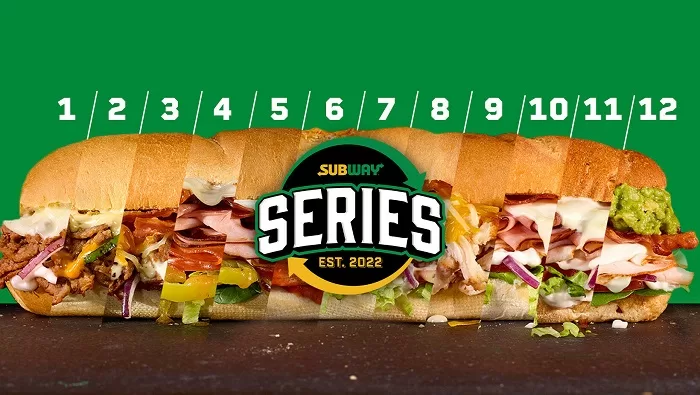 Ahead of Super Bowl LVII, Subway is gearing up for its biggest catering day of the year and unveiling all the ways fans can level up their big game celebrations, whether they are at the Super Bowl or hosting a watch party at home with the ultimate Subway Series spread.
Heading to Arizona for the big game? Starting February 9 at the Super Bowl Experience at The Phoenix Convention Center, Subway fans can compete against some of the biggest names in football in Subway Series Super Bowl LVII Showdown*. This high-stakes, immersive trivia competition tests your knowledge of Super Bowl history, but each answer is one of the 12 names and numbers from Subway Series sandwiches. The top-scoring fans each day can win prizes, like autographed merchandise from NFL legends, tickets to the Super Bowl or a one-of-a-kind championship ring. Designed by Christian Johnston and The GLD Shop, the Super Bowl LVII Subway Ring is made with 10k gold and encrusted with more than 600 natural diamonds and gemstones, totaling over 16 carats.
Subway has enlisted a series of guest stars to both host the Subway Series Super Bowl LVII Showdown and face off against fans at this year's Super Bowl Experience, including:
New York Times Best Selling Author and ESPN's First Take host Stephen A. Smith on Thursday, Feb. 9; 4:30 – 6:30 p.m. MST
Miami Dolphins quarterback and top-rated passer Tua Tagovailoa on Friday, Feb. 10; 3:45 – 5:45 p.m. MST
Three-time NFL Defensive Player of the Year and former MVP J.J. Watt on Saturday, Feb. 11; 3 – 4:30 p.m. MST
Craving the Greatest Super Bowl Party
Subway lovers can have one Monster of a Super Bowl party by adding The Outlaw or The Boss to their guestlist, with the Subway Series now available for pickup and delivery on the Subway app and Subway.com. In addition, DoorDash orders over $25 on Super Bowl Sunday will receive a free footlong†. The Subway Series, unveiled in July 2022, marked the biggest change to the brand's menu and ordering experience in 60 years and the next step in Subway's multi-year transformation journey, which began in 2021.
Looking to feed a bigger team? Subway refreshed catering experience offers an exclusive menu and curated selection of party-pleasing sandwich platters. For more information or to place an order for Super Bowl LVII, visit Subway.com†.
*Contest Abbreviated Rules:
NO PURCHASE NECESSARY. VOID WHERE PROHIBITED. Feb. 4 -5 & 9-11, 2023. For Daily Game Periods and prizes see Official Rules at http://bit.ly/3H9CU5Y. Open to legal residents of 50 US & DC who are 18+ or age of majority, whichever greater, at event. To play, download free NFL One Pass App, register for game at event location & play trivia game. 12 winners per day. Sponsor: Subway Franchisee Advertising Fund Trust LTD, 325 Sub Way, Milford CT 06614. Subway is a registered trademark of Subway IP LLC. © Subway IP LLC 2023.
**Orders must have a minimum subtotal of $25, excluding taxes and fees. To redeem the discount, add a Footlong sub to your order cart. Extras addt'l. Valid only on DoorDash orders from participating Subway® restaurants. Delivery, service and small order fees and taxes and gratuity still apply. All deliveries subject to availability. Must have or create a valid DoorDash account with a valid form of accepted payment on file. No cash value. Non-transferable. 1 per order. Cannot be combined with other offers. Subway MyWay® Rewards Program not valid on DoorDash delivery orders. Limited time only.
†Advance notice may be required for catering orders.
About Subway® Restaurants
As one of the world's largest quick service restaurant brands, Subway serves freshly made-to-order sandwiches, wraps, salads and bowls to millions of guests, across more than 100 countries in more than 37,000 restaurants every day. Subway restaurants are owned and operated by Subway® franchisees – a network that includes more than 20,000 dedicated entrepreneurs and small business owners – who are committed to delivering the best guest experience possible in their local communities.
Subway® is a Registered Trademark of Subway IP LLC. © 2022 Subway IP LLC
Source: Subway