Louis Vuitton Unveils Its Perfumes for A Journey That Begins On Bare Skin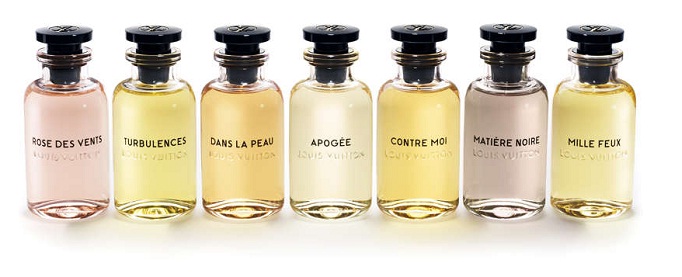 Guided by the spirit of travel and a passion for discovery, Maison Louis Vuitton has entered a new realm, the world of perfumes. Inspired by emotions and suspended moments, Louis Vuitton perfume encompasses seven olfactory journeys, seven creations to accompany women to any destination on a journey that begins on bare skin…
Louis Vuitton's journey in the world of fragrances connects directly with the history of the Maison, resonating with the trunkmaker's skill in crafting sophisticated vanity cases. The first travel flasks and fragrances signed Louis Vuitton date back to the early 20th century. The bottles are engraved with evocative names –  Heures d'Absence, Réminiscences or Eau de voyage – but the scents have evaporated, leaving Louis Vuitton carte blanche to reinvent its own fragrance universe.
To lead this adventure, Louis Vuitton turned to perfumer Jacques Cavallier Belletrud, a native of Grasse, the cradle of both the perfume industry and leather working.  The master perfumer, who is now Louis Vuitton's in-house nose, spent months traveling the five continents and also exploring the heart of Louis Vuitton at its ateliers on his quest for new scents and unexpected emotions. His discoveries led to the composition of seven olfactory journeys, seven intensely feminine eaux de parfum.
Rose des vents expresses the airiness of the most iconic of flowers, the rose, celebrated in an exceptional trio of Turkish rose, Bulgarian rose and absolute of Centifolia rose in a CO2 extraction using an exclusive technique developed by Louis Vuitton. The olfactory journey continues with Turbulences, a composition around captivating tuberose. The fruit of an inspired encounter between flowers and an exclusive infusion of natural cowhide leather from Louis Vuitton ateliers, Dans la Peau is an invitation to a sensual interlude before discovering Apogée, an ode to nature embodied by lily-of-the-valley, a symbol of renewal. The escapade then turns to a striking duo. In Contre moi, vanilla reveals its delicate freshness, while Matière Noire explores the dark mystery of a precious wood, Laos agarwood. The journey culminates withMille Feux, an incandescent fragrance that associates leather and raspberry for an olfactory apotheosis.
For the bottle that contains these precious perfumes, designer Marc Newson emphasized absolute purity, with clean lines, black lettering on transparent glass and the discreetly engraved Louis Vuitton name. The black cap stamped with LV initials in brass recalls antique bottles while concealing an atomiser. And the cylindrical white and gold paper packaging is inspired by the Je, Tu, Ilfragrance launched by Louis Vuitton in 1928 and no longer in existence.
To accompany travelers, the perfumes are available in different size bottles that can be refilled at a perfume fountain in all Louis Vuitton stores. Several different cases have been designed, including a set of miniatures for discovery of all seven creations, a travel bottle, and a Monogram case inspired by vanity cases made for elegant lady travelers in the early 20th century. Created by Louis Vuitton workshops, the Monogram case safely transports three bottles.
Louis Vuitton perfumes will be available exclusively at Louis Vuitton stores beginning in September. To embody the new fragrance collection, the Maison chose Léa Seydoux, already a Louis Vuitton muse. The French actress will be the face of the perfumes in a campaign to be released in fall 2016.