List of Hospitals in Kazakhstan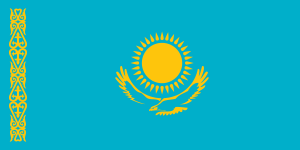 This is a partial list of Hospitals within the territory of Kazakhstan. If you have any suggestions/additions/changes please email us at info@gbrandsmag.com.
Please note that we a
ppreciate that users do not post anonymously. Global Brands Magazine does not subscribe to the authenticity of the data below though efforts have been made to collect the data as accurately as possible. Please use the data as only a source of reference.
Sl. No

Name of Hospital

Address

Tel

Fax

1

AEA International Clinic 

Abaya Street 2a
Atyrau
Kazakhstan 

+ 7 3122 255 000 

 

2

AEA International Clinic 

11 Luganskovo Street
Almaty 480051
Kazakhstan 

+ 7 3272 581 911 

+ 7 3272 507 335 

3

Almaty First Aid Hospital 

93 Tole Bi Street
Almaty 480083
Kazakhstan 

+ 7 3272 627 071 

+ 7 3272 677 055 

4

Ambulanc 

P. O. Box 89
Druzhbi Narodov 2 Street
Aksai 2, 418440
Burlinski Region
Kazakhstan 

+ 7 517 128 8143 

+ 7 517 128 8143 

5

Emergency First Aid Hospital 

Zhamakaev Street 100
Semipalatinsk
490037
Kazakhstan 

+ 7 3222 622 744 

 

6

Kazak Scientific Research Institute of Paediatrics and Children's Surgery 

Al-Farabi Avenue 146
Almaty
480090
Kazakhstan 

 + 7 3272 488 121 

+ 7 3272 488 635 

7

Oblast Children's Hospital 

Sechenov Street 1a
Semipalatinsk
490037
Kazakhstan 

+ 7 3222 630 715