List of Holidays In Bosnia and Herzegovina 2017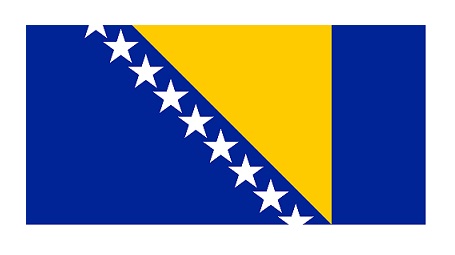 Bosnia and Herzegovina is a country located in the Balkan Peninsula of South-eastern Europe. Often referred to as just Bosnia, this country comprises of three distinct territories: Bosnia, Herzegovina, and the Republic Srpska. Each of these territories is very unique and culturally significant. Because of these distinctions, the national holidays in Bosnia Herzegovina are very different than any other country.
National holidays are governed by the Law on Public Holidays of the Republic of Bosnia and Herzegovina and the Labor Laws of Bosnia and Herzegovina. Bosnia is also attempting to comply with the European Social Charter for employment actions.
| | |
| --- | --- |
| Holidays in Bosnia and Herzegovina | |
| Date | Event |
| Sunday, January 01, 2017 | New Year's Day |
| Monday, January 02, 2017 | New Year's Day Holiday |
| Friday, January 06, 2017 | Orthodox Christmas Eve |
| Saturday, January 07, 2017 | Orthodox Christmas Day |
| Monday, January 09, 2017 | Republic Day |
| Saturday, January 14, 2017 | Orthodox New Year |
| Wednesday, March 01, 2017 | Independence Day |
| Friday, April 14, 2017 | Orthodox Good Friday |
| Sunday, April 16, 2017 | Catholic Easter |
| Sunday, April 16, 2017 | Orthodox Easter |
| Monday, April 17, 2017 | Catholic Easter Monday |
| Monday, April 17, 2017 | Orthodox Easter Monday |
| Monday, May 01, 2017 | Labour Day |
| Tuesday, May 02, 2017 | Labour Day Holiday |
| Tuesday, May 09, 2017 | Victory Day |
| Sunday, June 25, 2017 | Ramandan Bajram / End of Ramadam |
| Wednesday, June 28, 2017 | St Vitus Day |
| Friday, September 01, 2017 | Kurban Bajiram / Feast of Sacrifice |
| Wednesday, November 01, 2017 | All Saints' Day |
| Tuesday, November 21, 2017 | Dayton Agreement Day |
| Saturday, November 25, 2017 | Statehood Day |
| Monday, December 25, 2017 | Catholic Christmas Day |