Lexus at the 2016 Geneva Motor Show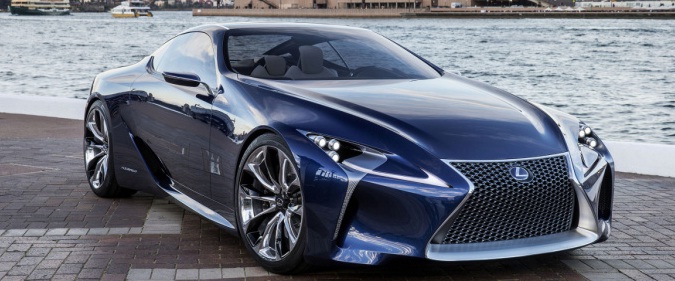 World Premiere of the LC 500h luxury coupe with next-generation Lexus Multi Stage Hybrid System
European Premiere of the LF-FC concept
Lexus will unveil the hybrid version of its all-new LC luxury coupe at the 2016 Geneva Motor Show. The LC 500h is equipped with Lexus' next generation hybrid powertrain, the Lexus Multi Stage Hybrid System, providing more performance, enhanced driving pleasure and greater efficiency.
The LC was first revealed at the 2016 North American International Auto Show (NAIAS). Its styling, performance and craftsmanship position the vehicle as one of Lexus' flagship models. The LC also utilizes Lexus' new architecture that promises enhanced dynamic capability.
Inspired by the acclaimed LF-LC concept that debuted in 2012, the LC represents a shift in Lexus' engineering processes and design ideologies, and marks the beginning of a new phase for the Lexus brand. Its outstanding visual appeal has been unanimously praised and recognized by professionals who granted LC two EyesOn Design awards for Best Production Car and Best Interior Design at the 2016 NAIAS.
Lexus will also display the LF-FC concept at the 2016 Geneva Motor Show. LF-FC is a visionary new vehicle that offers a peek into the design and technology direction of Lexus' future flagship sedan. Initially revealed at the 2015 Tokyo Motor Show, the LF-FC is powered by a high output fuel cell system. It also features an advanced touchless human machine interface as well as automated driving technologies.
The Lexus Press Conference will take place on March 1 at 11:30 at the Lexus stand (number 4211) in Hall 4, Palexpo
Contacts
Alice Bartkowski Tel: ++ 32 2 745 34 58
alice.bartkowski@lexus-europe.com
Etienne Plas Tel: ++ 32 2 745 20 22
etienne.plas@lexus-europe.com
Laurence Pothen Tel: ++ 32 2 745 34 33
laurence.pothen@lexus-europe.com
About Lexus
Launched in 1989, Lexus has become renowned throughout the world for its pursuit of perfection, the outstanding quality and sophisticated high-technology content of its products, and for its unique concept of complete customer service. Further reinforcing the traditional Lexus values of unparalleled build quality, interior luxury and state-of-the-art technology, the L-finesse design philosophy represents a highly significant factor in positioning Lexus as a uniquely desirable global brand. Today, Lexus remains the first – and only – premium automotive manufacturer to offer a comprehensive full-hybrid model range comprising the RX 450h, the GS 450h, the LS 600h and the CT 200h. In Europe, models featuring Lexus Hybrid Drive account for 60% of all Lexus sales. Lexus sold 42,637 vehicles in Europe in 2011, an increase of 40% vs 2010.