Last Week's Decline of Europe's Stocks in Light of Peace Negotiations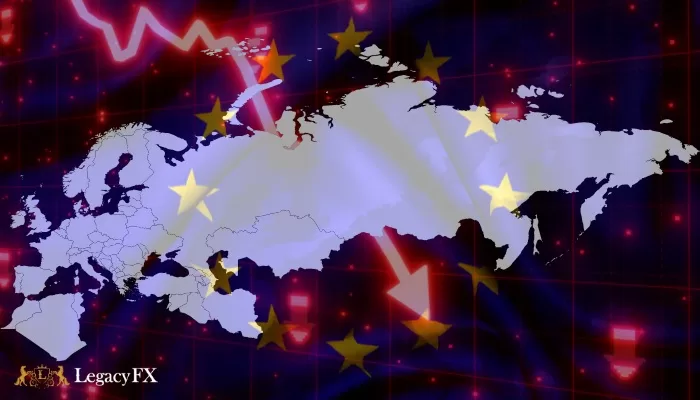 Due to uncertainty about the success of the new Ukraine-Russia peace negotiations, European stock markets were mostly weaker last Wednesday, surrendering some of the significant gains made previously. The DAX in Germany had fallen by 1%, the CAC 40 in France had fallen by 0.8%, whereas the U.K.'s FTSE 100 had gained 0.2%.
Following face-to-face peace talks between the two sides in Istanbul, Russia announced last Tuesday that it will significantly reduce military activity near the Ukrainian capital of Kyiv. Russia's chief negotiator, Vladimir Medinsky, stated that the country would take steps to "de-escalate" the conflict.
Subsequently, Europe's stock markets responded well, with the DAX gaining 2.8% and the CAC 40 gaining 3.1%, respectively.
However, the tone then shifted to one of caution, with the Pentagon warning that Kyiv remains under danger and U.S. President Joe Biden stating he will wait to see if Russia follows through on its vow to provide humanitarian assistance.
Meanwhile, Germany, the biggest economy in Europe, prepared for the possibility of a disruption in Russian gas supply by launching the first step of a national emergency plan. This action came only two days before Russia set a deadline for 'unfriendly' countries to begin paying for Russian energy delivery in rubles rather than euros or dollars.
From Spain, inflation figures in March provided a dramatic indication of the effect of the conflict on the Eurozone economy, with the rate of increase soaring 9.8% from a year earlier, the sharpest rate of increase in over four decades.
As for financial news, UBS (SIX:UBSG) stock declined 0.5% after the Swiss institution reported the results of its 2021 share repurchase program, in which it spent 3.81 billion Swiss francs ($4.11 billion) repurchasing its shares, representing 6.49% of its total share capital.
As a result of progress in the Ukraine-Russia peace negotiations, the oil market fell nearly 2% compared to the previous session. However, oil prices regained ground, prompted by the reminder of the tight state of the market. This data was further bolstered by the fact that oil stockpiles in the United States declined dramatically. According to the American Petroleum Institute (API), crude oil stocks in the United States declined by 3 million barrels in the second to last week of March.
Finally, gold futures increased 0.4% to $1,919.80 per ounce, while the euro-dollar exchange rate rose 0.4% to 1.1128.
To learn more on how global stock prices are affected by the current geopolitical sphere, check out LegacyFX's site – a leading online brokerage firm that provides the latest market updates.