Introducing Spring's New Snacking Accessory: Quaker® Breakfast Flats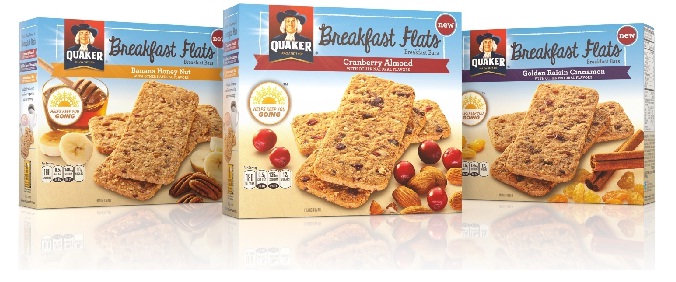 Spring is here – and with it, the latest spring fashions. While fringe and suede are trending on the runway, nutritious and convenient morning snacks are all the rage on the breakfast front, as the morning meal moves away from the table and out the door.
As the trusted breakfast leader, The Quaker Oats Company, a subsidiary of PepsiCo, Inc., has combined a delicious medley of ingredients with portability in new Quaker Breakfast Flats, spring's must-have snack that helps get you where you need to go, no matter where the day takes you.
"As a working mom, I know how hectic mornings can be," said Lesley Butler, senior marketing director, Quaker Foods North America. "One thing that every woman needs is a convenient snack to help fuel her. At Quaker, we know breakfast, and continue to innovate to meet evolving consumer lifestyles. Quaker Breakfast Flats were designed to address consumer demand for convenient, nutritious snack options that help satisfy hunger."
As a well-known style expert who's familiar with busy mornings, Jamie Chung has partnered with Quaker to help introduce Breakfast Flats as this spring's newest breakfast accessory.
"Feeling confident and comfortable each morning is key, and for me, that means leaving the house with all of my go-to items, including a pair of flats for when I'm inevitably running around town and a nutritious snack for when hunger strikes," said Chung.  "I'm excited to partner with Quaker to launch this new breakfast snack that helps power me on even the craziest of days."
To help women put their best foot forward this spring, those who follow Chung and other popular style experts on Instagram may find Quaker Breakfast Flats in the bags of some of this spring's freshest fashionistas.
Quaker Breakfast Flats come in three delicious flavors including Cranberry Almond, Banana Honey Nut and Golden Raisin Cinnamon. Each box of Breakfast Flats contains five portable packs of three crispy bars each with a convenient pull-out tray for a suggested retail price of $3.49.
About The Quaker® Oats Company
The Quaker Oats Company, headquartered in Chicago, is a unit of PepsiCo, Inc., one of the world's largest consumer packaged goods companies. For more than 135 years, Quaker's brands have served as symbols of quality, great taste and nutrition. Holding leadership positions in their respective categories, Quaker® Oats, Quaker® Rice Cakes and Quaker Chewy® Granola Bars are consumer favorites. For more information, please visit www.QuakerOats.com, www.Facebook.com/Quaker or follow us on Twitter @Quaker.